Michael Karim is a leader in the vanguard of the new Manhattan restaurant scene, transforming the culinary landscape of Midtown and giving New Yorkers a reason to leave their homes and satiate their ever-curious appetites. Set to open this Fall, White Olive will surprise with a contemporary flair of Greek and Mediterranean favorites. Exquisite cuts of meat, hard-to-find seafood delicacies, fresh mezze, and a robust wine list align on a menu designed to delight the most discerning foodie and to create an experience to be remembered long after the Uber home. Karim shares his excitement in his newest endeavor and how he hopes to bring Mediterranean ambiance into the heart of the city.
A JEWEL IN THE NYC SCENE
The restaurant is the result of much hard work during one of the most challenging periods in recent memory. During the pandemic, more than 25 percent of the city's restaurants closed as locals fled to the Hamptons and Upstate, and tourism evaporated. The ensuing renaissance has allowed restauranteurs Karim and his business partner, Amin Himani, to realize their vision of bringing the freshest, highest quality cuisine in a setting worthy of its surroundings. Each has been entrepreneurial in the restaurant industry, covering every aspect from grab-and-go to fine dining around Manhattan. They want White Olive to be the jewel in their culinary crown.
"We both have the same passion for crafting food and getting the subsequent reaction of those who enjoy what we have created," says Karim, speaking of himself and partner Amin. "We enjoy working with a team in a fast-paced environment and find it stimulating and rewarding to work toward customer satisfaction." Karim and Himani are also culinary school graduates, balancing creativity with their entrepreneurial business spirit.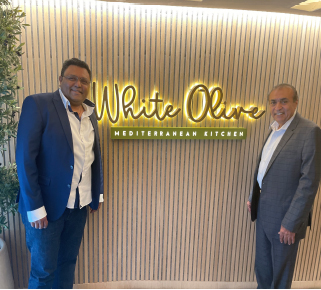 A CHOICE MENU
The restauranteurs have enlisted master chef Hasan Karsi, a Ritz-Carlton alum who will bring his expert touch to signature dishes, including succulent lamb chops on a bed of couscous with farm-to-table vegetables, the freshest grilled branzino, or what the Greeks call lavraki, and octopus prepared so authentically, that Santorini feels local.  
Karsi will oversee a team of sous chefs, and a wait staff culled from some of New York's finest establishments, with a service mission to engage each patron and make them feel welcomed, appreciated, and above all, satisfied with their experience. The staff is ready to educate diners on preparing the traditional favorites and guide them in selecting the most delicious mezze, or small snack to begin a meal, to enhance the palate in advance of the main course. Chef Karsi has prioritized the authenticity of his menu and the Mediterranean concept of allowing time for each course to be thoroughly enjoyed rather than focusing on quick table turnover. 
"This is our opportunity to meet many local faces whom we know we will impress with our menu and service," shares Karim. "We also want to be the restaurant that visitors will remember as their favorite when seeing New York and where they will return each time they come to our city. A restaurant is a long-term commitment to a neighborhood and becomes a place of first dates, anniversaries, and other celebrations.
But there is no higher compliment than becoming someone's "usual" restaurant, where they have become comfortable and part of the family. The most rewarding part of what we do is when people embrace us into their lives."  
As offices continue to re-populate and travelers find their way back to New York City, favorite eateries that no longer exist will be replaced in the hearts of foodies by a bounty of new restaurants putting their best feet forward. White Olive is sure to be a destination for power lunches, romantic dinners, and perhaps a happy accident for travelers on a stroll. 
Whatever the case, the team is prepared to provide an experience and to help create beautiful memories and repeat clientele.
For more information on White Olive, visit whiteolivenyc.com