Paws Down…Tails Up
Free Fallin' Into Autumn
You can hear it with the rustling of leaves and smell it with the crackling of firewood. Fall is a purr-fect time to spoil your fur-baby with a seasonal chew toy treat. Bathe in the brightness and brilliance of brisk, golden morning walks with autumnal attire for your pets, from collars to hoodies, we've got you covered for all your must-have, autumn inspired gift ideas.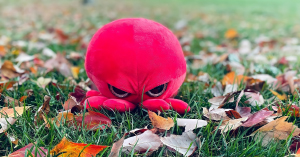 SHORTER DAYS, LONGER FACES
So not everyone is ready to embrace the turning of the seasonal wheel, and to let go of summer. Only The Grumpy Octopus can make it look so darn cute and adorable. But don't tell him…it just makes him grumpier.
Info: thegrumpyoctopus.com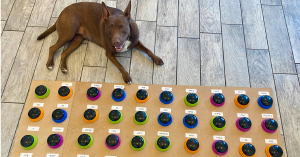 WOOF AT THE PUSH OF A BUTTON
Thanks to Learning Resources, it turns out you can teach an old dog, new tricks. With colored, recordable push buttons, use your own voice to record simple commands, helping pets and pet owners get on the same communication page. Info:learningresources.com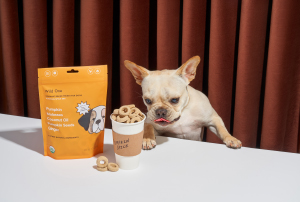 PUMPKIN, THE SPICE OF LIFE
Give your little bone burier a snack that not only tastes good but is good, too! With no artificial flavors or fillers, these Pumpkin Spiced Treats are baked, plant based and certified USDA organic. Made special, by our good friends at Wild One. Info: wilddone.com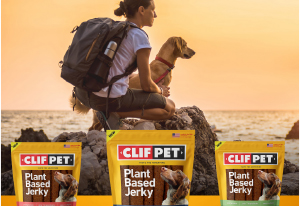 ALL-NATURAL SNACK ATTACK
The Clif Bar brand, already a titan in the human energy bar market have launched Clif Pet. Synonymous with all natural ingredients, try all three of their fall flavored plant jerky snacks. They include Sweet Potato and Blueberry, Pumpkin and Apple, and the scrumptious Butternut Squash and Cranberry.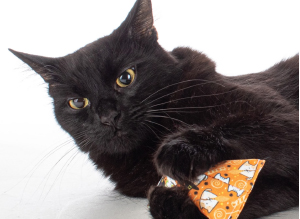 CUDDLING CATS
If you want your heart to soar this fall, with cuteness upon cuteness, then watch your cuddling cat, curl up with her own feline friend, albeit the tiny tiger kind, from the good folks at Triple T Studios. Info: triple-t-studios.com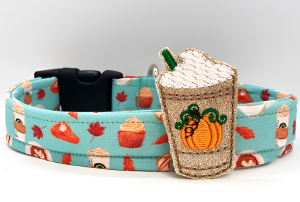 COLLARED IN CUTENESS
A one woman show, Lauren has turned a hobby into an almighty, online juggernaut. At Pawesome Pups, you'll find the most creative and colorful dog collars, including this fall inspired piece, with pumpkin spice and latte trim.
Info: etsy.com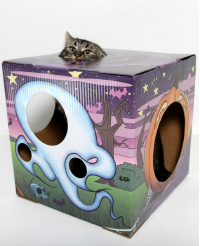 SPOOKY BOX
What do cat's love more than anything? Boxes! These designer boxes from Kitty Cardboard are an ideal space for your cat to nap, play, hide, explore and acclimate to new spaces. Also makes a great photo-op for fall greeting cards for friends and family. Info: kittycardboard.com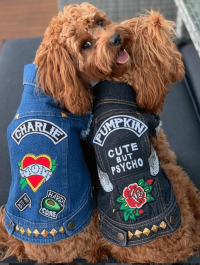 ROAD TRIPPIN'
If you're going to hit the open road with your paw pal for a sightseeing tour of trees in full, foliage bloom, then your friend might as well do it in style. PET HAUS is an Aussie company creating the coolest jackets on the planet, putting dogs and denim together, where they belong. Info: pethaus.com.au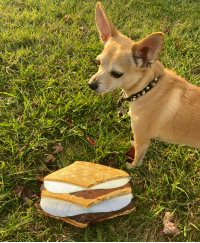 S'MORE THE BETTER
It's a chilly autumn evening and the kids are roasting marshmallows over an open fire. Let your little mate in on the fall, fun too with this seasonal, s'mores chew toy from our friends at Doggijuana. Info:doggijuana.com
HARNESSED IN HARVEST
A subtle, underappreciated, not-so-guilty pleasure in life is that feeling of crunching, fall leaves under foot. Enjoy hours of leaf crunching, walking enjoyment with this chic dog harness from Wagtrenz.
Info: wagtrendz.com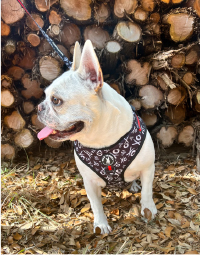 TAR HEEL AND CHEW
If your dog is feeling undeniably snacky this fall, then spoil him with a plant-based alternative to meat chews. This Sweet Potato Jerky from Petaluma is sourced from a small farm in North Carolina, and is made from organically grown sweet potatoes, for a healthy snack or reward. Info: feedpetaluma.com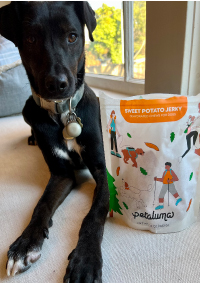 HAUNTED HOUSE
If your kitty isn't exactly a clothes and costumes kind of cat, but, as a pet parent you still want them to get into the spirit of the fall season, then our friends at Cat in the Box have the purr-fect solution with this easy to assemble, haunted house, allowing for seasonal joy—kitty style.
Info: thecatisinthebox.com