ROCHELLE JACOBS & SARAH McNAMARA
Keeping It Clean
When envisioning their clean skincare brand, cosmetic industry veterans and Naturally Serious co-founders Rochelle Jacobs and Sarah McNamara knew their target: a new generation of eco-conscious consumers more discerning with the kind of products they purchase. Fortunately, their interests aligned. 
"It was important for us to stay true to what we believe in," says Jacobs, whose philosophy of simple skincare extends beyond the integrity of the ingredients in Naturally Serious products. "We aren't fanatics but do our best to be responsible." That responsibility encompasses ethically developed products, vegan/vegetarian formulas, and sustainable packaging."
DYNAMIC DUO
Jacobs and McNamara had seen every industry trend come and go during their careers. Still, they knew the products increasing in demand each year were free from what Jacobs calls "B.A.D ingredients, which are those deemed bad, ambiguous, or debatable." Instead, they cite parabens, mineral oil, phthalates, silicones, sulfates, and formaldehyde—a sampling of chemicals common in popular brands but absent in the Naturally Serious line.
"We want to take the lead on this, but we want everyone to jump on the bandwagon, and perhaps in ten years have no B.A.D. ingredients in any skincare brand," she says. "If we don't need it there, why would we use these ingredients?"
Jacobs' entrée into the industry in 1999 was through her mother, June, co-founder of Peter Thomas Roth Skincare, a pillar brand in Sephora and Ulta, as well as the June Jacobs Spa Collection, which became a staple of five-star luxury spas worldwide. When McNamara joined the Peter Thomas Roth brand about six years ago, the kinship between her and Jacobs was instantaneous. The two decided to combine their industry expertise to create Naturally Serious.
"We had access to world-class chemists and premier quality raw ingredients, so we aimed to create a best-in-class, clean beauty line with clinical benefits that would be good for the skin and the environment. We also wanted to make it accessible for the younger generation with fair pricing and to be as effective as possible for clients looking for results," Jacobs proudly says.
CLEAN FUN
The fourteen products in the line are easy to use, taking the guesswork out of skincare. "Our products have a twenty-year patented anti-oxidant blend of white, green, and red tea, acai, goji berry, and grape seed extracts to protect against environmental damage. In addition, the blend acts as a booster to make the active ingredients in the rest of the formulations even more effective," says McNamara.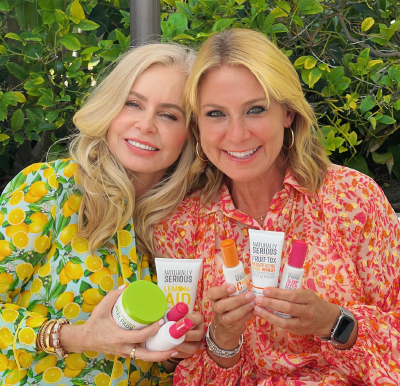 Keeping it fun is also key to the brand. Each product has a clever pun that lets you know the product's function, such as the Zero Baggage Anti-Dark Circle Eye Cream and the Get Even Cold-Pressed Peel Pads, which smooth and reduce the look of textured skin. Jacobs admits that her favorite product is the new C Your Glow Vitamin C Radiance Oil, which she says, "doesn't break me out, gives me amazing hydration, and smooths; it is the best face oil ever!"
The brand is currently available online on Naturally Serious and Sephora websites. "Our anti-aging clients love the Sleep Over Retin-Oil, a carrot retinol oil that sheds dead skin cells and is ideal for dry skin. Our brand is less of the peptide-heavy skincare that clinical brands are known for, but the formulations are effective and efficient. Our cleansers are also ophthalmologist-tested to remove your eye makeup safely. "Sephora has been an amazing partner in the kitchen with us from the beginning; they know what they are doing in assisting us in finding the right mix of products," says Jacobs of the relationship between brand and retailer.
Social media has played a critical role in educating a new skincare consumer, as fewer and fewer of them turn to department stores for skincare consultations. "We have such an amazing team that has created some engaging Tik Toks, so much fun content which has driven client engagement. If this is how they listen, this is how we need to speak to them," Jacobs emphasizes. The dynamic of the beauty industry has changed so much in how and where clients shop. Naturally Serious is poised to take those next steps to be the change the industry and the consumer are looking for.
For more information on Naturally Serious
visit naturallyserious.com and sephora.com