W FORT LAUDERDALE
A Fresh Spin On Oceanside Escapes
By Melanie Carden
The usual statistics don't hold up at W Fort Lauderdale. Indeed, you've read news reports that remind us that it can take three or four days of vacation before relaxation sets in. But, if you're looking to take the fast lane to absolute serenity, think of the W Fort Lauderdale as your E-ZPass.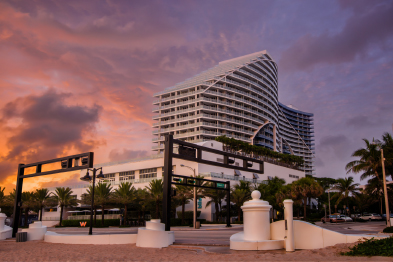 In typical Northeast style, I'm all in if I can be sipping frozen tequila cocktails on a sun-drenched beach less than an hour after landing at the airport. W Fort Lauderdale is a quick 20-minute drive from Fort Lauderdale-Hollywood International Airport. I was off to a promising start in maximizing fun in the sun. 
When I got to my room, I had that A-ha special moment. However, this feeling was admittedly short-lived because, as it turns out, all 500-plus rooms and suites at the hotel have a view of the water. In addition, the hotel has over 300 feet of sandy serenity on Fort Lauderdale Beach, so the gentle waves always seem to be whooshing in the background as if whispering the secret to coastal living's instinctual draw. Better yet, you can bring your furry buddy. The hotel not only allows dogs up to 40 pounds but pampers them with curated doggie packages, including the over-the-top "Dogs Are A Girl's Best Friend" experience with dog-friendly Champagne and treats, as well as Prosecco and desserts for you.
DINING PLEASURE
If you bring along your dog, they can join you on the patios of the hotel's most well-known restaurants, El Vez and Steak 954. Of course, your pup can have water, but El Vez is serving up over 100 varieties of tequila for humans. So, it's safe to say that although the attire is casual, their approach to cocktails is anything but, and the food is tremendous. The Mexican-inspired menu is spilling over with fresh seafood and bright flavors. It's especially gratifying to sit on their sun-dappled patio while enjoying Snapper Aguachile. Its flavor profile rejuvenates the senses with vibrant blood orange, grapefruit, and lime alongside charred jalapeno and fresh cucumber, avocado, and herbs.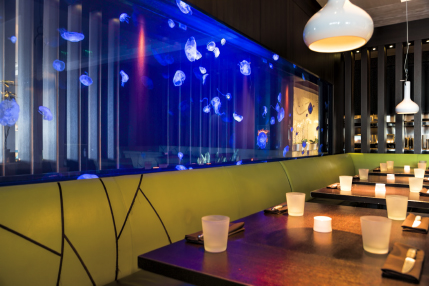 If you're looking for additional culinary bragging rights, make a reservation at Steak 954. James Beard Award Winning Chef Steven Starr is at the helm, which means it's not just a meal. It's an experience. Yes, of course, I had the Filet Mignon Oscar-style, and it was every bit of decadence you want in a steak house. Add to that waitstaff passing by with platters of Beluga caviar service, Wagyu steaks, and fragrant olive-drenched branzino. But in addition, there are moments of culinary dalliance throughout the hotel, be it in the Living Room, poolside bites at WET Bar & Grill, or the casual goodness from Sobe Vegan, which is a personal favorite.
A FLOATING PARADISE
Within minutes of the hotel, there are endless parasailing, jet skis, boating, and scuba diving opportunities. Along those lines, don't miss the chance to float along Intracoastal Waterway in a water taxi, stopping along the way for cocktails at the many dockside eateries. And be sure to take a stroll along Las Olas Boulevard—Fort Lauderdale's shopping mecca with a wide variety of high-end shops, artisan boutiques, and art galleries. 
After availing myself of the area's many delights and distractions, I was eager to mix a workout and some serious time at AWAY Spa. Usually, I'll grind out a quick workout in a hotel's fitness center, but W Fort Lauderdale's fresh-air approach to fitness morphs obligation into obsession. Whether it's sunrise yoga on the beach, oceanside boot camp, or the hotel's cruiser bikes, merging fitness and fun is a breeze.
So, with a bit of sun on my skin—and an absurdly large bag of vegan goodness—I watched the silky shores of Fort Lauderdale Beach fade into the distance.
For more information on Grand Solmar Resort,  visit: WHotels.Marriott.com/destinations