GERMANY'S GRAND OKTOBERFEST
Beer & Beyond In Bavaria
By Jenny Peters
There is still time to jump on a plane and head to Bavaria, where Germany's famed annual Oktoberfest, born in 1810, is once again calling to beer (and pretzel) lovers from around the world. After a two-year pandemic hiatus from September 17th to October 3rd, Munich's huge festival marks its 187th celebration, a cornucopia of sights, sounds, and brews that last for two weeks.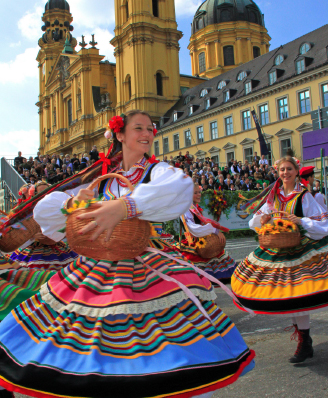 Oktoberfest has become such a German tradition that you'll find it happening in Berlin, Stuttgart, Cologne, Frankfurt, and smaller towns across the country, but Bavaria's where it all began. That's when Crown Prince Ludwig married Princess Therese and had a huge beer party in Munich on the fields in front of the city gates for all citizens to enjoy. Still held in the vast area known as Theresienwiese, today you'll find seventeen huge tents serving as beer halls, complete with oompah brass bands, large charcuterie platters filled with meats, cheeses, radishes, and more, as well as the ever-present giant Oktoberfest pretzels and mustard. Of course, there are many other fair festivities, including carnival rides, food stalls, and souvenir booths.
And the beauty of visiting Munich is that beyond all the beer, parades, and musical panoply, there is much to see and do across the city and beyond in Bavaria.
MUNICH'S CHARMS
Beer experiences are undoubtedly central to Munich, with the legendary Hofbrauhaus (the Royal Brewery) serving up pints of Hofbrau beer since 1589 in the center of town. Near the famous Marienplatz, where the glockenspiel goes off all day long, and people gather in sidewalk cafes, that's a beer lover's heaven, so if that's you, start there.
Then stroll on to the English Garden, where an artificial surf break is created in the Eisbach River known as the Eisbachwelle. You can get in line and ride the wave if you bring a board. The garden is the largest inner-city park in the world, so there's plenty to explore, including summer beer gardens and winter sledding hills.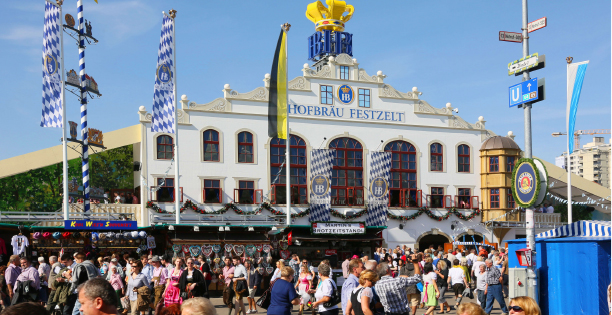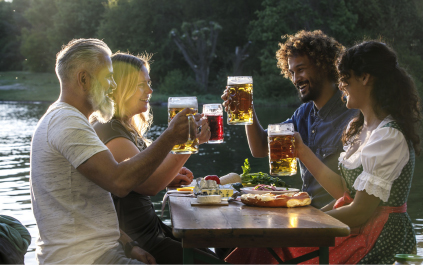 Long the capital of Bavaria, traditionally one of Germany's wealthiest states, Munich's city center is filled with museums, churches, and palaces. One of the best to visit is the Munich Residence, the great seat of the Bavarian dukes and kings from 1508 to 1918. Take a guided tour of this huge palace for a historical look at how the city and its mountainous region developed, then walk over to St. Peter's Church, another landmark of the city.
When it's time to sleep, choose the sublime Mandarin Oriental Munich, with a perfect city center location and the Mahjong Roof Garden, boasting the best views possible. Or go to less expensive Werksviertel-Mitte, where fabulous hotels like the Gambino await, along with the city's giant Ferris wheel and many trendy restaurants and clubs.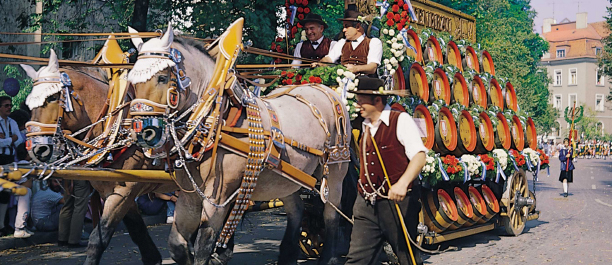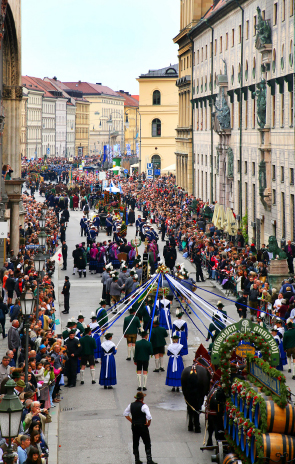 BAVARIA AT ITS BEST
Since you've made it to Munich, allow some time to see more of Bavaria. Put visiting the Alps (and its numerous charming villages) high up on your list, as there's nothing quite like them in the world. Then, until October 2nd you can make your way to Oberammergau, where the Passion Play (Passionsspiele) is being performed. That epic story of Jesus Christ's life is a whole-village, six-hour production that happens every ten years (since 1633) in this picturesque place and won't be seen again until 2032.
If outrageous castles built by a king who was sure he was a god are more to your liking, be sure to go to both of King Ludwig II's over-the-top palaces, the ones the so-called "Mad King" constructed in the 1800s. Neuschwanstein Castle is his crowning glory and his downfall, a massive mountaintop structure that inspired Walt Disney's Sleeping Beauty Castle. It must be seen to be believed. Lindenhof Palace is his other famed castle, a vanity build that reflects his belief that he was the new Sun King (following his relative, Louis XIV of France) in elaborate, expensive gold motifs in every room.
See both castles and head up to the Zugspitze, Germany's highest peak in the Alps. It's a glacier ski resort/sledding mecca in the winter, a hiking, and rock-climbing haven in summer, with 360-degree views of mountain peaks across Germany, Italy, Austria, and Switzerland; and the hot chocolate at the summit is swoon-worthy.
GETTING THERE
Fly nonstop to Munich from JFK or Newark airports on Lufthansa/United in about eight hours and catch the S-Bahn train lines directly into the city center for about $12.
For more information on Oktoberfest, visit Oktoberfest.de/en; for Bavaria, visit bavaria.travel;
and for Germany, visit germany.travel