NASHVILLE DAY & NIGHT
Rock Around The Clock On A Getaway to Music City USA
By Patricia Canole | Photography by Neil J. Tandy
Country music might lure tourists to Music City like a moth to a neon sign, but for those who venture beyond the honky-tonks it's a wonderful way to sample the city's rich history, art, and cuisine. With a bountiful food scene and growing diversity, this friendly city walks the line between a slick new Nashville and a city with soul. 
WHY WE LOVE IT
It's a place where dreams are realized. Nashville has bewitched newcomers who have stayed for decades adding their tunes to Music City, the songwriting capital of the world. Located along the Cumberland River, the city possesses the soulfulness of a place steeped in music history. Moreover, the city's energy is on the rise, thanks to a renowned culinary scene steered by established chefs as well as those on the rise. Best of all, most attractions and venues are within easy walking distance.
STREET OF DREAMS
New Orleans has Bourbon Street. Memphis has Beale. And Nashville has Lower Broadway—more commonly referred to as Honky Tonk Row. The music din never ceases along the strip of music halls and boot shops bathed in the neon glow of cowboy hats and guitars. It's the best place to catch a set from an aspiring singer/songwriter at iconic bars where country music legends once kicked back over fried chicken and beers.
One place to start your Nashville journey is a visit to the Ryman Auditorium, considered hallowed ground for any country music fan. This Mother Church of Country Music served as the home of the Grand Ole Opry from 1943 to 1974. Settle into the worn pews and absorb the history as you view a short film of country music legends later followed by some incredible exhibits.
One of Nashville's newest and most popular attractions is a short walk away: the Johnny Cash Museum. The sleek museum houses a comprehensive collection of artifacts chronicling the life and career of The Man in Black. See his gold records and Grammys and other important memorabilia all the while as you listen to Cash classics.
GO HIGH/GO LOW
With a jeans-and-rhinestone vibe, Nashville has a special knack for celebrating both ends of the culture spectrum. Go from fiddle to violin at the Schermerhorn Symphony Center, and its Grammy-winning orchestra situated a short distance from Lower Broadway's honky-tonks.
A visit to Nashville would not be complete without a visit to country music's most famous stage The Grand Ole Opry. Just located about fifteen minutes east of Downtown, the Grand Ole Opry House is the home of the world's longest-running radio show (first broadcast in 1925). Performances start at 7 pm and feature country music legends and contemporary hit-makers.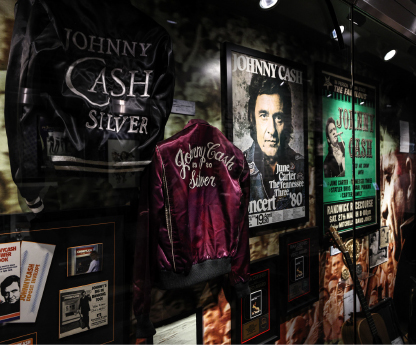 GET OUTSIDE
 Take time to escape the pull of Broadway's bright lights to explore the city's natural beauty. Start with a hike, taking in the quiet splendor of Radnor Lake, a 1,368-acre preserve just minutes from the heart of Downtown. Don't have time? Stretch your legs as you walk through Centennial Park, just five minutes from Downtown. You can't miss The Parthenon, originally built for the 1897 Tennessee Centennial and International Exposition and reconstructed in the 1920s. The replica of the ancient Athenian temple houses an art gallery featuring 19th and 20th century American paintings, and a towering forty-two-foot sculpture of Athena, the Greek goddess of wisdom and war.
GOT BISCUITS?
Whether it's breakfast, lunch, or dinner, treat yourself to the Loveless Café, an iconic eatery just a short drive from Downtown along Hillsboro Pike. Checkered tablecloths set the scene, and meals like country ham with redeye gravy and cheesy hash brown casserole hit the spot. Don't miss the biscuit sampler, a plate of slider-sized breakfast sandwiches featuring fried chicken, country ham, steak, and barbecue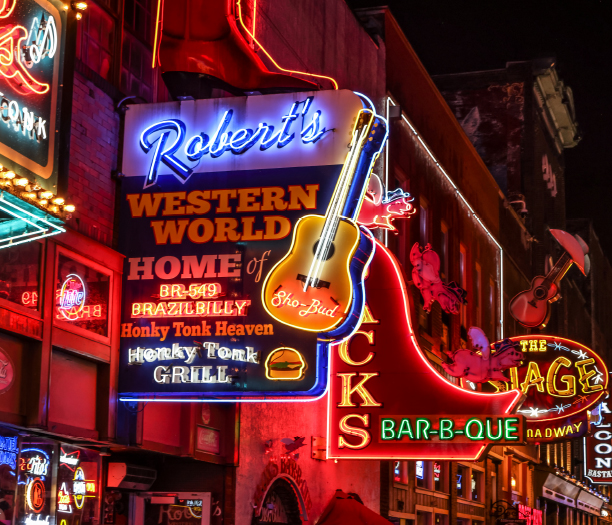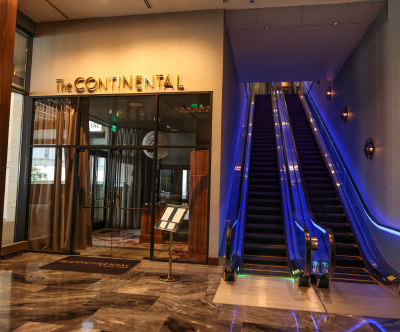 BEST STAYS: NEW & OLD
Grand Hyatt Nashville This luxury property at Nashville Yards is conveniently located within the heart of the city music scene. Opened in 2020, USA Today readers named it the Best New Hotel. For a good reason. Centrally located is within proximity of Nashville's Country Music Hall of Fame, Bridgetstone Arena, and other must-see areas of interest. The 25-floor, 591-room luxury hotel offers lou/na one of the tallest indoor/outdoor rooftop lounges in Nashville, a fifth-floor pool deck, and a world-class spa and wellness center. Warm, oversized rooms include signature televisions, Wi-Fi, and complimentary coffee and tea are provided. The hotel also has multiple culinary options, highlighted with The Nashville Grange. The casual restaurant is best described as a Tennessee-to-table restaurant serving locally-sourced dishes featuring breakfast, lunch, and dinner.
For a more formal atmosphere reserve a table at the wildly popular The Continental from James Beard Award-winning chef Sean Brock. You can't go wrong at this upscale restaurant offering menu choices such as Colorado Lamb or 9-ounce Prime Rib done to perfection. Within the restaurant, look for The Vesper Club which will take you on a unique cocktail voyage with a tasting menu comprised of five caviar-paired tasting-size Martinis. Shaken or stirred it's a memorable experience. For those who need to grab-and-go, there's always the Hummingbird Coffee Market to recharge with a freshly brewed coffee or espresso from local Good Citizen roasters.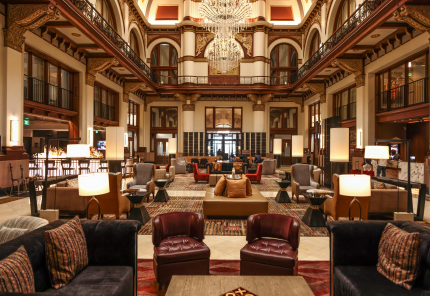 The Union Station Hotel Book a stay at the Grand Hyatt's sister hotel. It's your chance to step back in time at this former train station terminal that once served the eight railroads that carried passengers through Nashville. It still sits on the edge of the train tracks, providing a bit of historical nuance to the purely modern city. After train-centric operations ceased in 1979, Union Station was abandoned until it opened as a hotel in 1986. Inside, you'll find soaring ceilings, marble accents, and crystal chandeliers—and a lobby décor fashioned so that you may think you just arrived.
Every single room at Union Station Hotel is different, one of the prime reasons to visit. In addition, the hotel boasts a series of restaurants. Stationairy serves morning favorites like Buttermilk Pancakes and French Toast as well as unforgettable menu choices for lunch and dinner.
However you look at it, Nashville is hot. And with so much to see, hear and taste, it's good that Music City is also known as the town that rises early and stays up late, affording travelers plenty of time to take advantage of the round-the-clock fun.
For more information on Nashville, visit MusicCityUSA.com