WEEKEND GETAWAY
The Brenton Hotel, Newport, RI
By Patricia Canole | Photography by Neil J. Tandy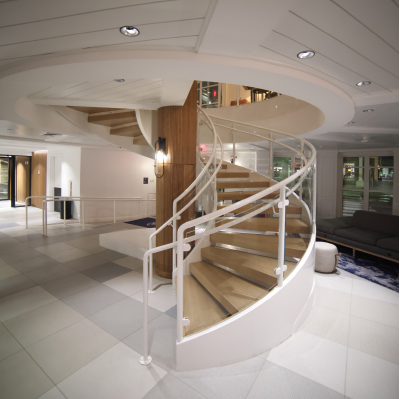 Modern hotels, historic museums, centuries-old mansions and trending restaurants are certain to make for a classic weekend getaway. Just head north to the world's sailing capital Newport, Rhode Island—a magical place not so far away. 
Newport attained its sybaritic start centuries ago as a seaside escape for American aristocrats seeking a break from the hustle of big city life. It didn't take long for the seafaring town to quickly became the number one place for Gilded-Age fun. The bold-faced names, from Astors to Vanderbilts, built seasonal coastal "cottages" (read: palatial mansions) here to enjoy the boating, beaches, and glam balls of the social scene.

It's the harbor that has long been the heart and soul of this sailor's haven. The city's best-known wharves continue to hold a seafaring atmosphere with cobblestones, granite-walled quays, and a atmospheric mix of 18th-century buildings. Fishermen haul their catch day after day and then distribute to upscale restaurants near and far. Of course, there are other distractions, too. Take a look and don't miss the chance to purchase some preppy-apparel or a Gilded-Age souvenir. Then wrap up the day with a cocktail (or two) on the patio of The Black Pearl, housed in a sailor's loft.
So why not recapture the luxe life and make a few memories of your own. Here, our recommendation for the 21st-century sailor.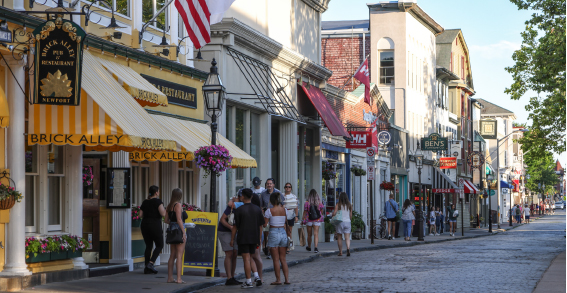 STAY
THE BRENTON HOTEL
The luxury boutique property sits directly on Newport's bustling waterfront and features 57 rooms and suites. The hotel evokes a feeling of staying on a yacht offering panoramic views of the harbor and historic cityscape.
The Suites The Brenton's penthouse and suites boast magnificent views of the mansions along the famed Cliff Walk, steepled New England churches, tall ships, sailboats, yachts, lighthouses—and the stars at night. Suites boast two king bedrooms and two baths, one featuring a free-standing soaking tub. Additionally, the penthouse suite has a private, fully furnished balcony.
Standard Rooms Spacious and airy, the king-sized room are drenched in light with floor-to-ceiling windows and comfortable furnishings including a a chaise sitting area. A minibar (soda and juices are complimentary), and special touches of locally-inspired artwork.
EAT
The Rooftop has some of the most sought-after views in town—shared plates, cocktails, beer, and wine top the menu. Located atop The Brenton, lush greenery makes it feel like a garden in the sky. Heat lamps and firepits keep it warm during cooler months. Or perhaps stop by the Bar at LR for the complimentary local charcuterie and cheese boards as you sip the signature Brenton martini. So smooth you won't care if it's shaken or stirred.
The Living Room (LR to locals) features an open and relaxed space with endless harbor views. It's designed to make you think you're visiting a beautiful home with sofas, chairs, and low tables. For dinner a menu of locally sourced ingredients ranges from Bluff Hill Cove Oysters and Narragansett Bay Littlenecks to Lobster Rolls and Grilled Lamb Lollipops. The LR offers breakfast and lunch specials as well brunch on weekends.
PLAY
The Brenton does not disappoint with its exclusive luxury amenities (many complimentary).
· A storied boating tradition is best experienced like a local. Docked in the marina, steps from the hotel, is the Brenton One, the hotel's private 36-foot Hinckley Picnic Boat which can be reserved for your own private sunset escape.
· Led by local staff, guests can schedule complimentary outdoor activities, including a guided run of Bellevue Avenue. Bike tours start on scenic Ocean Drive and pass iconic sites like Hammersmith Farm, the childhood home of Jacqueline Kennedy Onassis, then continue through Brenton Point State Park (the inspiration for the hotel's name).
· Or simply take a hike along the Cliff Walk. Man-made grandeur vies with nature's beauty along the 3.5-mile public path whose popularity dates back to the 1880s. Traversing the eastern side of the island, it squeezes between the ocean and the backyards of baronial estates.
· Now partnered with the Newport National Golf Club, tee times can be arranged with the hotel providing guests advanced access to the greens.
· The Brenton Hotel welcomes four-legged guests with pet-friendly room accommodations. For added comfort, a pet concierge services—pet sitting and dog walking—can be scheduled for an additional charge.
· Lastly, for those guests who crave a snack anytime of day, the Brenton provides a complimentary pantry stocked with ice cream along with still and sparkling water.
For more information on the Brenton Hotel,
visit brentonhotel.com