ON THE BIG SCREEN
SEQUELS WE'VE ALL BEEN WAITING FOR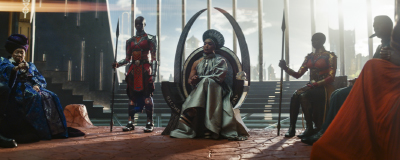 BLACK PANTHER: WAKANDA FOREVER
Not yet rated
It's been five years since the first Black Panther took the world by storm; its famous star, Chadwick Bozeman, succumbed to cancer in a terrible blow to the Marvel family. The sequel is finally here, still written and helmed by Ryan Coogler, who chose not to replace Bozeman as T'Challa. Killing off the Black Panther is a bold move, but one that legions of fans are sure to line up to see as Angela Bassett, Lupita Nyong'o, and Danai Gurira return as the mighty women of Wakanda.

AVATAR: THE WAY OF WATER
Not yet rated
The wait is over, as the first of four Avatar sequels comes to theaters in December. Avatar: The Way of Water continues the story of the alien planet Pandora that James Cameron gave the world in 2009, creating the film that remains the biggest moneymaker in Hollywood history. He's made this sequel, with Zoe Saldana and Sam Worthington again in the leads, as well as three more movies to complete his massive tale of the blue-skinned people known as the Na'vi.
TOP STARS VIE FOR OSCAR RECOGNITION

THE FABELMANS
PG-13
Steven Spielberg directed and co-wrote (with Tony Kushner) this autobiographical story of Sammy Fabelman and his youthful obsession with movies, set in post-World War II Arizona. As he grows up in a family that harbors some secrets, one thing never changes – how going to the movies makes him feel. Gabriel LaBelle stars as Sammy, with Michelle Williams and Paul Dano as his parents and a group of familiar faces (Judd Hirsch, Seth Rogen) rounding out a stellar cast in this sure Oscar contender.

THE MENU
R
What's on The Menu at an exclusive island eatery with Chef Slowik (Ralph Fiennes) cooking? You'll have to trek to a movie theater to find out in this wild comedy-horror flick that brings together Fiennes and two more terrific actors, Nicholas Hoult and Anya Taylor-Joy, along with the always funny John Leguizamo along for the ride, too. So better eat before you go.

WOMEN TALKING
PG-13
Everyone in Hollywood is talking about Women Talking, Sarah Polley's cinematic adaptation of Miriam Toews' novel of the same name. Strong reactions at film festivals have this one poised for some Oscar recognition as Claire Foy, Jesse Buckley, and Rooney Mara lead a cast of females living in an isolated Mennonite community. The women begin to share secrets, and terrible truths are revealed in this dark drama.