Kumiko Yoshii is s a Tony-nominated producer whose current and upcoming credits include the hit MJ The Musical, currently selling out on Broadway, Museum of Broadway, and The Karate Kid—The Musical and Working Girl on their way to Broadway. Kumiko is a recipient of the 10th annual Outstanding 50 Asian Americans in Business Award. She has been acknowledged by the Minister of National Policy of Japan for her outstanding contributions and activities representing Japan. Kumiko is the founder of Gorgeous Entertainment, a New York-based theater, film, and special events production company with two decades of show experience.
But work doesn't get in the way of this powerhouse lady's commitment to giving back to the theatrical community; she is on the Board of Governors at the Broadway League and the Board of Directors at The Drama League and The New Group.
Her other credits include Be More Chill (Off-Broadway, Broadway, Tokyo, Osaka, Fukuoka), Prince of Broadway (MTC, Tokyo), West Side Story in StageAround (Tokyo), The True (The New Group), the 2005 Tony-nominated revival of Pacific Overtures (also presented at Lincoln Center and Kennedy Center), Dreamgirls (La Mirada, Northridge, Tokyo and Osaka), West Side Story (Tokyo and Osaka, as the inaugural production of Tokyo Theatre Orb), Million Dollar Quartet (Tokyo and Osaka), The Fantasticks (West End), A Chorus Line (Tokyo and Hyogo), War Horse (Tokyo), Pretty Guardian Sailor Moon—the Super Live (New York), Up in the Air (Kennedy Center), A Class Act (Broadway, Tokyo), Xanadu (Tokyo), Big River (U.S. national tour, Tokyo), The Producers (Tokyo), The Sound of Music (Tokyo), Kafka On the Shore (Lincoln Center Festival), Temple of Golden Pavilion (Lincoln Center Festival), Musashi (Lincoln Center Festival), Macbeth (BAM) and Modern Noh Plays (Lincoln Center). Her producing/presenting credits in China include the China premiere engagement of Shrek the Musical (Shanghai), Blue Man Group (Guangzhou, Beijing, and Shanghai), and Wicked (Shanghai, Beijing, and Guangzhou).
Since its first event in 2007, she has served as Executive Producer of Japan Day @Central Park, an annual event designed by the Japanese community of New York to promote a deeper understanding of Japanese culture, which celebrated its 13th anniversary in 2019. In 2022 she served as Executive Producer of the first-ever Japan Parade, as well as the Japan Street Fair.
New York Lifestyles had a chance to ask Kumiko about her Broadway and international shows and her upcoming musical, The Karate Kid.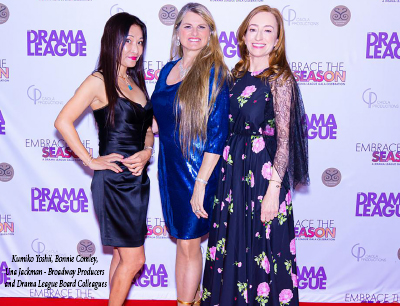 You have been producing shows on Broadway for over twenty years. How do you choose which shows to get involved with?
I work on shows because I believe in what they have to say to an audience, shows that I believe can make a difference in people's lives. I enjoy working with people or on projects that share my values as a person and broaden my own way of thinking. I also work on shows that have emerging artists attached to them to help their journey into theater, and those people tend to push my own boundaries as theater continues to evolve.
Tell us about the professional life of an international producer.
I'm back on the road looking at projects and theaters. I enjoy bringing shows into NYC, but I'm a strong believer that we need to work outside the city as well, bringing theater to those who cannot make it to major cities and to tell their stories within our community. The only way to hear those stories is to get out there and find them.
The Karate Kid is a title recognized worldwide for its mega box office 1984 movie, the sequels, The Karate Kid TV series, and the Cobra Kai TV series streaming now on Netflix. Tell us about your musical based on this "karate kid."
I don't want to give too much away, but I feel we have really kept what people have loved about The Karate Kid through generations while we adapt the story into a musical for the stage. Our entire creative team has a special connection to The Karate Kid and having the creator Robert Mark Kamen be so willing to watch the work evolve while making sure we keep with the original moral value of the story has been special. I'm very proud of what the entire team has been able to create.