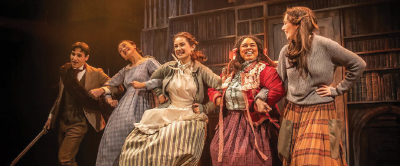 LITTLE WOMEN
Louisa May Alcott's classic story of four sisters growing up in 19th-century Massachusetts made its London premiere in this acclaimed musical production at Park Theatre. Originally presented on Broadway in 2005 starring Sutton Foster, Lydia White and Savannah Stevenson lead a talented cast in this beloved tale of family, self-discovery, and hope. Little Women has a book by Allan Knee (Finding Neverland, The Astonishing Times of Timothy Cratchit), lyrics by Mindi Dickstein, and music by Grammy Award-winner Jason Howland.
---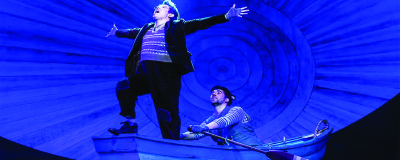 THE WIND IN THE WILLOWS
The Wind in the Willows is one of the most iconic children's novels of all time, first published in 1908 and authored by Kenneth Grahame, who based the plot on bedtime stories he'd invented for his son. This compelling musical adaptation premiered in the UK in 2016 and was eventually released for cinema broadcast. The story features Ratty, Badger, Mole and the impulsive Toad, who embark on a series of riotous adventures spiraling from Toad's insatiable need for speed. Featuring eye-popping beautiful design, exuberant choreography and a gloriously British score, The Wind in the Willows is a joyful night of theatre for the whole family
---

LADY CHATTERLEY'S LOVER
Adapted from the groundbreaking,
controversial literary classic by D.H.
Lawrence, Lady Chatterley's Lover is a sweeping, romantic musical with a score by John Robinson and a book by Phil Willmott that played the West End in the summer of 2021. Georgia Lennon stars as Lady Chatterley, an upper-class wife whose love affair with a working-class man prompts her to consider what it means to have a life well-lived.
---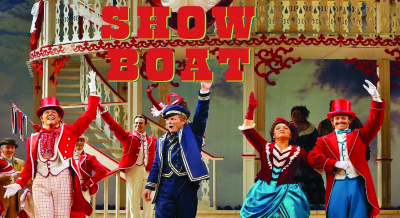 SHOW BOAT
An iconic piece of American art with music by Jerome Kern and lyrics by Oscar Hammerstein II and P.G. Wodehouse, Show Boat is based on Edna Ferber's best-selling novel of the same name. The show was groundbreaking when it premiered in 1927 because it straddled the cusp between music hall and a new American musical theater—it was not a traditional operetta, but a dramatic musical event that explored race, class, and privilege. Bold for its time, it was the first musical stage production with an interracial (yet segregated) cast with Black performers in leading roles. The characterization of the Black community in Show Boat would not be appropriate in contemporary times, as we now understand the socio-political ramifications of living in a racialized society. Various stage productions and films of Show Boat since 1927 have attempted to address these issues but are inherent in the work as originally written. This production from the San Francisco Opera stars Bill Irwin and Harriet Harris.
---

GYPSY
Gypsy is a musical based on the 1957 memoirs of Gypsy Rose Lee, with music by Julie Styne, lyrics by Stephen Sondheim, and a book by Arthur Laurents. Bette Midler, in her network television acting debut, stars as the ultimate pushy stage mother, Rose, who seeks stardom for her two young daughters at any cost. Featuring iconic songs like "Rose's Turn," "You Gotta Get A Gimmick," "Everything's Coming Up Roses," and more, this book-to-stage adaptation is a must-watch for any theatre fan.