CULTURE CAPSULE
Home & Lifestyle Innovation Reviews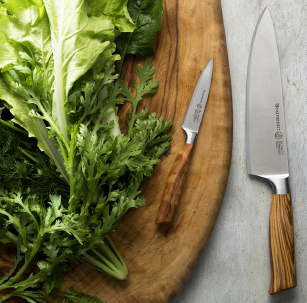 MESSERMEISTER
As a former private chef, I'm always on the hunt for a chef's knife that is more than just the department store's wedding registry eye candy. Equally important, I prefer a 6" chef's knife, not the usual 8" offered by most makers and manufacturers; this combination has been tough to find. However, I recently discovered Messermeister's Oliva Elite knife collection, and my decade-long search is over. The German brand has led the way in innovative handcrafted knives for four decades. Messermeister was created in 1981 by Bernd Dressler, and his daughters now run the show from California. I set my sights on the Oliva Elite line because of its earthy elegance and that cutlery unicorn—the perfect 6" chef's knife. Blade buffs will be excited to know that "the blade, bolster and tang are one piece." The Oliva Elite chef's knife is a legitimate masterpiece set in a stunning Mediterranean olive wood handle.
Perfect For Those who understand the value of an heirloom quality kitchen knife, home chefs looking for a more moderately sized chef's knife, or anyone looking for an impressive gift for a beloved foodie. Info: messermeister.com
---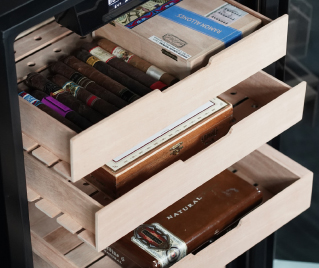 WHYNTER
Any cigar connoisseur will tell you a dry cigar is a woeful scenario. That, combined with potential odors that might be absorbed from the cigar's surroundings, can make curating a collection of fine cigars a tremendous challenge. But the folks at Whynter created this cigar cabinet cooler and humidor with humidity temperature control and Spanish cedar shelves, and she's a beauty. First, it's designed for absolute precision when it comes to its digital hygrometer (65 – 75 percent) and thermostat (64ºF – 72ºF), which maintain the perfect climate. Add to that two activated carbon filters, so there's no "ambient odor" distortion of the cigar's flavor. Sure, we all love the aroma of caramelized onions wafting from the kitchen, but it's no friend to a hard-to-source cigar. However, it has a Spanish Cedar half-shelf and accents designed to complement the aroma while repelling would-be pests such as the tobacco beetle. Suffice it to say, beetles burrowing into your fine cigar collection would be rather devastating. Lastly, to round out the features, this Whynter cigar cabinet can accommodate over four hundred cigars and comes with three drawers, one shelf, and a humidity tray. The Whynter CHC-421HC is available at retailers such as Best Buy.

Perfect For Those looking to build a good cigar collection, those who entertain regularly, and those who enjoy long evenings of whiskey-sipping, cigars, and other finery. Info: whynter.com