Not too long ago, Midtown Manhattan below 42nd Street was considered an unpopular part of town. I know because I once worked in the area better known as the Garment Center. You only traveled here for work, go to Macy's, or see a game at Madison Square Garden.
Thankfully, it has changed. Now that once-bland area is rocking. Anchored by Macy's, there are more opportunities for upscale shopping, workers returning to the new glass and steel buildings, Hudson Yards to the west, and Fifth Avenue with the Empire State Building to the east. Yet, with all this hustle and bustle, wouldn't it be nice to take a breath and relax?
Our recommendation: Versa Rooftop Restaurant & Bar is conveniently located in the Renaissance New York Midtown Hotel. It is better than ever. Step off the elevator, which whisks you to the 5th-floor restaurant/bar, and there is no question there is a table with your name at this 8,000-square-feet venue on West 35th Street. There are nooks where you can sit and hang out everywhere you look. This place has an indoor area with tons of seating that flows into an even bigger outdoor space with a retractable roof and terrace filled with tourists taking in views of the city. There are multiple bars to order drinks from, and the food is surprisingly good. We happily order the Mezza plate and salads along with the main courses!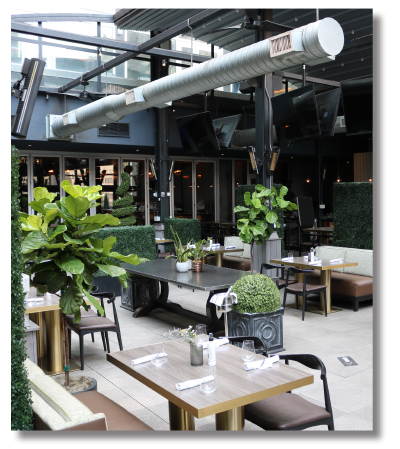 You'll be within a few feet of a TV no matter where you sit. So, order some passion fruit mojitos and grilled fish tacos for a quick meal before boarding the 8:10 LIRR at Penn Station.
A gastropub and cocktail bar, Versa has various menus. The dinner menu incorporates everything from nachos and salads to veggie burgers and a selection of different flatbreads.
For more information on Versa Rooftop Restaurant & Bar, visit versanyc.com