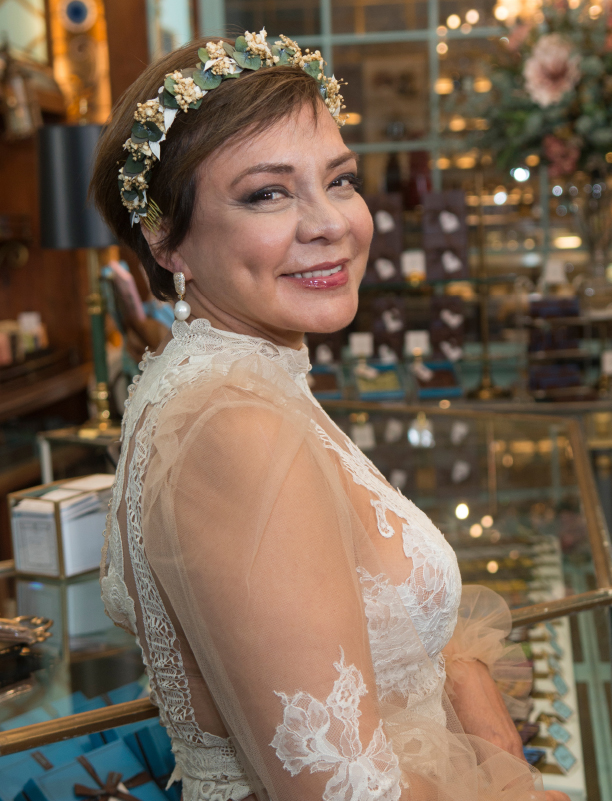 MARIBEL LIEBERMAN
A Deep Love For Family & Chocolate
By Patricia Canole | Photography by Vital Agibalow for HENSEL
Hair & Makeup by John Henry Edington
Nestled among the centuries-old structures of Lower Manhattan is MarieBelle New York, which has made this Soho neighborhood and its residents and visitors appreciate the fine art of chocolate-making. Upon stepping into this charming cafe, one is instantly transported to a dreamy, elegant scene straight out of a fairytale. Whimsical embellishments and colorful displays offset exquisite crystal chandeliers and chic marble coffee tables. Since the store's opening more than two decades ago, founder and owner Maribel Lieberman has been sharing her passion for chocolate with the world and reinventing how we enjoy this sweet deliciousness.
You'll note this strong, independent woman is a hands-on owner. She takes chocolate-making seriously, from starting in the plantations to the final boxed artistic delicate pieces. In the recent documentary Chocolate Road, we see how vital chocolate is in bringing people from all cultures and backgrounds together. It's more than just a wonderful, flavorful delight. It embraces the human connection from farm to shop and makes the world a better place, one cacao pod at a time.
Maribel was born in Honduras, the youngest of eight children. As a result, her passion for confections began at an early age. As an 8-year-old, she often made sugared candies and sold them to other children in her neighborhood. However, chocolate-making was not always her path despite her early dabbling in the trade.

During her teens, her mother suggested Maribel enroll in secretarial courses. But unfortunately, it wasn't for Maribel, who was a creative soul. With this realization, her next journey led her to the Big Apple. 
Of course, growing up with a mother and grandmother who loved being tailors cemented Maribel's appreciation of the art of fashion and design. Upon graduation, she enrolled in Parsons and found work in the fashion industry, sketching, and freelance jobs. However, she also felt it was too highly competitive. And although she loved fashion, she also knew everybody wanted to reach the top no matter what.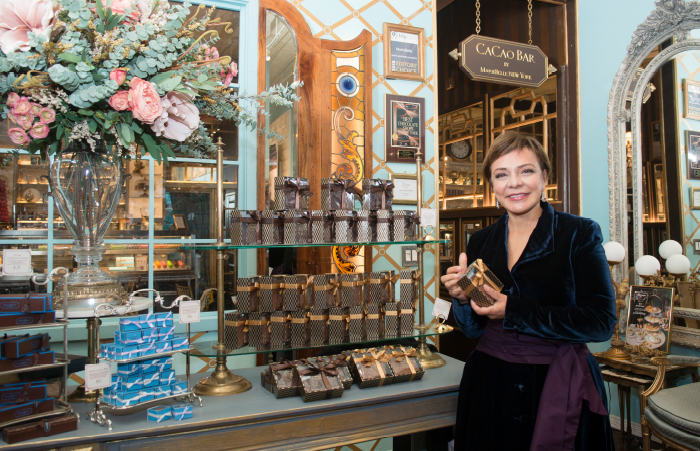 DISCOVERING HER PASSIONS
During this period, Maribel also discovered her passion for food. She enjoyed exploring New York's diverse ethnic neighborhoods in her free time. She constantly found new spices and different ingredients, from Chinatown to Little Italy to the city's many Indian restaurants.
For Maribel, cooking was always a way of making art. Her boundless curiosity and inborn knack for taste led her to successfully launch a five-year catering business, Maribel's Gourmet Cuisine. But this was just the beginning. Catering paved the way for her first store and led to her discovery of chocolate. In 2000, Maribel opened Lunettes et Chocolat. It carried a unique combination of chocolate—and eyeglasses. As it happened, Maribel and her best friend, Selima Salaun from Selima Optique, decided they wanted to open a store together. A store that would share each of their passions. That is how Lunettes et Chocolat was born in the year 2000—a unique combination of Fashion Glasses and Fashion Chocolates.
A year later in December 2001, Maribel opened her first store in Soho, going through all the suffering and difficulties after the terror attacks of September 11th. She rented a small space in Soho thinking it would be a short-term pop-up shop. Little did she know then it would continue to serve as MarieBelle's permanent location.
BELIEVING IN HERSELF
Maribel's career is accented with her steady will to go against the norm. Once criticized for choosing dark chocolate over milk chocolate, she persevered and trusted her instinct. It proved to be the right decision. A month later, a Vogue article proclaimed the benefits of dark chocolate and sharply increased its popularity.
With its impeccable quality, MarieBelle chocolate has sweetened people's lives worldwide. The product combines only the highest caliber of Criollo cocoa beans, Tahitian vanilla, Japanese matcha, and Puerto Rican rum.
Whether it is the signature ganache, the extraordinary truffles, and bars, or the incomparable Aztec Hot Chocolate—the name MarieBelle continues to be synonymous with everything that is refined, beautifully designed, and decadent. Her combined passion for chocolate and fashion has inspired her to continuously reinvent how we enjoy and experience chocolate's delectable and indulgent world.
New York Lifestyles met with this talented woman to learn more about her life and career.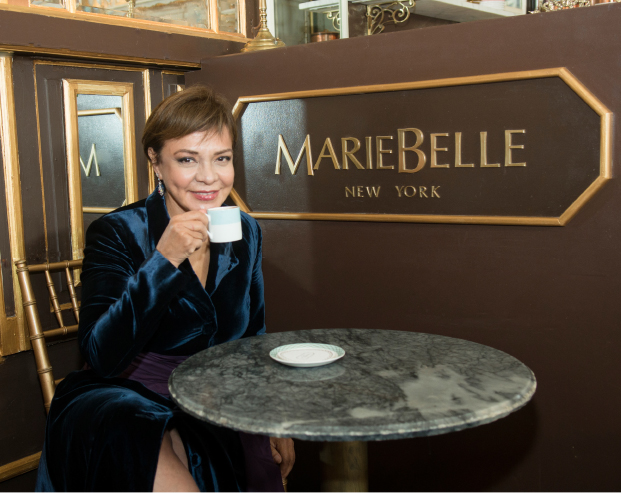 When did you realize you wanted to work in your current industry?
I have been a lover of food ingredients; when I discover a new element, it excites me so much that I become curious and eager to taste it. Twenty-two years ago, I had in mind to open a gourmet store with ingredients from all over the world. I wanted to expose people in New York to the unfamiliar tastes of the world. However, that was a big dream. So, I decided to start with one of those ingredients. Chocolate is known to many, but few know where chocolate came from and what can be made from it. The year was 2000.
Your store in Soho is so beautifully elegant. Why choose this location to start your company?
Soho is a destination neighborhood for New Yorkers and visitors worldwide. It was the perfect place to start the business for global exposure.
Your ganache designs are beautiful. What inspired you to create these minor works of art?
I started highlighting my husband Jacques Lieberman's artwork; he was an abstract art painter, and his works are very colorful and modern. Then later, I started incorporating fashion images that inspired the New York City lifestyle.
Name your favorite vacation spot.
I love Amalfi Coast, including Capri.
What are three items without which you can't live?
Family and friends.
Work to keep me busy.
Classical music.

What is something we may not know about you?
I get easily distracted.
When did you know you had "made it" professionally?
I arrived in Japan and saw my picture in the department store with my story! That's when I knew.
Why did you select Japan for your international outlets?
Japan chose me. Since I opened my first store, my product has attracted many Japanese consumers, so I thought it was the perfect country to open my first outlet abroad.
What is a typical Maribel day like?
Get up early, between 6 - 6:30 am, start Pilates at 7:00 am, and finish at 8:00 am. Then I take French classes at 8:20 for one hour three times a week. After that, I get ready for my day at the office. Finish around 5 or 6 pm, then get together with friends or go home for dinner, listen to Mozart or any other classical music, read, then go to bed.
What changes will your industry undergo in the next five years?
People are consuming more dark chocolate and vegan. I believe this will be a notable change in the industry.
Tell us of any new products we'll see from Maribelle this holiday season.
This year our packaging will depict images of Botticelli paintings, of course with a holiday twist. In addition, there will be new ganache holiday flavors.
Has your daughter shown any interest in entering the chocolate business?
My daughter is particularly good with ideas, especially those targeting the young generation. Although she's young, I feel she will be inclined to take over.
Do you have advice for those aspiring to work in your industry?
If they love the industry, then they will be successful. Otherwise, it will feel like a tough job.