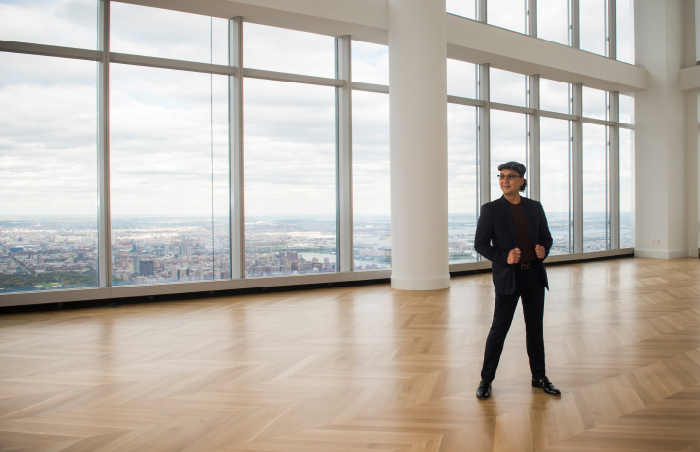 LOY CARLOS
Reaching For The Sky
By Patricia Canole | Photography by Vital Agibalow for HENSEL
Loy Carlos doesn't market a property. He contextualizes it. Instead, inspired by editorial photoshoots and magazine-style storytelling, Loy says he's reinventing property sales and realizing record deals for his clients. It is an approach that has solidified his involvement with ultra-high-end properties, such as the newly listed triplex penthouse at 217 West 57th Street–the highest residence in the world–which is listed at $250 million. Located in Central Park Tower, it is a unique property boasting 17,500-plus square feet and a terrace with the most fantastic views of the city and beyond.
Understanding that it is not for everyone, Carlos feels you must present one-of-a-kind properties like the penthouse in such a way that appeals to, and intrigues, ultra high net worth clients with the most discriminating tastes. Indeed this was also the case with his most recent sale of a limestone townhouse on the Upper East Side, whose $57 million selling price was the highest price per square foot ever achieved for any townhouse ever sold in New York City's history.
"Luxury is a lifestyle," says Loy, who made headlines when he left Corcoran's top team to lead SERHANT Signature, which handles the firm's most exclusive properties. "So, it's important to create a unique brand identity for each product. Each should tell a story that directly links that particular property to the specific complementary lifestyle. It's my job to make the connections, to create that imagery which enable people to readily visualize themselves in a scene that I create for them. I'm the writer, director, editor, producer. I set the stage for the sale."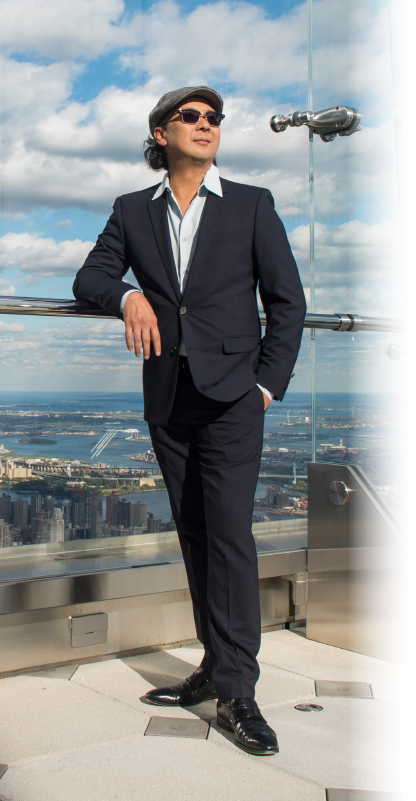 A BORN LEADER
Loy Carlos is an entrepreneur, mentor, and industry thought leader who has been advising clients and partners on the intricacies of real estate and lifestyle for more than 30 years. He has sold some of the city's most expensive apartments and townhouses and has consistently posted record-breaking prices in various neighborhoods. His clients include financial and technology leaders, entertainment moguls, permanent ambassadors and consulate generals, heads of state, high-profile celebrities, investment bankers, advertising executives, executives of Fortune 500 companies, presidents, and board of director members of various chambers of commerce and other professional organizations.
Loy began his career in 1989 when he served as the Director of Technology and Information Systems for the largest residential brokerage in the City. His progressive march in the industry has given him the opportunity to learn every facet of the industry as Regional Director of the oldest real estate firm in country, as Executive Vice President/Director of Sales and Marketing at a prominent downtown brokerage and finally, prior to Serhant, architecting his previous team's rise as the first New York team to be named #1 in the nation.
Always fueled by an unquenchable desire to push boundaries, to improve processes, to change minds, and to challenge convention, Loy has found a formidable partner and resource in Serhant. He works with SERHANT's in-house ID Lab and Studios to design a one-off "identity" for each residence, building or project. Here everything from the fonts, color schemes, background imagery, custom websites, property tours, editorial films, and email look and feel are dreamed up. Instead of simply blasting properties across social media platforms, Loy's strategy and creative team consider where that property belongs. Some properties might shine on TikTok, while some belong exclusively on Instagram. Others deserve more refined exposure in luxury broadcast, print, or digital media—consider specialty publications catering to art, private jets, yachting, fashion, and jewelry. These offer perfect opportunities to partner and collaborate with the most revered global lifestyle brands.
A NEW APPROACH

One thing Loy and his team will never do. They don't take the usual canned listing photos you see on real estate portals. Instead, they style the property like a cover model and bring it to life with video, music, art direction, and people. "For any luxury product, the packaging is everything," he says. "We don't just create for the sake of views. We envision the parties who will ultimately make the deal, and reverse engineer our marketing to bring that into fruition."
Taking a targeted approach and taking the time to tell a story about a property, Carlos creates drama, depth, narrative richness, and even inject humor. "For each of our Signature listings, we create a custom book," says Carlos, who studied journalism at New York University and runs a lifestyle magazine with a global following. "It's painstaking but essential. The process helps define the property's level of luxury to a buyer, in much the same way you differentiate ready-to-wear from haute couture or in-season from last season." It's a process that translates a media following into actual business. But more importantly, storytelling increases a property's value.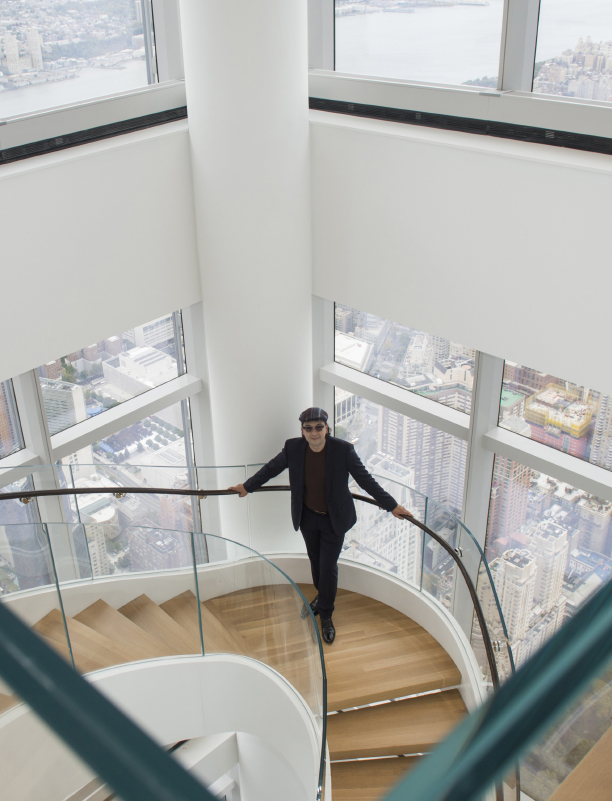 "It may not look like it from the outside, but a lot of New York's best properties have sold or are selling for far less than they should," Carlos says, who is currently listing a $29.5 million townhouse at 7 Sutton Square, plus a $22 million and a $25 million penthouses on Fifth Avenue. "That's because many brokers push their clients to settle for less… they get it out there and hope for the best. But the last three deals I closed have all broken City records. That's the power of an editorial approach to real estate. From cave drawings to today's social media, we're constantly reminded that storytelling is essential in communicating our idea of home…and of value!"
Another critical factor in Loy's selling prowess is to "immerse yourself in the characters of the people and find who they are and what they're thinking." In other words, put yourself in their place. He describes it as akin to acting and dubs himself a "method broker." "Putting together a deal can be made much easier even when there are complications because people need to feel you're on their side. You can do this if you take the time to understand the background and where each party is coming from."

Clients and colleagues alike value Loy's principled approach to anything he does. Clients and co-brokers who have worked with Loy quickly note his integrity and sometimes brutal honesty. They trust his knowledge and negotiation skills and know he will fiercely protect his client's interests. His transparency, positive energy, and calmness under pressure also stand out—especially during tense deals with several moving parts.
Loy says two things have contributed to his career's longevity. "Nothing excites me more than when people tell me something can't be done. To me, the love of work itself is what makes the difference. Honestly, I probably relish the challenge more than I do the results. In fact, often I have to be reminded to step back and enjoy success."
But more importantly, Loy says getting to know people and hearing about their stories and ideas is what keeps him inspired. "Both real estate and the magazine give me unlimited opportunities to get to know, and collaborate with, people.
The talented Loy co-founded Classiques Modernes Lifestyle & Estates, a lifestyle and property management company with partner, Kenneth J. Moore. He is also editor in chief of Classiques Modernes. Literally meaning "modern standards" and read around the world, the lifestyle publication focuses on emerging artists and creatives, not-for-profits and charitable cause…connecting luxury real estate with travel, fashion, music, art, architecture, and culture.
In the real world, so much information is being circulated and fed to us. "We curate for both our real estate clients and magazine readers. We help them stay informed and in touch with the best ideas, the best brands, and the best people."
For Loy, immense satisfaction is derived in knowing his day is spent connecting with people, sharing their dreams, and perhaps even "changing the world and how it's perceived" one person at a time. "I've learned through the magazine that millions of views and hits, while impressive, mean nothing if you haven't touched or helped change a single person's life for the better. I'm not aiming to entertain. What I am is an agent of change. And when that's your goal, sky becomes the limit."