THE CONCORDE HOTEL
Luxurious Midtown Comfort
By Patricia Canole
Just like the city which offers an abundance of nearly everything you may want and need, New York City has a myriad of hotels from which to choose. Each has its benefits and drawbacks. But when it means staying in Manhattan for a long weekend, I think a boutique hotel is one of the best types of hotels to consider. These hotels offer a unique and more personal experience for the visitor.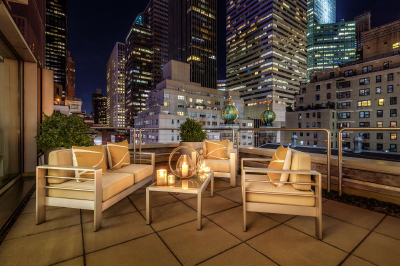 How we travel is changing, and so is how we choose our hotel stays. Boutique hotels, inherently more intimate due to their smaller size, provide the sorts of local charms that larger hotels lack, articulated through a more curated hospitality directive. Design is also a big focus; they lean on a city's history and specialties to help guide their approach. Boutique hotels also possess a community element—whether through more personalized guest experiences or by using spaces and dining environments to help blend local communities with guests, giving you an even more profound sense of place.
There's also a big bonus. Boutique hotels are often located not too far away from entertaining diversions. So, with the holiday season in full swing, thoughts of New York City's annual holiday extravaganzas will top a a must-see list. Parades, festive shows, shopping uptown and downtown, toy soldiers at Radio City Music Hall, a Christmas Tree illuminating the season at Rockefeller Center, and the Nutcracker at Lincoln Center are just the beginning. Then don't forget New Year's Eve! So, why not make a weekend this season even more enjoyable? A stay at the luxurious Concorde Hotel.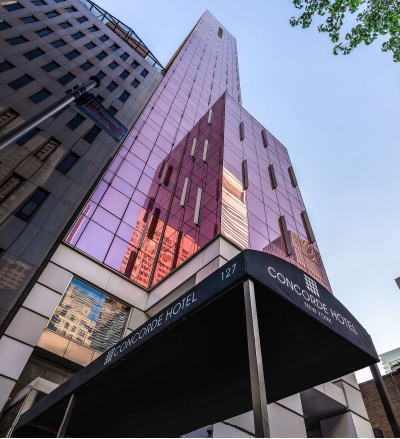 EASY ACCESS
Located on East 55th Street, the hotel is in the Park Avenue Plaza District; it's convenient for museums, shopping, and fine dining. The hotel, once the home to British Airways New York, exudes the same sleek design synonymous with the original Concorde jet.
Less than a decade ago, the building completed a significant renovation and was redesigned by Andres Escobar of Lemay + Escobar. The architecture captures the brilliance of natural light, which creates a Zen-like environment throughout the hotel. With just four guest rooms on each floor, all 122 rooms provide an intimate feel and allow guests to live comfortably out of their suitcases or unpack and stay for a while. In addition, each is equipped with a Nespresso coffeemaker accompanied by assorted coffees and teas.
COMFORTABLE SETTING
Its five junior suites, five doubles, 14 standards, 23 premier king, 20 city view queen, and 44 deluxe king rooms make it easy to accommodate just one or the entire family. The 37th floor boasts a 650 square-foot Ambassador Parlor that features a separate living room with a fireplace, kitchenette, and leather sofa that pulls out into a full-size bed. The Concorde Hotel New York is pet friendly and allows guests to bring this family member under 25 lbs. at no additional charge.
For breakfast, Bonsaii will wake up the senses with a unique menu that includes Salmon Truffle Toast, Spanish Omelets, and specialty coffees. At night the café transitions into a tapas bar, pairing small dishes with a The café transitions into a tapas wine bar.

For more information on The Concorde Hotel, visit concordehotelnyc.com