INCREDIBLE ITALY
An Escape For All Reasons
By Irvina Lew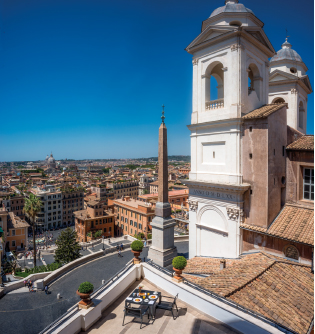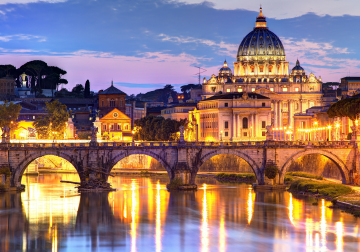 During the long months of the pandemic stay-at-home, my primary pursuit was to plan journeys back to favorite places, including a villa vacation en famille in idyllic Italy.
ROME
Stay A return to Hotel Hassler Roma re-introduced recognizable Roman landmarks: the 16th century Trinita dei Monte Church and the Spanish Steps, where the Piazza Spagna welcomes the world. History dates to 1893, at this icon in the international 5-star hotel scene, where guests sip cocktails on the 7th-floor terrace bar viewing the monument to Victor Emmanuel II. Sup at Imàgo, a Michelin-star restaurant with a panoramic view where Best Young Chef 2021, Andrea Antonini, serves Modern Roman cuisine; stay in individually decorated rooms and spa at Amorvero Spa, where the adjacent fitness facility opens to a corner terrace.
Another option is the five-star Sofitel Rome Villa Borghese where the newly refurbished interior adds a contemporary flair to the former 19th-century Roman palazzo. The 78-room hotel, where each guest room features a Baroque-inspired ceiling, is located adjacent to the Borghese Gardens, near the American Embassy, and convenient to Villa Medici, Trevi Fountain, and the Spanish Steps. Settimo, the destination seventh-floor restaurant where Executive Chef, Giuseppe D'Alessio, serves contemporary Roman cuisine, and deluxe rooftop suites enjoy views of city landmarks, including the 16th century Villa Aurora, with Caravaggio's only ceiling painting.
Do Visit Villa Borghese Museum; shop at designer boutiques on Via dei Condotti and Via Veneto. Be sure to tour Trastevere; take a street-food or gelato tour with Davvero Rome, and ogle the produce market at Campo di Fiori.
Dine Renato e Luisa is a traditional trattoria with a fireplace and stone arches. It offers modern cuisine where Renato creates the feast, son Marco pours Banfi Toscana and serves house-made bread, caprino balls with honey and cheese, stuffed sautéed zucchini blossoms, sushi-style mozzarella with pistachio cream.
Since 1968, Ristorante al 34, near the Piazza di Spagna at the foot of the Spanish Steps, has served Roman specialties from Fiore di Zucca (fried squash blossoms) to burrata, lasagna, salume (cured meats) and Trionfo di Carciofi (artichokes four ways).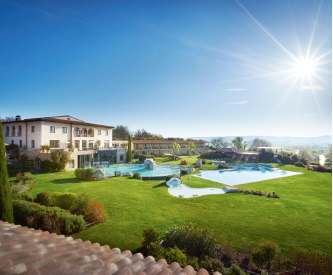 TUSCANY
Stay I started planning a first-ever, full-family villa vacation for three daughters and two granddaughters) when I learned about Villa Sogni d'Oro. This recently-refurbished, six-bedroom, six-bathroom villa on a hillside overlooks vineyards and olive groves and views Montepulciano, a medieval hill town. We drove the Val d'Orcia countryside, cycled to vineyards, shopped for squash blossoms at the open-air market, and drank el vino Nobile de Montepulciano and Brunello di Montalcino and prepared cacio e pepe with local pecorino cheese.
Do Admire Renaissance architecture in Montepulciano; tour 15th century Pienza, a UNESCO World Heritage Site; go truffle hunting; drive to the little town of Bagno Vignoni to savor spa treatments and soak in the mineral-rich (indoor/outdoor) hot springs at Adler Thermae Spa Resort.
Dine In Montepulciano, reserve a table at a Michelin-starred restaurant, Le Logge di Vignola, or for Tuscan steak at Acquacheta. Tour and Taste at Podere il Casale, an organic farm in Pienza.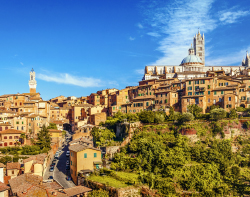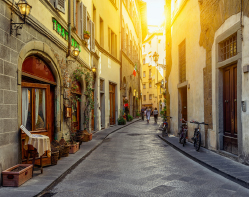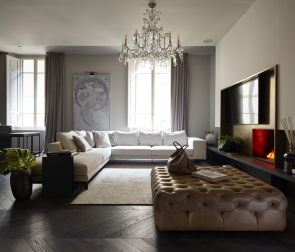 FLORENCE
Stay ETRA, Davide and Mimma Miglino's new uber-luxe hospitality project is a high-ceilinged, private residence in a transformed, Art Nouveau-style former bank. Located in the historic center of Florence close to the Duomo Cathedral and views from two balconies, it's also near the Uffizi Galleries, Ponte Vecchio, and the Palazzo Vecchio. Hosts provide entrée to the most fashionable Florentine venues and exclusive access to hire Michelin-starred Chef Daniele Zazzeri, owner of La Pineta, to prepare dinner en suite.
Do See Michelangelo's masterpiece David at the Galleria dell'Accademia, tour Pitti Palace, shop on Ponte Vecchio, visit Ferragamo and Gucci museums, buy pastry at Galleria Iginio Massari Firenze owned by the "king of Italian desserts."

Dine Reserve tables under the vaulted ceilings at Il Borro Toscana, facing the Arno, for Andrea Campani's interpretation of farm-fresh fare sourced from the Ferragamo wine estate; at Gucci Osteria da Massimo Bottura, the renowned 3-star Michelin chef and house-chef, Karime Lopez, serve international fare; Cantinetta Antinori in the family's 15th-century palazzo, specializes in Tuscan steaks and Antinori wines; La Ménagère is an uber-chic, day-to-late-night café/florist/houseware boutique/bookstore housed within a vaulted palazzo.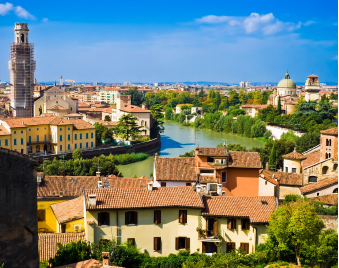 VERONA
Stay The luxe, newly-reconstructed Vista Palazzo Verona Hotel recently opened within a 19th-century mansion in the heart of the walking city's medieval centro storic, near the city's famous Roman amphitheater, c. 30 AD. The chic space affiliated houses sixteen suites with connecting doors. In addition, there's a salon, library, wine-tasting room, gym, an all-day penthouse restaurant, and a rooftop terrace. The couple's suite in the subterranean spa offers a whirlpool tub and the city's only indoor, heated pool.

Do See an opera at Arena di Verona Opera Festival, visit the Duomo, and take photos at Juliet's balcony.
Dine Chef Fabio Aceti exquisitely interprets Northern Italian cuisine in a splendid penthouse at Ristorante Sottovoce and serves vegetarian floral arrangements, and free-range chicken, all on Richard Ginori china. Osteria La Fontanina holds a Michelin star for its traditional Veronese fare, such as suckling pig and slow-roasted fowl.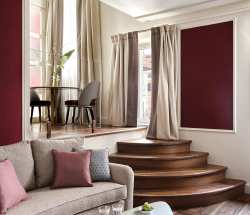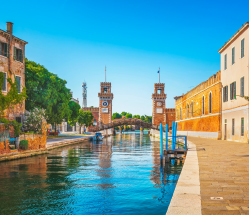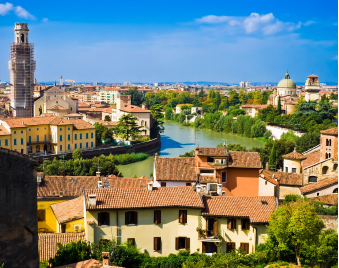 VENICE
Stay Ca'di Dio, the lagoon-front, 5-star hotel where crusaders and pilgrims used to sleep, just opened in Arsenale, the Contemporary Art District. Arrive at the newly-transformed 13th-century ecclesiastical compound by private water taxi to a ground floor with a grand salon in the former chapel, a bar, a library, restaurants, and a spa. Of the sixty-six rooms, fifty-seven are suites, of which ten view San Giorgio Maggiore Island, with its 16th-century domed church designed by Palladio. Walk along new ramps over bridges to the Bridge of Sighs, St. Mark's Square, the Basilica, and Doge's Palace.

Do Visit Peggy Guggenheim Museum; attend the Venice Biennale Art Festival; take a private water taxi.

Dine Sample Cicchetti, bite-size, finger-food, Venetian appetizers at the Ca' di Dio bar or at a bacaro, such as Bacarando; try crostini, scallop in a shell, prawns, sardines, baccalà, giant green olives, carpaccio, mozzarella in Carrozza (fried). Devour a Tuscan steak with roasted potatoes at Vero Venetian Roots. Drink a Bellini (fresh peach juice and sparkling wine) at Harry's Bar, which Giuseppe Cipriani Senior opened in 1931; then, order a burger or club sandwich or a Classic Harry specialty: carpaccio, risotto, taglierini, and veal Milanese.