HOLIDAY MAGIC
A Winter Visit To Gothenburg, Sweden
By Jenny Peters | Photos courtesy of Gothenburg & Co.
Imagine spending the Christmas holidays in a place utterly different from an American city like New York, yet strangely familiar and cozy, with snow-dappled buildings, massive Christmas markets, and holiday buffets filled with foods you don't recognize. That's the December experience in Gothenburg, Sweden, where everyone speaks English and welcomes tourists with open arms.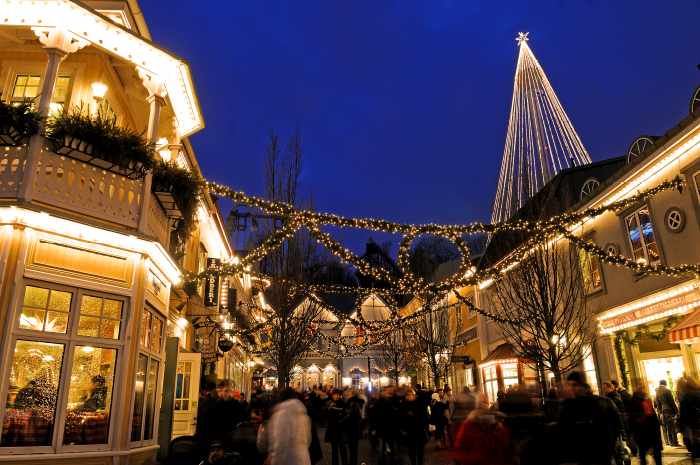 Gothenburg (aka Goteborg, in Swedish) is a spectacular city any time of year. It's the second-largest metropolis in Sweden and a place where living with a consciousness toward saving the planet is at the forefront. Gothenburg has been rated the "most sustainable city in the world" for five years straight by the Global Destination Sustainability Index, which is evident the more time you spend there. Everyone travels via the tram, train, bus, bicycle, or walks to where they are going in this green seaport filled with parks and perched on the water. Buying "recycled" clothing and home goods are so prevalent in Gothenburg that those stores are as beautifully maintained as couture boutiques. Another fact to note is eating locally produced food from nearby land, and sea has always been a culinary focus here (be sure to try Human and Natur restaurants for world-class meals).
COOL & SNOWY
You'll have to go much further north to see actual reindeer in Sweden, but for everything related to the December holiday season, Gothenburg is an ideal place to visit. It's cool and snowy but not too cold, so be sure to pack footwear that can withstand the elements and keep your feet warm, as well as your warm winter gear, as much of the charm of a Swedish Christmas happens outdoors.
In the chic neighborhood of Haga, they go all out with a famous Christmas market that includes plenty of twinkling lights, decorated spruce trees, shopping booths with handcrafted goods, carolers, and food stands serving up sweets and mulled wine, and even horse rides for kids. Tuck into the brick-and-mortar shops along the way when you get chilly or warm up at one of the open-flame fire barrels that dot the outdoor spaces at this lively scene that happens every weekend leading up to Christmas Day.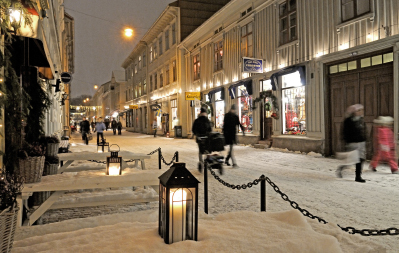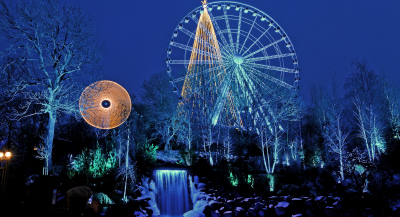 CHRISTMAS AMUSEMENTS
Families (and singles, too) will love the Liseberg Amusement Park, a cornucopia of sights and sounds from the moment you enter. No matter how low the temperature goes, the roller coasters and other rides run at this legendary park in the center of the city.
Opened in 1923, the massive park is all about having fun; at the holidays, you'll see millions of white lights and so many Christmas trees you cannot count them. More than 80 booths make up their massive Christmas market, and don't be surprised to see everyone carrying humungous candy bars (think four feet long!), for those are the coveted prizes to be won at the game booths—but they're going to be hard to fit into your suitcase!

Those handmade sweaters, beautiful jewelry, and other pretty holiday items will surely make someone happy. You'll also be pleased if you have a luscious hot chocolate while exploring it all. And make sure to reserve a table in 1923, the park's elegant restaurant that puts on a "Julbord," the insane Christmas buffet that starts with ten varieties of herring and goes on for 12 courses, many of which you might not recognize but need to taste at least once. By the end, you will feel like a genuine Swede, having done the holidays just like a local.
Top off your holiday experience with an ice-skating adventure in Kronhusbodama, add in a Christmas concert at Gothenburg Cathedral, and do not miss the different choirs singing holiday songs while floating down the Gota alv River that runs through the middle of the city. It's all magical in this friendly city that exudes warmth and camaraderie to all, even on a winter's day when the sun only shines from 9 am to 3 pm.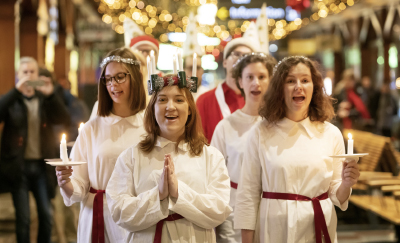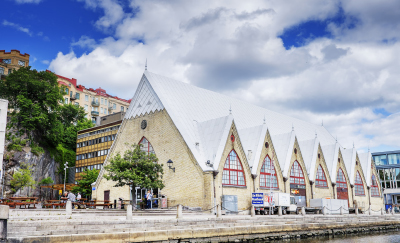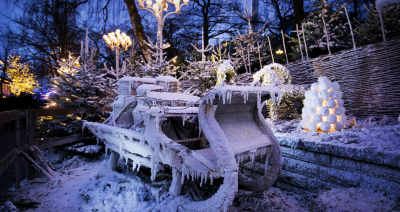 THE ESSENTIALS
Choose the Hotel Pigalle for a centrally located home base with an old-school yet relaxed contemporary vibe. At the new Scandic Goteborg Central, find large terraces overlooking the river and comfy beds; or be the first to check out Jacy'z, a glass-skyscraper hotel opening in November created by the same people who made Pigalle a city hotspot.y the same people who made Pigalle a city hotspot.
Purchase a 1-day or 3-day transport ticket, which will work on trams, trains, buses, and ferries across the city (and a bit beyond). The tram system is fantastic, clean, and fast. For booking fun tours, use GetYourGuide.com, which offers all kinds of sightseeing and walking tours run by professional guides.
For more information on Gothenburg, visit gothenburg.com