HARRYS LONDON
Stepping Into A New Year
By Lillian Langtry | Photography by Nicolette Richards/Ambassador Images Peters
Recently at the New York flagship store, recently named Creative Director Graeme Fidler and well-wishers came together to celebrate contemporary British footwear and accessories brand Harrys of London which has been rebranded and renamed Harrys London. As the brand's consulting creative director as of 2021, Fidler aims to add more comfort and practicality to the stylish shoes.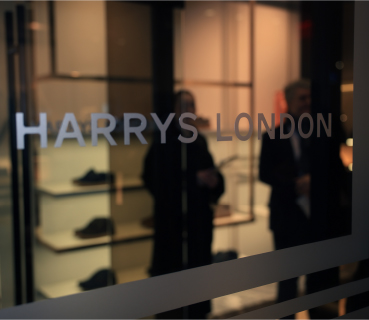 THE EARLY YEARS
Fidler is a graduate of North Umbria University. He trained as a designer in England, and subsequently worked at several companies, including Polo Ralph Lauren in New York, as the design director at Aquascutum, and the creative director at Bally. He launched a menswear brand called Several in 2014 and worked on the Aspen Ski School collaboration with executive Read Worth. Fidler's first collection is Harrys London's Autumn/Winter 2022 collection.
Britain has long had a reputation for designing and manufacturing some of the most classic, high-quality men's footwear in the world. While a few venerable brands have trickled across the pond to New York, it is a fashion necessity which has been long overdue for an overhaul. Enter this contemporary British footwear brand, which has engineered a revolution in men's footwear. "Harrys London is headed in a new direction, and we are excited that Graeme will lead this growth and revitalized vision for the brand," said Charles S. Cohen, Harrys' chair, in a statement.
The change in name comes after the revolutionary men's shoe brand has expanded globally, following the opening of their New York City flagship store in 2019.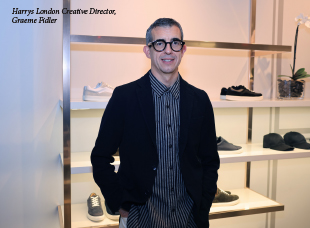 A NEW LOOK
The new rebranding aims to make the brand's name and logo more easily accessible across shops, shoes, and social media. The new, simplified logo of the brand is also in line with the new rename, adding a modern touch to the historic shoe brand that has been in steady business since 2001.

Celebrating the new look included Clo Cohen, menswear influencer Bryan Griffin, Steven Beltrami, Naomi Lawson, stylist Nolan Meader, Sydney Sadick, Romy Chan, menswear stylist Chiun Kai Shih, designer Peter Som, Nadja Sayej, George Wayne, James Reginato, interior designer Philip Gorivan, Patrick Moxey, Mike Carver, Naeem Delbridge, Byrdie Bell, Scott Buccheit, Christian Leone, Emma Snowden-Jones, Jaerez.

For more information about Harrys London, visit harrysoflondon.com