THE LEXUS LC-500
Sleek Power In A Sweet Sports Car
From the outside in, the Lexus LC-500 is a beautiful thing. It's the sort of sport car that makes both men and women stop and admire it from the outside, especially if you're driving one the color of "Cadmium Orange," for that paint seems to glow with an inner power. Expect complete strangers to stop you in a random parking lot and valets to simply drool as you hand over the keys to this sporty two-seater (there's technically a back seat, suited only for very small children) with a 471-horsepower, 5.0 V8 engine.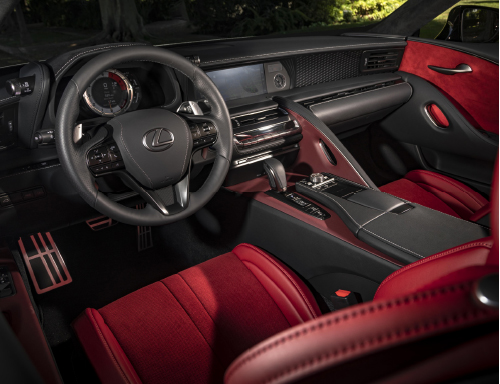 This Lexus growls when you punch the throttle, music to the ears of every sports car lover; and as it takes off on the highway, the standard 20-inch, ten-spoke cast alloy wheels grip the tarmac like a glove. Sleek and quiet inside, you'll be going 100 mph in a flash and not even feel it in the LC-500, proving this isn't a vehicle to be taken lightly. Powerful and muscular, it's the kind of car that can get you into trouble if you're not paying attention!
A DRIVER'S DREAM
The interior is beautiful as well, although the gear shifter—which is an automatic, not a stick—leaves something to be desired in its ease of use. But that's a minor complaint, as the rest of the interior is a bit of a driver's dream. With high-basked sport seats, you really feel like you are in a "cockpit," which is what the people at Lexus call this interior. The LC-500 is low slung, adding to your feel for the road, yet comfortably cocooned. The console has all the features that define a luxury car, from a large navigation system to a powerful sound system that allows you to create your own listening experience, be it the all-news AM radio station or hip-hop playing 24/7 on SiriusXM.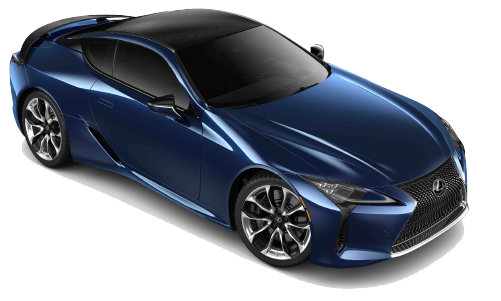 Of course, with a sticker price that hovers around $100,000 depending on what features you choose, safety is a key part of the Lexus design. We love the blind spot monitor pop up on the side mirrors, and happily did not deploy the pre-collision system that features pedestrian detection. That feature just might come in handy on a busy city street, as do the rear backup camera and the warning images. Eight airbags are hidden throughout, helping ensure that even if you do happen to hit something despite the car's best efforts to warn you, you should walk away unscathed. And for those that find parallel parking the bane to existence, this sports car will take over with "Intuitive Parking Assist" to help ease itself into that space.
The LC-500 can also be built right to your specifications, with the Lexus Bespoke Build program. Choose your favorite 20- or 21-inch wheels, add a speed-activated rear wing, choose a glass roof with a sunshade; those are just some of the build options that allow personal customization. But no matter if you create your own unique vehicle or simply go to the showroom and pick out the one that strikes your fancy, there's one thing that will remain the same: the Lexus LC-500 is a seriously cool car to enjoy.
For more information about the Lexus LC-500, visit lexus.com/models/LC