Just when you thought that the legendary Jean-Georges Vongerichten had done everything a "rock star" chef and restauranteur could produce, he has taken it to the limit with his latest venture! His latest Tin Building at the South Street Seaport is a food hall with an extensive range of cuisines served in numerous settings, from booths to bistros with added points of interest, including a produce market and French-style ice cream and candy boutique.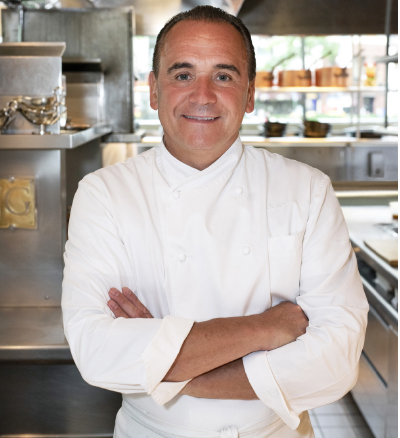 You can see pieces of Jean-George's pre-famed life as a youth in Alsace in many of the eateries and shops displayed at the Tin Building but especially at the T. Patisserie, which has the best croissants in Manhattan. At the fish counter in the Central Market, there's classic local fish reminiscent of its Seaport location.
MARKETPLACE MAGIC
In an exclusive interview with New York Lifestyles, Jean-Georges discussed the evolution of the Tin Building, damaged during Hurricane Sandy and just a shell of its former self. The industrial-style structure needed to be moved eastward and elevated to become safe enough for humans to visit. In addition, the original interior elements were refurbished to look new, including ceiling details and windows.
The legendary chef and businessperson, who has helmed 40 successful restaurants since moving to NYC in 1986, says, "Growing up in a rural part of Alsace, my family and I frequented markets a couple of times a week. We got our fish from the fishmonger, meat from the butcher, fruits and vegetables from local growers. Then, the weekend farmers market would bring them all together- all fresh and local." But, he adds, "Markets have always been a place for people to come together for one reason: food. These experiences growing up were a huge inspiration for the Tin Building. I wanted to create my kind of market where you can buy the freshest local fruits, vegetables, meat, seafood, and flowers but also dine at the market, which is something I haven't seen before."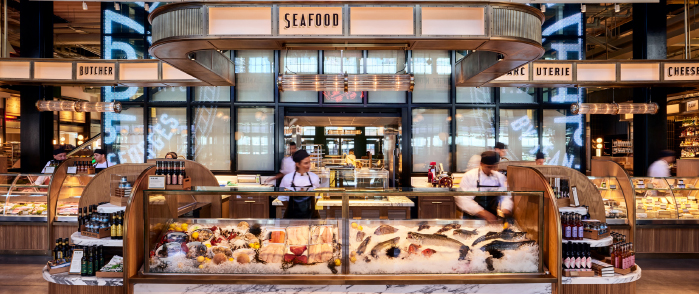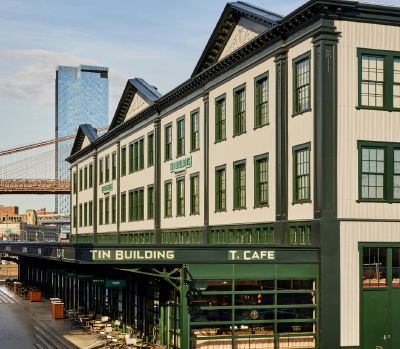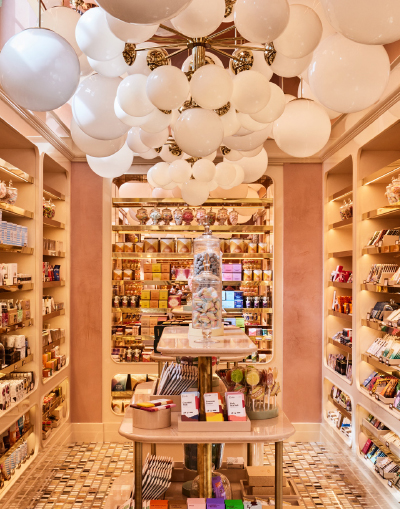 A PERFECT DAY
The seven sit-down restaurants within the Tin Building include House Of The Red Pearl, a Chinese-inspired eatery housed within a speakeasy, and T. Brasserie, which we visited to taste everyday French classics like Onion Soup and Moules Frites and to experience the Gruyere Burger. What makes this burger so unique? It features grass-fed beef from a local farm grilled on an open flame, topped with melted gruyere, and then placed on the most amazingly soft, buttery puffy roll spread lightly with green chili mustard.
We could not resist asking for Chef Jean-Georges' definitive list of activities for visitors to the Tin Building to experience. He responded, "When we were conceptualizing the Tin Building ten years ago, we wanted to create a market for anything and everything. It's not just a food market—there are retail and experiential elements to it as well. My suggestion would be to go between 10:30 and 11 am, then order a coffee from T. Café and a croissant or egg sandwich from Double Yolk. Sit down and enjoy these. Once you're finished eating, I would walk to the flower market, take in the beautiful blooms and pick up a plant or bouquet to take home later."
He continued, "Because this is my homage to the original Fulton Fish Market (the first place I visited in NYC when I landed in 1986), the fish market has a special place in my heart. We have an exciting variety of seafood from local, small purveyors. Walk through and explore the spaces, read the menus, talk to the team, try some charcuterie, and step into the candy land that is The Spoiled Parrot. I would then head upstairs and explore the spaces, flip through the cookbooks, take in the various products and pick something up for a friend or a special someone. Once you've looked at all the menus, decide which restaurant you'd like to try and ask for a table!"
HANDS-ON PLANNING
It is understood that "JG" is extremely busy, yet he spent hours leading up to the opening of the Tin Building on the premises. He told NYL, "I have been extremely hands-on, as has my team, since Day One. Every choice has been made, from the seats to the door handles, art, menus, cocktails, and products. Because this building is so personal, I've wanted to have a say in every element and hear my team's thoughts."
You could visit the Tin Building every day for a week and only see about one-third of what they offer, as the restaurants and marketplaces are constantly adding new products. This tremendous fresh eating and shopping space is a perfect reason to visit the Seaport, and the no-rush atmosphere makes it ideal for casual browsing and picking up small bites at the stands as you leisurely walk by. It is also conveniently located on 96 South Street, directly across from all the vintage ships. Friends from out of town and locals will appreciate the incredible array of culinary treats on hand. No other New York City culinary destination has so many types of cuisine under one roof.
For more information on the Tin Building, visit tinbuilding.com