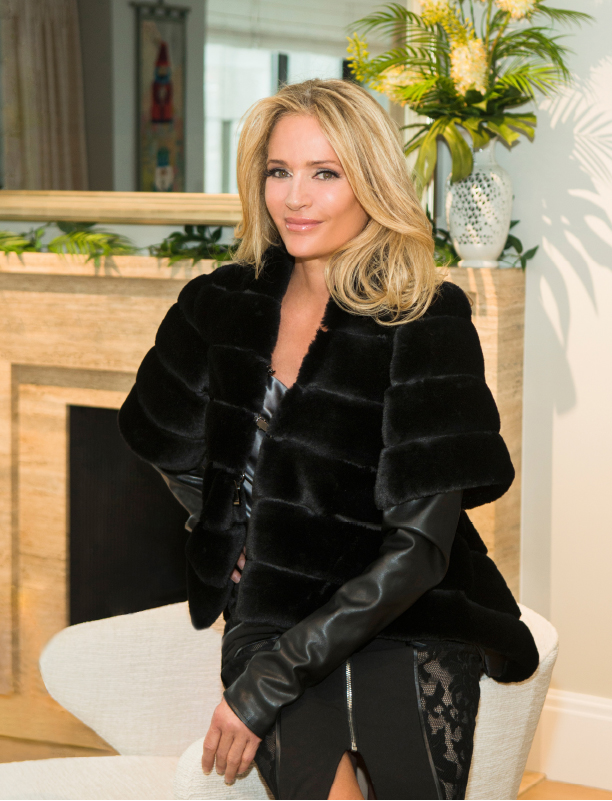 LEESA ROWLAND
Discovering The Power Within
By Chris Michael Photography by Vital Agibalow for HENSEL
All Fashions by Marc Bouwer Hair & Makeup by John Henry Edington
Most acclaimed actresses have impressive backgrounds. But few are as beautiful and wide-ranging as cult film star and philanthropist Leesa Rowland. The daughter of an artist and college professor, Leesa grew up in Austin, Texas, where she studied broadcast journalism and later became a classically trained actress at the world-renowned Stella Adler Studio in Los Angeles.
Shortly after graduation, she quickly gained a following, being cast as Victoria in Troma Entertainment's 1992 cult film classic, Class of Nuke 'Em High Parts 2 and 3 and appearing in the sequel Return To Nuke 'Em High, which aired on The Starz Network in 2013. In 1994 she acted in Troma's television USA Network series Troma's Edge along with Lloyd Kaufman and Debbie Rochon. Then, in 2012, she co-starred in Travis Campbell's Slaughter Daughter as the eccentric mother who drives her daughter to insanity. The film won for best feature at Orlando's 7th Annual Freak Show Film Festival that year. In addition, it led to a co-starring role in the critically acclaimed web series Two City Girls and appearances on the Oxygen reality series Jersey Couture in 2012.
Beyond her extensive career and credits as a film and television actress, Leesa is the acclaimed author of two best-selling self-help/motivational books Discovering the It Factor within You: Developing Your Charismatic Personality, published in 2015. Her second book describes embracing individuality, discovering authenticity, and empowering yourself. The Charisma Factor: Unlock the Secrets of Magnetic Charm and Personal Influence in Your Life has catapulted Leesa as a popular author and influencer. The book describes charisma as an unseen but powerful force that makes us unique and sets us apart from the rest of the crowd. It is something we all possess—whether you know it or not.

CONNECTING IS HER SECRET
She believes devoting a little time to connecting with our inner selves, learning what makes us truly special, and incorporating this magnetic quality into our personality can have untold benefits on our lives. The Charisma Factor is a guide that unlocks the mysterious formula for charm. Whether you live in the spotlight or are a college graduate just starting a career, Leesa's ideas and advice will improve communication and interaction with others with valuable lessons and personal tips. She said, "I want to help people become the best they can be. One of the chapters in my book that's especially strong is about different charismatic personalities, their traits, and their magnetism. It's like a behavior study."
She is also well-known as a philanthropist and animal activist. This dynamic woman is the president of the New York non-profit group Animal Ashram, which she founded in 2013. As a resolute vegan, Leesa says, "Life is full of choices and living a cruelty-free life is the best choice I have ever made. There is plenty to eat without eating animals. My choice is compassion. It is always in fashion."
New York Lifestyles wanted to learn more about this fascinating woman. And, like us, you'll soon agree that Leesa Rowland possesses lots of style.
Tell us what has been the most memorable experience in film/television and why?
I worked on a film in 2001 in Orlando called The Bros. I co-starred with Joey Fatone, Dennis Scott, Ludacris, Arielle Kebbel, Shaquille O'Neal, Carrot Top, Cindy Margolis, and Vanilla Ice. We had a fun group of people to work with! The best part, though, was I went to walk the dogs at the local shelter while I was there in Orlando, and I came back with a cat named Moo. The cat became the love of my life, and I would never have met him had I not acted in that movie.
What inspired you to write two motivational books?
I want to share my story and help guide others as they embark on their journeys and cross the crossroads of unfavorable or blocked conditions. I have navigated through many tough and challenging times and have always found a way to keep a positive outlook essential to attaining and retaining peace of mind. In addition, I want to share my tips and secrets.
Do most people possess charisma?
How can we seek it and use it in everyday life? We all possess charisma. We only need to discover it within ourselves by figuring out what motivates us and what we love to do. Then, when you do what you love, charisma will shine through you.
The premise of your book, Charisma Factor, is intriguing in that you bond charisma with karma.Explain this concept.
Everything we do has a consequence. If you act to help others, you bring good karma to yourself. Good things then start happening to you. When good things happen to you, your mood and frequency rise, and you naturally become charismatic.
As an animal rights advocate and president of the New York non-profit Animal Ashram, tell us more about the organization and why you founded it.
I began in the animal rights movement in the early 90s with Last Chance for Animals in Los Angeles. We worked against vivisection, which is experimentation on live animals, pet breeding, and factory farming. I started Animal Ashram to continue doing this work and more in New York City. We also rescue dogs and cats from the kill shelters, such as the NYC ACC Animal Care and Control shelters in the tri-state area. New York City does not have room to take in all the stray, abused, and abandoned animals, so they have an extremely high euthanasia rate. We work through the night to place the ones at the most risk.
Speaking of Animal Ashram, what do you want to accomplish this year?
I am manifesting a fabulous physical location for a rescue center. We have always kept the dogs and cats with fosters, but we could save many more lives if we had a state-of-the-art cageless, comfortable shelter. We have been looking at places in New York City and Long Island.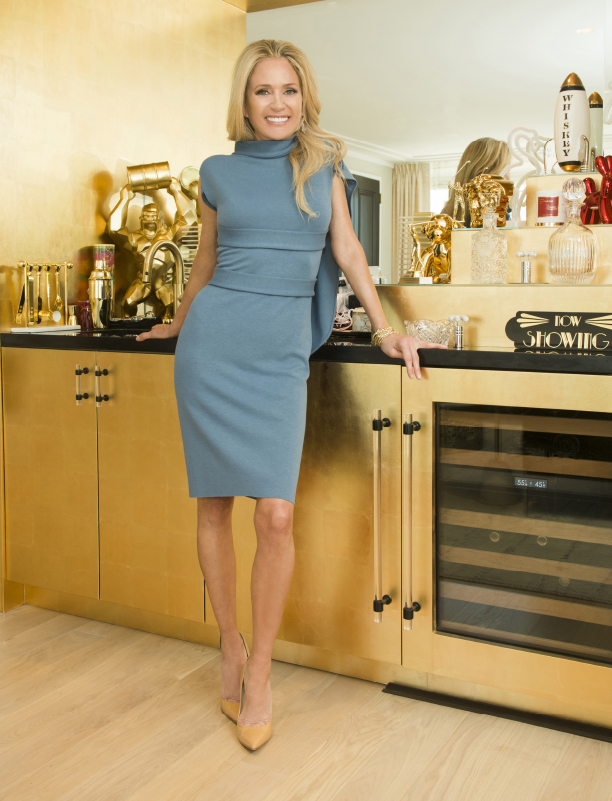 You have been a vegan all your life. Why did you make this choice?
I grew up in Texas, where my uncle had a cattle ranch. I would get to know the cows, and they would disappear. I learned they were sent to slaughter, and I have never eaten meat since. I love all animals and will never eat them.
How would you define your style? Where do you find inspiration?
I love classical designs, but I love adding fun or whimsical flair to things. I have a polished style, yet I love to play with fabrics, colors, shapes, and textures. I love glamour, vibrant color, and sexy silhouettes. And the unexpected! Every day to me is a special occasion!
Where will we find Leesa Rowland in five years?
I will spend my days caring for animals at a state-of-the-art cageless no-kill shelter and healing center, doing yoga, acting, spending time with friends, and writing about spirituality.
How do you juggle your life, Leesa, and maintain a balance?
I prefer to concentrate on one big project at a time, so I can always give my all to everything I do. I have strong self-discipline and always place my work before my pleasure. That way, I can relax without feeling guilty.
What three words best describe you?
I am optimistic, passionate, and compassionate.
What is the best piece of advice you've ever received?
Never concern yourself with the opinions of others.
What would you be doing if you weren't an actress/author/animal activist?
I am doing what I love and can't envision doing anything else.
Lastly, what is your secret to staying beautiful?
You are most beautiful when you are grateful for what you have.