The wedding of Lt. Col. Allison Ecung and Freiherr Raban von Arnim late last year created a unification with not just special meaning for the happy couple, but also a gift for society. The philanthropic couple exchanging vows was symbolic of their beautiful bond, as well as that of two people helping to make the world a better place. Their romance has created for them a keen sense of the importance of giving and a passionate vision to support those most in need in the world.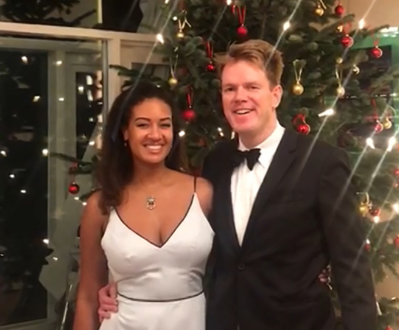 A select group of 100 international guests from Mexico, Sweden, Denmark, England, India, South Korea, Australia, the Netherlands, Spain, as well as the United States and Germany traveled to Potsdam in Germany for the blissful celebrations. Multiple events over the course of three days took place took place at the soirée including a traditional Polterabend at Villa Schöningen on the Bridge of Spies Friday.
A FAIRYTALE WEDDING
A Saturday formal ceremony in morning attire took place at St Peter and Paul Wannsee, the former church and sacred burial place of the Prussian Royal Family. Following was a luncheon reception at the American Academy in Berlin. The couple has proudly over the years backed this cultural institution's work in New York City and Berlin.
Then a black-tie wedding ball with cocktail hour commenced along with a three -course dinner all followed by dancing until the early hours of the morning at Castle Kartzow. The festivities were completed with a Sunday Goodbye Brunch at Castle Kartzow, which ended with a special honeymoon for the pair in Egypt. A prior bridal reception was hosted at Mikimoto, which was declared to be serendipitous since pearls are the symbol for a Baron's coronet.
Their romance was born from a mutual compassion to support charitable causes. First meeting at charity events in Europe, they equally agreed to have their nuptials highlight important causes. Guests were invited to donate to the Mission Society of New York City and Brot für die Welt in lieu of more traditional gifts. Other organizations the couple support include White Cross Ball for the Order of Malta, the Intrepid Museum, and the New York Friends of the Kunsthistorisches Museum.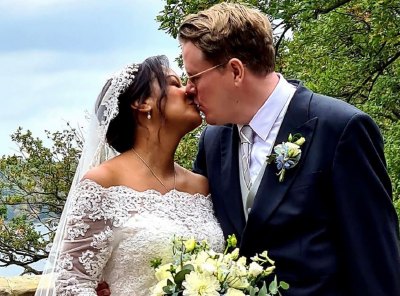 A POWER COUPLE
The true definition of a power couple, their thought-provoking relationship can only be described as the stuff of a romantic film on the silver screen: An American military officer travels overseas, meets a European nobleman and they fall in love.
Lieutenant Colonel Allison Ecung is a Public Affairs Officer at the U.S. Air Force National Media Outreach Office in New York. In this capacity, she is responsible for maintaining national media relationships, along with planning and engaging through Senior Leader media and civic operations. Ecung commissioned from the U.S. Air Force Academy began her career as a communications and cyberspace operations officer. She later completed her master's degree in international relations, transitioning to the public affairs field before being selected as a Foreign Area Officer for the European region.
The Baron studied law at Heidelberg University and currently provides legal consultation for Charite Hospital in Berlin. Historically his family has produced several famous writers and artists and he is a descendant of the famous writer Bettina Freifrau von Arnim, whose face was formerly on the Deutschmark bill. He remains very involved with the events and programs at his family's historical homes, particularly at Zernikow manor.
Looking to the future, the Baron and Baroness will focus on continuing support for German and American charities, especially the New York Quadrille Ball, at which Ecung danced in 2010 and has actively supported since then. She also remains on the junior steering committee for the American Ballet Theatre and the Young Fellows Steering Committee for The Frick Collection.