Operation Warrior Shield (OWS) held their Healing for Heroes Event in support of Military Veterans and First Responders at The Water Club in New York City. The evening honored Jean Shafiroff, Philanthropist and author of Successful Philanthropy: How to Make a Life By What You Give, and The Doris Day Animal Foundation, accepted by Jim Pierson and Patricia Deshong of the Southampton Animal Shelter Foundation.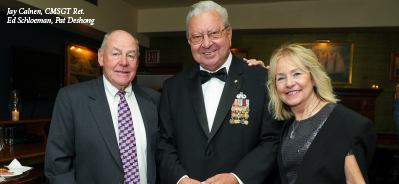 Operation Warrior Shield is a 501(c)(3) charitable organization whose primary mission is to provide comprehensive support programs for service members, veterans, and first responders, with a focus on "Healing Their Hidden Wounds" through no-cost holistic wellness services.
CANINE COMPANIONS
Chief Master Sgt. Ed Schloeman, Chairman and CEO of Operation Warrior Shield, commented, "Our goal is to provide specially trained, loving, and supportive canine companions to veterans and first responders who live with physical and emotional injuries incurred during their time in service." Bethann Carbone, CSO of Operation Warrior Shield explained, "We developed Operation Canine Companion because veterans are committing suicide every day. We know how important healing from trauma is. OWS' Operation Canine Companion pets provide safety, camaraderie, unconditional acceptance, and outstanding emotional support that helps reduce the stress and challenges our heroes face daily."
The evening commenced with a cocktail hour and silent auction before the program's start led by the Schloeman. Opening the ceremony was the USMC Color Guard from the 1st Marine Corps District and an invocation by Monsignor Hilary Franco, who has the distinction of serving six Popes.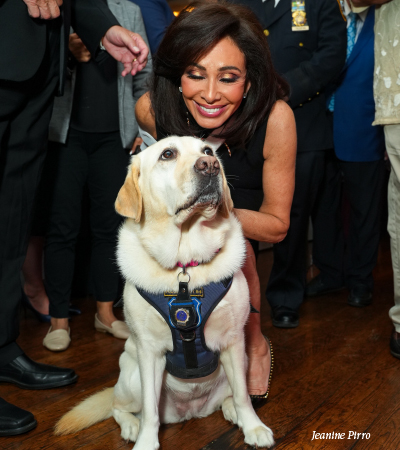 OUR VETERANS & FIRST RESPONDERS
There were presentations on the importance of supporting the charity's work to help reduce suicide risk amongst veterans by Paul Bucha, Congressional Medal of Honor recipient. Deputy Inspector Mark Wachter and Lt. Col. Wilem Wong of NYPD Health & Wellness discussed the challenges faced by first responders. A live auction by Auctioneer Rudy Saviano sought to raise funds to help provide trained dogs to veterans.
OWS then presented awards to the honorees of the 2022 Healing for Heroes—Jean Shafiroff, philanthropist and author, to Jim Pierson who accepted the Doris Day Animal Foundation on behalf of the Foundation, and to Ms. Patricia Deshong of the Southampton Animal Shelter Foundation.
Amongst the notables who Attended were; Jean Shafiroff, CMSgt Ret. Ed Schloeman, Pat Deshong, Monsignor Hilary Franco, Medal of Honor Recipient Paul Bucha, Deputy Inspector Mark Wachter NYPD, David Tupper & Yellin, Judge Jeanine Pirro, Lorri Scott, Marvin Scott, Nene Kodjoe, Rebecca Seawright, Tatyana Horoshko, Judy Gilbert, Brooklyn Borough President Antonio Reynoso, Luigi Nicolae, Michelle DellaFave, Barry Fixler, Patric Hale, The Honorable Randall Eng and Jim Pierson.
Organizations sponsoring the Healing for Heroes Gala included: The Doris Day Animal Foundation, David Lynch Foundation, Interstate Toyota, Helen Buford, John Legere, Pharmasphere, Soho Johnny, American Legion Post 1291, Beyond Steel, Ray Brumfield, Francesca De Vito, Barry Fixler, Elisabeth Halfpapp, Jobpaths, Patrick Kernan, Teddy Maldonado, NYPD Health and Wellness Section, Anthony Rodriguez, Edward Shloeman & Family, Jean Shafiroff, Southampton Animal Shelter Foundation, T-Mobile, John Walsh, Wendy Waugh, Westgate Hotel, Wilem Wong and Veterans Airlift Command.
Healing for Heroes extends special thanks to Judy Shloeman, Michael Heil, Bethann Carbone, Sarah Strauss, Errol Rappaport, and Maria Rodriguez.
For more information on Operation Warrior Shield, visit operationwarriorshild.org