DON HERSHMAN
Exhibits At Art Basel Miami
By Peter Elston | Photography by Nick Gutierrez
Award-winning artist Don Hershman continued to carry out his successful assemblage of exhibitions with a showcase that premiered during Art Basel Miami 2022 and who sold a significant proportion of the works on display at the Red Dot Art Fair.
Taking over walls during Florida's Red Dot Art Fair, the storied halls of the beloved ArT LoVe GaLLerY were the home of the new works entitled 'Shadow Series.'
SHADOWS ARE KEY
For the past 25 years, Hershman's use of shadows has always been a component of his paintings, but it wasn't until the early part of 2022 when the ArT LoVe GaLLerY owner, Jackie Fuchs, prompted him to focus on this subject for a new exhibit keenly. A past show in July 2022 entitled "Sexuality and Shadows" was successful and inspirational for the acclaimed San Francisco-based artist.
"Once the show closed, I felt compelled to take the subject of shadows even further," said Hershman. "People often think of shadows as a metaphor, suppressed trauma, impending doom, or ominous dark magic. In this new series of 14 paintings for Red Dot, I attempted to steer the concept of shadows into a practice of healing and self-growth, moving the viewer to a place of compassion and surrender."
Red Dot Miami is a curated gallery-only contemporary art fair during Miami Art Week. Hershman's work was proudly a part of 75 of the top galleries from around the world showcasing work, including Provincetown's famed ArT LoVe GaLLerY. At the iconic Mana Wynwood in the heart of the thriving Wynwood Arts District and running alongside sister fair Spectrum Miami, Red Dot offers the unique opportunity to connect with blue-chip galleries and emerging artists under one roof.
Hershman displayed 14 new paintings with the 'Shadow Series' during the fair, which ran last month at Mana Wynwood. Titles on display included "Dog With Shadow," "Tulips," "Bicycle," as well as "Man Leaning."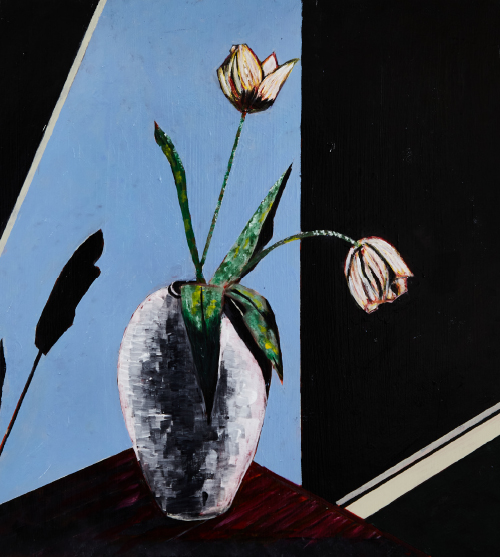 The new artwork on display showcased a celebration of life and the grand meaning witnessed in ordinary everyday things as they are transposed with their reflection in a shadow.
THE WINNING ARTIST
Hershman was fresh off the heels of multiple American exhibits, from a sold-out show in Manhattan to displays in Dallas and Palm Springs, took on a unique look at the male images with other subjects such as a dog in the desert, tulips, or a desk with shadow.
Bringing his last work to the landmark ArT LoVe GaLLerY was a dream come true and a mission long in the making. Ever since his career took flight during the 2021 Salomon Gallery New York exhibit of original pieces that were part of a retrospective series inspired by the late Victor Arimondi, the innovative Hershman has been on an upward trajectory and become part of several collector's wish lists.
For more information on Don Hershman, visit donhershman.com