QUEEN MARY 2
LUXURY AFLOAT
By Norah Bradford | Photos JB Photo
In an era where time is an ever-decreasing commodity, travel has become a more athletic, competitive exercise – the pressure to see the key sights, try to secure the best dining tables, and always remain in contact with family, friends, and work 24/7.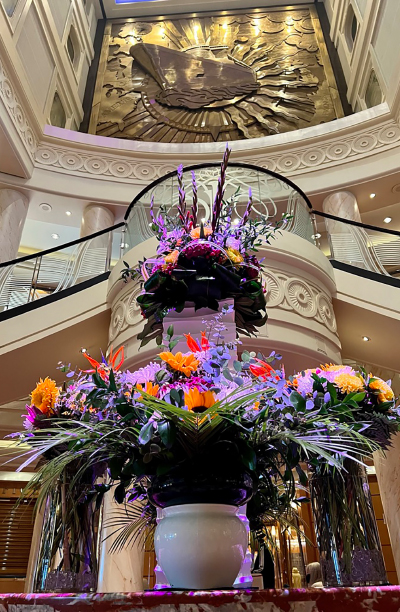 Solution: A cruise. But not just any cruise. A Transatlantic cruise on the Queen Mary 2 is a one-of-a-kind experience. If you consider the price of a business or first-class ticket on an aircraft, you get the ability to sleep a little on a reclining flat-bed seat for a couple of hours, eat a meal from a tray, have a quick breakfast, and then stagger away to try and cope with the jetlag.
With careful planning for a similar cost, you can have your cabin with a full bed and bathroom, three meals a day (at least), and entertainment. Then freedom to enjoy the world's most extensive afloat library or movies on a television in your room for seven days while your body clock gradually transitions to the new time zone. One travel tip: Your mobile phone will likely not sync time zone changes as the ship changes zones separate from geography. It's best to carry a separate watch or bedside clock set to ship's time not to miss activities—or dinner. And let's not forget there Is no weight restriction on luggage should you have over-indulged in retail or be traveling with presents for all the family.
TIME TO DECOMPRESS
The seven days proceed quickly, given all there is to do, and the ship does not impart a cramped feel due to its spaciousness. The main dining room has a three-story (at least) vaunted ceiling and plenty of space between tables. The time the trip takes also allows you the opportunity to decompress from the pressures of modern life, get rest, and be disconnected, with the freedom to think. Though there is wireless Internet connectivity, expect it to be slower than if you are home.
Need to refine your exercise regime? The onboard Mareel Wellness & Beauty offers a full menu of treatments plus fitness classes and trainers to kick-start change. This can also be helpful as the Transatlantic route has no port visit—again, something which can seem odd to a passenger who has taken a more typical cruise visiting islands day after day. However, no ports of call coupled with copious amounts of fresh ocean air tend to make the stomach rumble more regularly—time to dine.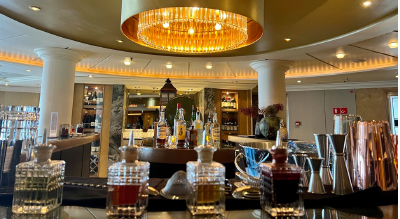 That is closer to the modern airline experience, with the Queen Mary 2 having dining options ranging from a leading restaurant—the Britannia Dining Room—to other options, including the King's Court buffet constantly refreshed day and night and then specialty dining such as at the onboard Pub, the Golden Lion, the Piazza, and a high-end restaurant experience, Steakhouse at The Verandah. In addition, passengers paying for access to the Britannia Club, Princess, or Queens Grill can enjoy a more rarified dining experience in a clubby environment.
The ultimate misconception of Queen Mary 2 is that she is solely a bucket list travel experience. Yet, this unique ship is relevant in a world where we've sometimes lost the notion of relaxing and enjoying ourselves.
For more information on the Queen Mary 2, visit cunard.com