I want to shine a spotlight on the thousands of New York City school stages and the person with the starring role in that forum, Peter Avery. Avery is the Director of Theater for the New York City Department of Education (NYCDOE), the largest public school system in the nation. To put that in perspective, the student population in NYC is larger than the combined student populations of LA, Chicago, and Houston. Avery has impacted hundreds of thousands of students and teachers and continues to advocate for theater education for all of NYC's 1700 schools serving over one million students annually as New York City is Broadway's backyard and home. What an opportunity to consider that our diverse public-school students will not only become future audiences but will be a source of performers and management workers for the Broadway industry.
After working in the theater and arts education world in DC for nearly ten years, Avery moved to NYC in 2000, where he led education and outreach for TADA! Youth Theater and then created Disney Theatrical Group's first-ever Education Department for Tom Schumacher. In 2009, he jumped the fence to work inside the NYC Schools to oversee all aspects of theater education for pre-K to 12 in all 5 Boroughs. His programs strive to ensure all students develop life-long skills for the stage and beyond through opportunities to explore their creativity, learn theater techniques, and artistically collaborate with peers and professionals.
We met with Peter Avery to learn more about his love of theater.
Tell us about your position at the New York City Department Of Education.
I take my position as the Director of Theater seriously as an honor, a responsibility, and the only one of its kind in the US. Because of what we do in theater, I function as more of a "producer" creating opportunities, being aware of current trends in the theater culture, and responding to the needs of our youth and their school communities. Beyond focusing on what and how students learn through theater curriculum development and teachers, I strive to capitalize on what theater does best—produce experiential opportunities for youth and their teachers to collaborate and explore issues through creative expression.
I have been so fortunate to partner with the Shubert Foundation, whose vision for all the things theater can provide young people is truly inspiring. With their support, I have produced professional developments for teachers and school leaders, new programs for students, and community engagement efforts to welcome parents and families to experience theater with their youth. My primary focus is ensuring all youth know they have a voice and learn ways to express their literal and metaphoric voices of creativity.
What is the importance of theater in schools? Through theater that fosters creative expression, discipline, collaboration, self-awareness, and personal transformation, students of diverse backgrounds and abilities channel their energies into creative expression and association. Students engaged in Theater Making learn to respect differing perspectives while valuing societies' literary, oral, and cultural traditions. They learn multiple ways to express themselves, cultivate identity, and develop empathy for others' circumstances—windows
and mirrors.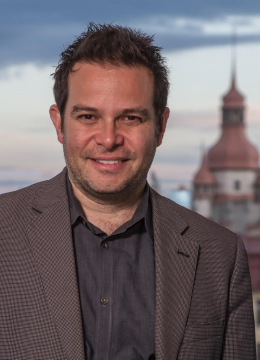 Please tell us how closely you work with Broadway and why it is relevant.
I am proud of the relationships I have made with Broadway professionals and companies such that producers now reach out to me to explore engaging student audiences and create new programs related to shows. I want our youth to experience the highest level of professionalism to inspire their creativity and realize over 30,000 diverse careers in and around Broadway. Broadway has embraced our NYC schools and students in a partnership to provide unique artistic experiences as part of their education. However, they also now recognize it takes investment and fostering opportunity to ensure the following great playwrights, performers, composers, designers, and engaged audiences might blossom here in NYC. I have been so fortunate to work with many brilliant and compassionate veterans and new producers and showcase what our young people are capable of when we treat them like professionals.
What do you see in the future for theater in schools?
The future is bright as more and more educators recognize the depth and breadth of theater engaging the human condition. Theater creates windows for young people to understand and empathize with those from different backgrounds or abilities. And theater offers mirrors for our wonderfully diverse youth to see their stories told, to hear their music and languages spoken in plays and musicals.