DESIGNER MALAN BRETON
A Look At His New Collection
By Clara Morgan | Photos by Danny Chin
Renowned fashion designer Malan Breton presented his breathtaking Autumn/Winter 2023-24 Collection: Fantôme at the Lemán Ballroom during New York Fashion Week. Singularly sensational, the showcase bore the title of "Fantôme." This stunning collection played off the sensitive themes of conscience, hope, night, day, and human desire. The musical score driving the fashion show was Efisio Cross. The model's hair was styled by Award Winning British Hairdresser Philipp Haug, owner of Haug London Haus Salon, with the Schwarzkopf Pro Team—beauty by Team Marcello Costa. Illumin Designs provided jewelry.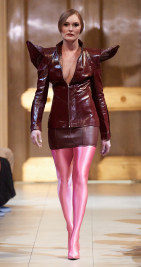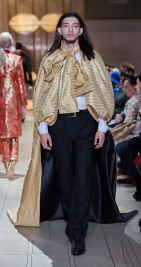 British Fashion Council/LFW noted that Malan is "One of the most versatile names in the fashion scene, known for his work as an actor, film director, costume designer, columnist, musician, and model." Compelling outlines and shapes in day, evening, and red-carpet wear captivated the audience at the show presented by EPN/NYFW. The show also included his famous suiting, featured by celebrities on the red carpets of every awards ceremony, from BAFTA to the Emmys and Academy Awards. In addition, Breton has dressed artists like Billy Porter, Janelle Monae, Lorde, Priyanka Chopra, Saweetie, Darren Chriss, and Little Mix, among others. 
Known for his experiential fashion shows, his sense of artistry has been stylishly celebrated in recent years. Breton recently won the 2021 London Fashion Film Festival award for co-directing the film IMMORTAL. Last year, he received four honors during Her Majesty the Queen's 70th Jubilee Celebrations for his work in fashion technology and philanthropy by the Parliamentary Society of Arts, Fashion, and Sports, an organization that members of UK parliament spearhead to open a productive dialogue between artists, and politicians. Malan Breton also enjoys being among the few international designers invited to present his collections to the British Royal Family privately.
For more information on Malan Breton,
visit malanbreton.com
Declared "The Most Influential Designer You've Never Heard of" by British Vogue, Malan Breton is one of the more powerful forces of nature in the fashion world. As a result, some of his favorites include Emma Thompson, Janelle Monae, Sweetie, Priyanka Chopra, Brenda Song, Hanna Waddingham, Kat McNamara, Martha Plimpton, Minnie Driver, and George Takei, to name a few.
Breton's aesthetic was developed as a ballet dancer, actor, costumer, and director in film and TV. Having directed three award-winning properties and produced his TV show on Bravo. This inspiration is an essential part of the design process for Breton, who writes a movie script each season, designs fashion for his characters, composes music, creates animations, and visual esthetics, to tell a story that will follow the collections to their vendors all over the world.
Fantôme was produced as part of EPN New York Fashion Week. The series of shows are regarded as the most fascinating and elegant shows during New York Fashion Week and are held at the city's most elegant and unique venues.
Notable attendees at the show included Irina Pantaeva, Ray Angry, Jan Sport (RuPaul's Drag Race), Broadway director Jerry Mitchell, Jean Shafiroff, Consuelo Vanderbilt Costin, Marc Bouwer, Thomas Farley, Michael Musto, Orfeh, Andy Karl to name a few.