American lovers of Italian wines are usually fans of Tuscany's famed "Super Tuscan" red blends, of the Barolos and Barbarescos of the Piedmont, the Prosecco Superiore from the Conegliano Valdobbiadene region and perhaps even some of the volcanic bottlings from Sicily, but there's a region we'll bet isn't quite on your radar—yet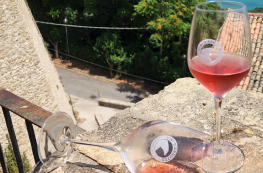 That's Abruzzo, where wine has been made since ancient times in this fertile region sandwiched between the Apennine Mountains and the Adriatic Sea. It's a bit over 100 miles due east of Rome, with wineries located mostly in the plains, with gorgeous views of both mountains and sea. That positioning makes for an excellent diurnal shift, with warm days and cool nights, perfect for growing happy grapes that yield wines with names you may have never heard before.
Red Grape: Montepulciano d'Abruzzo
Montepulciano d'Abruzzo is a varietal that might sound familiar, but this one has no relation to the Montepulciano found in Tuscany. It's the backbone of Abruzzo's wine production, a big, beautiful red from the Sangiovese family, that in the best versions found here will remind you of a big Napa Cabernet. Try the top-notch Castorani Jarno Rosso IGT ($50), made of 100 percent Montepulciano d'Abruzzo, with its dense red stone fruit flavors backed with a beautiful structure as it slides down your throat. This exemplary red wine is made at the winery now owned by ex-Formula One racer Jarno Truilli, a stunningly modern place backed with over 200 years of winemaking history with a race car on display.
Other fine producers of Montepulciano d'Abruzzo include Feudo Antico, whose Tullum DOCG is another big Montepulciano d'Abruzzo, bursting with cherry, tobacco and oaky vanilla flavors, and a bargain at about $22 a bottle. And the Passetti family winery's hilly vineyards yield their famed Testarossa Red, a 100 percent Montepulciano d'Abruzzo that spends 24 months in French oak and offers up firm tannins and flavors of red stone fruit and chocolate, another great buy at about $20 a bottle.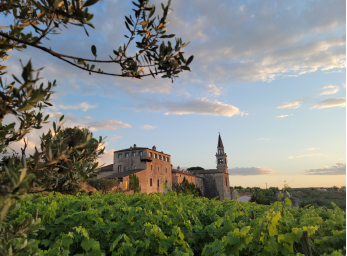 White Grape: Trebbiano d'Abruzzo
If sipping white wine by the warm seaside (or while dreaming of that seaside) is more to your taste, then Trebbiano d'Abruzzo is the grape to remember. With its unique minerality and acidic backbone, often with a slight spiciness, it's like no other wine you're used to drinking, a yellow quaff characterized with flavors of citrus and yellow stone fruits. Usually produced in stainless steel tanks, the wine has a surprisingly long life, many aging well up to ten years in the bottle. For the region's best, look for Emidio Pepe's biodynamic version, which can run over $100 a bottle; more budget friendly yet still dry and delicious versions of Trebbiano d'Abruzzo include Tenuta I Fauri's Baldovino ($11) and Masciarelli Winery's Linea Classica ($15).

Rosé: Cerasuolo d'Abruzzo Whether visiting Abruzzo (which we highly recommend) or simply discovering this hidden Italian gem of winemaking, be certain to take the time to try Cerasuolo d'Abruzzo, the area's popular rosé. Made using the Montepulciano d'Abruzzo red grape, these rosés are not of the pale-hued Provence-style; instead, they boast a stronger light cherry red tone, with those cherries also found on the palate. They are bright, dry and fresh, as a good rosé should be, but have more structure and slight tannins to pair perfectly with spicy seafood tapas or strong cheese paired with prosciutto ham.
For a classic entry into try Cerasuolo d'Abruzzo, choose Strappelli ($12), Cantina Zaccagnini ($20) or Castorani's Cadetto ($20); any one of those are fine examples of the wine and will likely lure you into coming back for more, the same result most of Abruzzo's wines seem to have once you've tasted them.
For more information on the wines of Abruzzo region, visit: vinidaabruzzo.it