Young artist Mikail Akar is making waves at just ten years old in the art world. The tween creator is already a bona fide painter with works found worldwide and showcased in numerous exhibitions around the globe. His colorful work appeals to contemporary art lovers as the prodigy draws his inspiration from historical figures, including Jackson Pollock, Jean-Michel Basquiat, and Gerhard Richter.
Mikail's paintings are collected internationally among art collectors and celebrities alike. Already making a significant mark on the international press circuit, he has appeared on Fox News, BBC News, Yahoo, and the pages of the New York Post.
Born in 2012 in Cologne, his career began relatively carefree. For his fourth birthday, his parents gave him a small canvas and finger paints simply because they didn't want to repurchase Legos or toy cars. As a result, Mikail began his prolific artistic journey at this exact moment.
ENTER THE ART WORLD
His talents were seen in the first painting, and his parents encouraged him to continue his work. Watching YouTube videos with Mikail, he learned specific painting techniques, and the little artist soon began to paint nonstop. His introduction into the art world launched shortly after, with adult artists wanting to preview his work more and more.
His father, Kerem, expresses, "You must be behind the kids instead of in front of them." Mikail had his first exhibition at the age of four in August 2017 at the SBK in Cologne Longerich. Then, at age five, he exhibited his paintings in the Kunstbruder gallery in Cologne. The third exhibition was then in September 2018 at the Galleria Palatina in Großkarlbach. The next stop was October 2018 at the Art Haus in Düsseldorf."
Further exhibitions followed in Hamburg and Jüchen. Later, his works were displayed at the Landtag NRW and Bankhaus August Lenz in Berlin. As a visual artist, he does not want to limit himself to canvases; he recently painted a wreckage part of the Airbus 310. (approximately 5' by 7').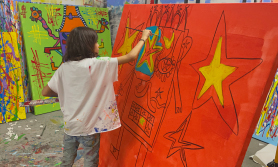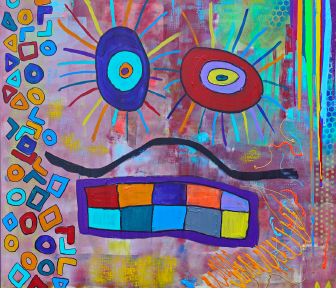 It has already been exhibited at Cologne/Bonn Airport and will be shown in other international airports.
In 2020, during the lockdown, when all events were canceled and postponed, Mikail launched his virtual exhibition My World is Colorful to create an opportunity for art enthusiasts to admire his artworks from afar.
Mikail had already created several exhibitions in Germany; international art collectors soon became aware of the little artist. This led to other shows in Vienna, Istanbul, and New York City. Mikail has his studio in Cologne, where he regularly paints.
HELPING OTHERS
The young artist also has a philanthropic side and has gained considerable attention, with his work being auctioned for good causes, such as the Art Helps to Give campaign. He has also painted numerous times with German celebrities such as the Höhnern, Laith Al-Deen, Manuel Neuer, and Peter Mafay.
Despite his exciting life, Mikail has remained a typical child; he goes to school in Cologne and is fully supported by his parents and two siblings.
For more information on Mikail Akar,
visit mikailakar.de