The Waggle Foundation is a nonprofit organization founded four-plus years ago by New York City businessman Steven Mornelli. This online crowdfunding platform is dedicated to saving canines and felines from the tragic—unthinkable—fate of owner-requested euthanasia, a fancy term for putting down an animal when a despairing pet guardian is forced to choose between paying the rent or paying Fido's veterinary bill. This is an untenable situation.
Mornelli felt economic euthanasia, as it is also called, was unacceptable and that the overwhelming problem—nearly a million pets in shelters/rescues alone are put down annually—needed a solution. He knew he could do something to take a bite out of that staggering statistic, and he did.
Recently, New York Lifestyles sat down with Mornelli to learn what's worth barking about at his Waggle Foundation.
Tell us a little about your background.
I was never in the pet industry. I initially worked as a mechanical engineer, transitioning into data sciences and finance, but I did not find it emotionally fulfilling. Then, during the financial meltdown, I had time to think of how I could make a difference by doing something meaningful, leveraging my knowledge of data and analytics. So, when I conceived Waggle, I had not even known the term economic euthanasia.
So how did you make the leap to create an online, nonprofit resource?
I love animals and have always had a pet. I saw the need to help people in dire, heart-wrenching situations. I understood the power of crowdfunding platforms—they are the go-between, connecting two sides of an equation. But I felt donors needed to know exactly where their money was going, so I created a transparent, secure, and trustworthy model.
How did you do your research?
Boots on the ground! I talked to veterinarians, visited many animal hospitals, and networked feverishly with professionals in animal welfare organizations. I looked at many crowdfunding sites so I could design the best software capable of cutting red tape.
Please explain how Waggle works. Can anyone post a campaign?
Yes, both individuals and rescues/shelters can post; many veterinarians send their patients to Waggle when they have clients who cannot afford treatment. It is free to post, and we help with instructions and guidance. We work with over 600 shelters and more than 1,000 veterinary hospitals, and those numbers are growing. In the beginning, we got about 30 campaigns a month, and now we get hundreds. Payment of the funds raised for any animal goes directly to the treating veterinarian, never to the family. It is crucial to our mission to be transparent.
You mentioned that Waggle is a nonprofit foundation, so does Waggle ever help fund animal campaigns?
Yes, our Waggle FurEver Fund can nudge a campaign along to completion. We have a secret weapon you won't find elsewhere—countless animal welfare organizations, such as country music superstar Miranda Lambert's MuttNation Foundation, are our partners.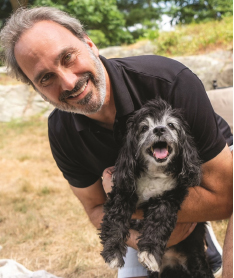 Those organizations also help with matching funds, which can kickstart or top-off a campaign. We are proud to say we have helped raise over 2 million dollars, and we have many donors who give a regular monthly contribution—as little as $10—that is any nonprofit's lifeblood. Similarly, many individuals have started their funds on Waggle.
How has Waggle grown since you started?
We had a software development team and three Waggle freelancers when we began. Now we are 15 people! We have helped thousands of pets get that second chance they deserve, keeping families together. Our team is the back office, but the ever-growing number of donors makes the miracles happen. We have also built out our board with seminal industry leaders who believe in our mission, including Nicholas Nelson, the president of the highly esteemed BluePearl veterinary hospital group.
What is in the future for Waggle?
We keep the lights on using the standard surcharge for contributions—10 percent on top of the donated amount, but 3 percent of that goes to the credit card companies. Later this year, we'll be adding e-commerce, affording donors more philanthropic opportunities: So, if a contributor wants to buy dog food, say, for a rescue organization, we can be the facilitator, which will help us to continue to stay on a firm footing.
For more information on Steve Mornelli and Waggle, visit waggle.org