ASHLEY WYNDHAM
Aspen Snow Angel Fundraising for Pediatric Cancer
The Inaugural Aspen Snow Ball hosted by the Children's Oncology Support Fund (COSF) to benefit Gabrielle's Angel Foundation for Cancer Research was recently held at the St. Regis Hotel, raising $2.5 million for pediatric cancer. Launched by Thomas Pierce, the event hosted guests from around the globe across four days kicking off with a party hosted by Chopard at Aspenx Mountain Club atop Ajax Mountain. The VIP Night Before dinner followed an epic Après Ski party where both events had special performance by Bob Moses leading up to the staple gala event: The "black-tie fantasy" event combining music, fashion and giving to raise money for the fight against pediatric cancer against a Narnia-inspired backdrop.
The Aspen Snow Ball Gala opened with a cocktail reception and silent auction. The dinner program opened with a performance by Asher Monroe, followed by remarks from Thomas Pierce, who invited Oscar winner Marcia Gay Harden to the stage to introduce the nights honorees. After the live auction and balloon pop raffle, guests were treated to a one-hour performance by music legend Diana Ross. Grammy winner Macy Gray opened the official after-party on location with two DJ sets from Amèmè and Julia Sandstrom.
THE IMPORTANCE OF RESEARCH
In his remarks Thomas paid tribute to the importance of research and the tireless efforts of the organizers. "Researchers need our help more than ever. The pandemic came and events were on hold that researchers depend on for funding. After working alongside Denise Rich and Gabrielle's Angel Foundation for several years, I was inspired to start the Children's Oncology Support Fund (COSF). I want to raise funds for groundbreaking pediatric cancer research. I'm excited to bring this star-studded event to Aspen. All this was made possible with the help from my incredible co-chairs: Ashley Wyndham, Samuel J. Deutsch, Harleen Kaur, Carly & Scott Weber, Shari Liu Fellows, and our dedicated committee, especially Michael Orcutt, Courtney Ivey, Julianne Keil. Marcia Gay Harden, and honorees Denise Rich and Laura Calabrese Kruger were amazing."

Notable attendees at the Aspen Snow Ball included: COSF Founder and Event Chair Thomas Pierce, Honoree and Gabrielle's Angel Foundation's Denise Rich, Honorary Gala Chair Marcia Gay Harden, Diana Ross, Macy Gray, Asher Monroe, Evan Ross, Ashlee Simpson, Diego Boneta, Eugenia Kuzmina, William Abadie, AMÉMÉ, Bradley Theodore, Laura Calabrese Kruger, Shari Liu Fellows, Scott and Carly Weber, His Highness Prince Mario-Max Schaumburg Lippe, Her Royal Highness Dr. Princess Antonia Schaumburg-Lippe, Harleen Kaur, Samuel J. Deutsch, Ashley Marie Wyndham, Tyler Biddle Barrows, Julianne Kiel, Aspen Mayor Torre, Jean-Baptiste Maillard, Sarah Mutch, Bella Hunter, Keni Silva, Julian Polak, Stephane & Sabrina De Baets, Kenneth Baboun, Diana Anaid, Sara Alviti & Mark Genz, Amy Green, Jordan Rich, Shea Marie & Andres Fanjul.
Sponsors included Chopard, the events presenting sponsor with co-presenting sponsors FARFETCH and Weber Boxer Group. Sponsors also included Champagne Bollinger, Casa Del Sol, Desolas Mezcal, DAOU Family Estates, The Snow Lodge Aspen, The St. Regis Aspen, Aero, Hendrick's Gin and Lugano Diamonds.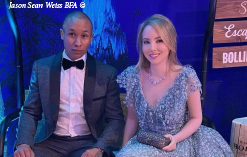 In addition, Moncler, Lugano and Chopard also hosted private selling events during Aspen Snow Ball Week and donated a percentage of their sales to Denise Rich's Gabrielle's Angel Foundation. To close the Events, a brunch hosted by Aero celebrated the women behind Aspen Snow Ball at PARC restaurant.
Some of the additional participating brands and auction items for the event which were secured through a collaborative effort by the organizing Committee including Ashley Marie Wyndham who secured a dream ski-trip from the Kempinski Saint Moritz (for 4 people including ski rentals, lift tickets two-bedroom residence and dinner at their Michelin star restaurant), a painting by Mr. Brainwash (which was auctioned for $50,000), autographed ballet shoes from The New York City Ballet, Airelles Versailles (an experience which included a private night tour of Versailles and dinner at their Alain Ducasse restaurant), Hallstein Waters (gift to each guest in their gift bag), a gown from Lebanese fashion designer Sandra Mansour, two tickets to experience Mardi Gras on a float for the Orpheus parade, a luxury long weekend yoga/wellness retreat from the Wellness Reporter in Europe, luggage from My Style Bags Official and personalized dog portraits by Huund portrait. Additional auction items secured by the Committee included a portrait of Diana Ross which was painted live by Bradley Theodore, a six-night African Safari adventure, a five-night hotel takeover in Cuba, fighter pilot jet training session, artwork by Phillipe Shangati, Marcel Van Luit, Peter Tunney, sleep masks by Frette, and skin care by Dr. Barbra Strum.
Ashley Marie Wyndham's next project is "Wine for Wildlife" on behalf of Space for Giants, a conservation organization working across the African continent whose next event is planned for May 2023 with Lexi Bowes Lyon. Some 50+ bottles of wine from top-tier vineyards will be auctioned online, offering the owner of the winning ticket to acquire an instant wine cellar. Wine Collectors will also be able to donate a top-tier bottle of wine to increase their own stakes in winning.
For more information on Aspen Snow Ball,
visit aspensnowball.com