MIRRORS COLLECTIVE
Reflecting On One Man's Passion
By Bennett Marcus
During the pandemic, Larry Shvetsov, founder of one of America's top glass and mirror manufacturers, transformed his career from one he loved to one he's intensely passionate about. He went to an empty Brooklyn factory, tinkering with things he could do by himself, created some mirror designs, and the result was Mirrors Collective, a high-end online custom mirror purveyor.
Mirrors Collective's designs are dictated by the state-of-the-art production technology already existing at its workshop. Shvetsov came up with the concept in 2019, but the slowdown gave him time to crystalize things, and it launched in January 2021. So far, there are three lines, Essentials, Bind, and Wrong Geometries, plus collaborations—made-to-order designs, available at its online shop and on 1stDibs. 
DESIGNER & MEDIA INTEREST
The new firm has already garnered attention from design media, including Design Milk and Surface magazines, and architects and interior designers have taken notice. One decorator purchased a piece from the Wrong Geometry series for the residence of a major celebrity whose identity remains a secret. "I don't even know their name because it was not given to us," Shvetsov laughs. "I just know that the apartment was crazy expensive, and we had to sign airtight agreements that we won't take pictures, and we won't solicit more information.
Designer collaborations are in the works at Mirrors Collective. The first is with AD100 designer Campion Platt, who is creating a limited-edition capsule collection exploring sculptural design and reflective surfaces. Utilizing his vast knowledge and passion for luxury aesthetics, Platt aims to design and elevate reflective surfaces that are as much art as they are décor. In glimmering sculptural forms, the Platt pieces make a bold statement with chunky geometric shapes.
"The Platt collection marks the beginning of Mirrors Collective's journey to encourage the consumer's curiosity connected to mirrors, reflective properties, and the home," the designer said in a statement on the project. "The goal is to encourage a shift in the perception of mirrors as simply functional items to beautiful pieces of art, transforming the look, feel and atmosphere of one's home."
Another collaboration is upcoming with New York-based interior designer Laurie Sheindlin, who called on Shvetsov to produce a mirror she designed for a Tribeca residence. "She knew what I'm capable of with all of these machines I have here and sent me the design," he says. The piece turned out so well they've decided to produce a collection; additional designs by Sheindlin are forthcoming.
Shvetsov hopes to establish Mirrors Collective as the go-to source for interior designers, architects, and product designers. "If you need a tool, you think of Home Depot. I would like to have designers think of Mirrors Collective when they need a mirror. That's my goal."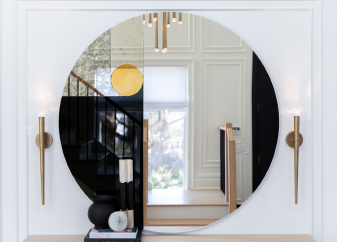 THE SHAPE OF THINGS TO COME
Shapes are essential in the glass industry. The specialized CNC machinery at Mirrors Collective, costing over $500,000, allows Shvetsov to create shapes in-house without relying on outside vendors, who are invariably late. "My reputation is quick in lead time; we can produce mirrors in one to two weeks," he says, while other companies take five to seven weeks. "And that's a big deal because everybody wants everything right away, especially designers."
Everything he needs to produce great work is all in-house. He even created his shipping crates, which are made on-site. The containers are made of corrugated cardboard, which is recyclable. "We don't use anything harmful to the environment. As an environmentalist, it's important."

FOUND HIS CALLING
In need of a job after immigrating from Ukraine in 1999, his mother, who had already settled in the U.S., asked around and found him a position at a glass company, and he fell in love with the entire process. He picked up the skills quickly and, within six months, was made head glazier. "I never thought I would do this…but it's been 23 years now."
By 2004 Shvetsov founded his firm, Crystal Glass and Mirror Corporation in Brooklyn, which makes the products for many high-end brands appreciative of his unmatched artistry. For this craftsman, it will always be quality work first.
For more information on Larry Shvetsov and Mirrors Collective, visit mirrorscollective.com