GRAND CAYMAN
Discover True Caribbean Beauty
By Jenny Peters
If March's usually gray-skyed and chilly arrival in the Big Apple makes you feel like breaking away to a place full of sunshine, palm trees, and warm blue waters, then we have a destination for you! But, of course, that's the Cayman Islands, specifically Grand Cayman, the largest of the three Caribbean islands that also include Cayman Brac and Little Cayman.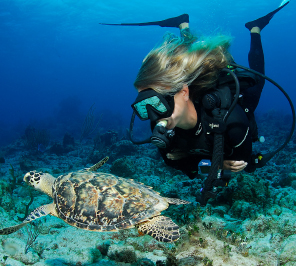 Everyone speaks English there because the Cayman Islands are a British overseas territory, having been a part of Britain since 1670. Another plus for American visitors—the U.S. dollar is legal tender. Cayman Airways and JetBlue fly nonstop to GCM from JFK, so pack up, and you'll be soaking up the sun in no time.
George Town is the "big" city on Grand Cayman, located on the West Side of the island. It's also where the country's famed Seven-Mile Beach is, that inviting stretch of white sand that's dotted with lovely resorts. 
Choose an authentic luxury experience on the northern end of that beautiful beach, where simply lounging in the sun is a significant sport. Consider The Ritz-Carlton Grand Cayman for its fantastic service, a gorgeous spa, and delicious treatments. For ultra-private oceanfront bungalows, choose the Kimpton Seafire Resort + Spa; at the Westin Grand Cayman Seven-Mile Resort and Spa, be sure to dine in its world-class restaurants, like Woto, where talented chefs serve up its spectacular Japanese-inspired fresh fish.
Locally sourced cuisine is abundant on the island, with seafood naturally taking center stage at favorite local waterfront places like Ms. Piper's Kitchen + Garden (taste the snapper here) and the Grand Old House, where you'll struggle to choose between the spicy conch stew, the seafood curry, and their signature lobster thermidor. Our answer is to go there more than once during your stay!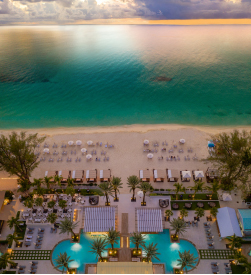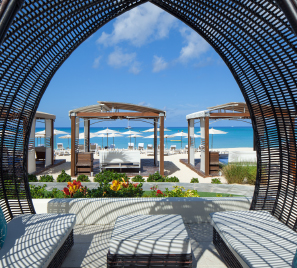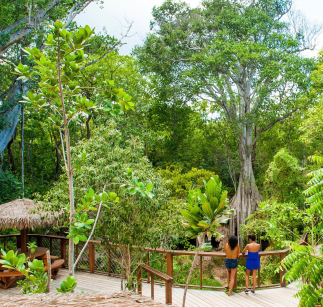 ADVENTURES: SOFT
Tear yourself away from those comfortable cabanas and tropical drinks to have island adventures, for Grand Cayman has plenty to do with active experiences. Famous for the special spot called Stingray City, that's a place to begin. Located on a submerged sand bar, with water only waist deep, this is where more than 50 stingrays call home. They are docile creatures who love to say hello to visitors, even giving them a kiss or two.
Go early in the morning (Five Star Charters runs a beautiful speedboat just for your group, or book with one of the many public tour boats that go daily) to avoid the crowds, then add on a visit to Starfish Point and Rum Point to take a kayak, jet ski or tubing adventure. So, jump on in; the water's fine!
Another easy adventure is off to the East End of the island, where the Cayman Crystal Caves await at Old Man Bay. Think of pirate lairs and buried treasure as you enter these three caves found deep in the tropical rainforest on a guided tour. It's nearly two hours of a leisurely walk that piques your imagination and astounds the senses. Add in the Queen Elizabeth II Botanic Park to see more of the unique flora and fauna that make this island so lovely. Keep an eye out for the endangered blue iguana, giant lizards only found here, where a concerted effort is being made to keep this remarkable reptile from extinction.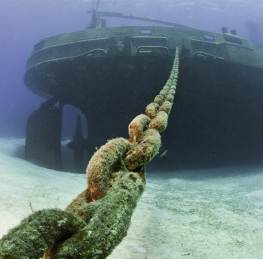 ADVENTURES: SERIOUS
For more serious adventure, scuba diving off Grand Cayman is legendary. With numerous PADI 5-Star dive operations (located on the West Side), beginners can take introductory dives and PADI coursework for dive certification. At the same time, experienced divers can add to their knowledge with advanced courses (we did a NITROX air certification while visiting) or jump in. Living the Dream Divers is our favorite: their comfortable boats, knowledgeable dive masters, and long-standing reputation as one of the island's best operations. Get wet, and you're likely to swim right past spotted eagle rays along with massive stingrays, sea turtles, octopus (look closely for them, as they change color to match the coral), eels, and gorgeous coral gardens and walls at the more than 365 dive sites that make this a natural paradise for undersea lovers.
Deep-sea fishing for tuna, blue marlin, and more (you can even compete in a tournament if you're feeling confident) is another must. Or grab a kitesurfing board and take off across the water, where you'll need some strong core muscles to hang on). And if your idea of serious adventure is on the golf course, there are two beautiful waterfront courses on the island.
Whatever your idea of fun, be it taking it easy and soaking up the sun or getting out and finding adventure, Grand Cayman is truly a place that lets you find your bliss.

For more information on Grand Cayman, go to visitcaymanislands.com