PHILADELPHIA
It's Time To Discover Brotherly Love
By Irvina Lew
Looking for a getaway that captures history, culture, and great food? Our nation's first capital—The City of Brotherly Love—is an appealing urban getaway. William Penn founded the city as a place of religious tolerance and named it by combining two Greek words: love (phileo) and brother (adelphos). Robert Indiana's bright-red LOVE sculpture illustrates the city's raison d'être; notable 18th-century sites reflect its history, and skyscrapers showcase the present.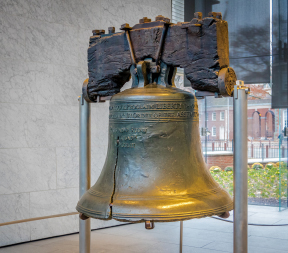 Here, some recommendations from my most recent visit.
SEE
Visit Independence Hall, a U.S. National Historic Landmark, where the Founding Fathers ratified the Declaration of Independence in 1776, and 13 states ratified the Articles of Confederation in 1781. Many historic sites in the Old City are of interest: the Liberty Bell, the Betsy Ross House, the Museum of the American Revolution, the Weitzman National Museum of American Jewish History, and 625 South Delhi Street, an Underground Railroad rowhouse, where Harriet Tubman took shelter in the 1850s. Museum Mile along Benjamin Franklin Parkway is an art-filled cultural mecca.
At the Philadelphia Museum of Fine Art, you can run up the Rocky grand staircase (or taxi to the street side rear entrance) before touring the permanent collection, with American furnishings and accessories, paintings from Rubens to Renoir and sculptures from Brancusi to Oldenburg and Saint Gaudens.
Philadelphia Museum of Art (PMA) tickets include access to the Beaux Arts style Rodin Museum of Art, which Jules E. Mastbaum donated to the city along with his collection of bronze and marble masterworks: The Thinker, The Gates of Hell, The Kiss, the Burghers of Calais and Rodin's Hands.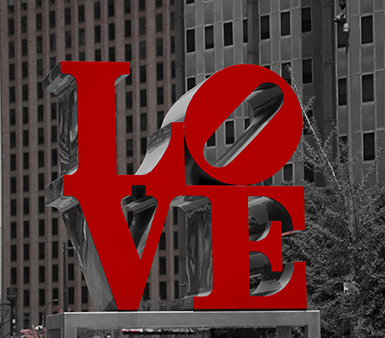 Next door, The Barnes Foundation opened in Center City in 2011 to showcase Alfred Barnes' impressive collection of artworks—186 by Renoir, 69 by Cezanne, 59 by Matisse, and 46 by Picasso—precisely as he had meticulously placed them in 1922, within his original house museum, in Merion, PA; here, the 4000 pieces of art—including folk art and metalworks—are more readily accessed and better preserved.
DINE
Michelin-starred chef Jean George Vongerichten oversees all the outlets at Four Seasons Hotel Philadelphia, located on the top floors of the Comcast Technology Center. Chef de Cuisine Cornelia Suhr reigns at Jean George, the fine dining restaurant on the 59th floor, where a glamorous staircase connects it with JG Sky High. The menu at this swank, glass-walled cocktail bar on the 60th-floor features calamari, caviar, crudos, compote, olive cake, and cappuccino, all served in a superb setting under an atrium-like ceiling. On the ground level, the Comcast Tower complex houses Vernick Fish, a contemporary oyster bar headed by local James Beard Award-winning Chef Greg Vernick.
At Her Place Supper Club, Amanda Shulman and her team serve dinner parties for 18 guests twice nightly (6 and 8:30 pm) from Wednesday to Saturday in a small, street-front dining room decorated with appealing copies of French masters. As diners view the action in the open kitchen—whipping palm purée, plucking sage leaves for the fryer, slicing ducks—Amanda narrates. My multicourse, French-inspired, fixed-price dinner prepared included paté en croute, quiche, soufflé, sliced duckling, and éclairs. (Walk-ins are welcome to try new dishes on Mondays.)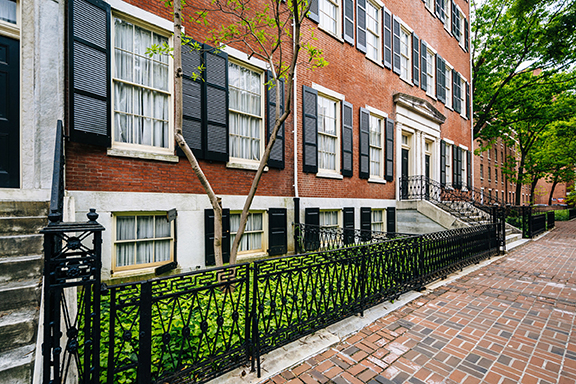 STAY
The entry into the Ritz-Carlton Philadelphia, within a former bank building (c. 1908), leads to a majestic neoclassical space with Corinthian-styled marble columns, marble slab walls, and windows that stretch to the ultra-high ceiling. The desks for registration and concierge and lounge seating are in the periphery of an expanse that houses Richard Sandoval's Aqimero restaurant, where the chef serves Latin-inspired cuisine enhanced by wood-fired, grilled items and paired with a mezcal menu.
The hotel was renovated in 2016 and features rooms with city views, high-tech electronics, and luxury amenities, including an accessible top-opening safe in a night-table drawer and a perfectly-placed hall mirror. On the 30th floor, Mimoza, a concierge with a remarkable memory for names, faces, and drink preferences, welcomes Club Guests to the comfy, high-ceilinged, wood-paneled Ritz-Carlton Club Lounge, which overlooks City Hall, serves food five times daily, and provides complimentary Internet access.
Finish your getaway at The Richel D'Ambra Spa & Salon is a soothing, decades-old wellness refuge elegantly redecorated in elegant greys and white-to-cream colors. The pet-friendly hotel is one of more than 35 hotels participating in the perks that come with the Visit Philly Overnight Package.

For more information on Philadelphia, go to visitphilly.com