THE GILDED AGE
A Getaway To Hyde Park
By Lana Van De Mark
My first glimpse into the American Gilded Age lifestyle happened in 2017 during a day trip to the fifty-four-room estate formerly owned by Frederick and Louise Vanderbilt in Hyde Park, New York. Located seventy miles from New York City along the banks of the Hudson River in Dutchess County, this national historic site was one of a few exquisite, preserved aristocratic homes in Hyde Park that I visited and fell in love with instantly. For all history buffs out there looking to step back in time and tour new historical landmarks in 2023, step into the Gilded Age at Hyde Park National Historic Sites.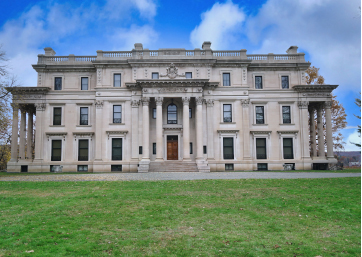 THE VANDERBILT MANSION
Frederick Vanderbilt was the third of eight children born to William Henry Vanderbilt and Maria Louisa Kissam Vanderbilt in 1856 in New York City and the grandson of railroad and shipping tycoon, Cornelius "Commodore" Vanderbilt.
The Vanderbilt Mansion was purchased by Frederick and his wife Louise as a seasonal home in 1895, and just one of several homes occupied by the Vanderbilts where lavish house parties and tea gatherings with neighbors took place.
Reconstructed in 1896 into a Beaux-Arts style home that defined wealth and privilege, the Vanderbilt family chose this mansion for its picturesque location along the east banks of the Hudson River. Since 1940, the National Park Service has owned and operated the Vanderbilt Mansion and continues to preserve its beauty and History by welcoming visitors to tour the elegant home and colorful Italian garden all year long. Visitors can explore the central elliptical hall where the Vanderbilt's elite guests were greeted by the hired help, the reception room, dining room, the Vanderbilt's bedrooms, and Frederick Vanderbilt's study. Info: nps.gov/vama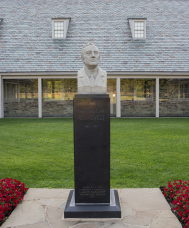 FDR/SPRINGWOOD ESTATE
Once your tour at the Vanderbilt Mansion is complete, President Franklin Delano Roosevelt's Springwood estate awaits your visit next door. The 32nd President of the United States was born at the Springwood estate to Sara Delano and James Roosevelt in 1882 and returned there often throughout his presidency with his wife Eleanor to relax. FDR embraced his Hyde Park roots and quoted, "All that is within me cries out to go back to my home on the Hudson River".
Springwood was built in 1793 and transformed from an Italianate villa to a Colonial-Revival-style mansion in 1916. In 1941, the FDR Presidential Library was opened so Franklin and Eleanor could preserve and share personal and presidential items with future Americans for generations to come.
The estate remained FDR's lifelong home until his death in 1945. The National Park Service acquired ownership of the forty-nine-room home in 1946 and continues to preserve FDR and Eleanor's legacy through tours. Visitors can explore FDR's private study at the presidential library where he carried out and archived important political assignments including his famous Fireside Chats, The Day of Infamy speech, and New Deal proposal. At the Springwood visitors can explore a collection of family portraits, artwork, FDR's customized wheelchair, and guest rooms once occupied by Winston Churchill and King George VI. Visitors can also explore The Roosevelt Coach House and Stable, Sara Roosevelt's Rose Garden, Eleanor Roosevelt's Stone Cottage at Val-Kill, and the burial site of FDR and Eleanor Roosevelt. Info: nps.gov/hofr