THE BEST OF BANFF
A Union Of Adventure & Indigenous Influence
By Melanie Carden
A stone's throw from the base of the Canadian Rockies, the small town of Banff offers a convergence of art and adventure. So, of course, your first assumption is that skiing must be epic, and you'd be right. The ski season ends in May! But the town's roots are so intimately entwined with the indigenous community that there's also a unique confluence of culture. As a result, extraordinary micro-moments of insight seem to unfold naturally as you adventure and meander through the shops.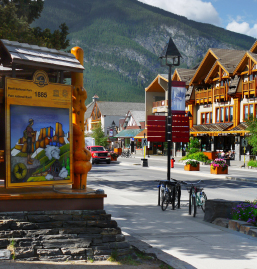 I spent a few days there chatting with many First Nations, Inuit, and Métis peoples. Admittedly, I was keen on experiencing adventure in the Canadian Rockies. Still, I also reflect on the many exciting interactions I had with indigenous artists, shopkeepers, and tour guides in the area. I learned that the allure of Banff runs more profound than its snowy slopes—right down to its deepest roots.
STAY
Fairmont Banff Springs is the ultimate alpine aspiration. The 4-star property, which has been in operation for 130 years, is a UNESCO World Heritage Site that boasts nearly 740 rooms. It's nestled among the mist and clouds around 7,000 feet of elevation, so its elevated experience should be no surprise. In addition, the property is a short drive to the downtown Banff area, so it feels secluded enough while allowing hassle-free visits to the many eclectic downtown shops.
If your goal is the ease of access to the downtown charm—in the form of art galleries, shops, and restaurants—then The Juniper awaits your arrival. Not only is the property within walking distance of downtown, but its driveway abuts a significant trailhead. For those interested in local history or archeology, the staff can tell you about the on-property kiguli—a 4,000-year-old pit house, generally built by Secwepemc or Shuswap people. Plus, it's the last known kiguli in Banff. Of course, you'll learn about its history and the hotel's plans to protect it!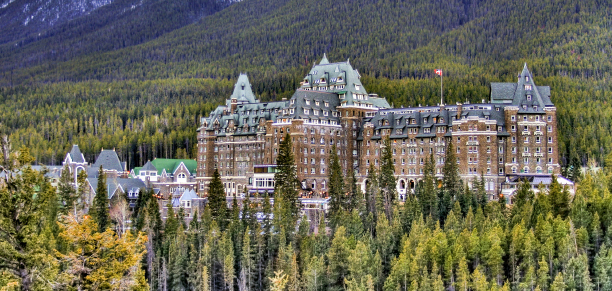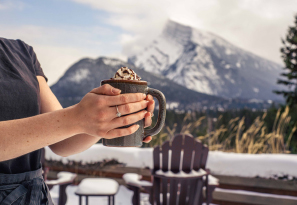 EAT
After a day of exploring the slopes and below, take in the local cuisine with a bowl of Bison poutine. It's the kind of comfort food that's not just cozy but also gives the nod to the area's deep respect for bison. Shredded bison is piled atop perfect fries (crispy outside, pillowing inside), then topped with cheese curds and bison gravy.
But if you decide to switch it up and try a few of Banff's local favorites, you can't go wrong with any Alberta beef offerings at The Maple Leaf—in the downtown area. The folks in Banff were quick (and proud) to remind me that folks in Alberta don't mess around with beef portions. So, if you're looking for a modest cut, chat with the wait staff or be ready to fill your mini-fridge with leftovers. The Maple Leaf also serves delicious hazelnut-crusted halibut, duck breast, and vegetarian options. Plus, everything is well-labeled regarding dietary choices, including gluten-free, vegan, and nuts.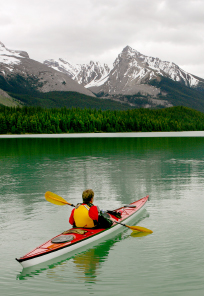 PLAY
Nestled in a long, winding valley surrounded by mountains, Banff is a wonderland—any time of year. Of course, skiing is the top on the list, with Mount Norquay and Sunshine Village welcoming guests each season. But the snowy trails also offer a chance to tour the Athabasca Glacier with the folks at Zucmin Guiding. For a more hands-on experience, take a medicine walk with Indigenous-owned Mahikan Trails. Or switch up your perspective by booking a helicopter tour or taking a ride on the Banff Gondola.

But be sure to leave time to meander the downtime area, which is best done without an agenda. The mountains loom in every direction, making for an idyllic setting to sip a latte from Wild Flour Bakery and wander from shop to shop.
If you're an art lover, you may have noticed some striking murals in either the Edmonton or Calgary airports. You can also visit the gallery of the Indigenous Visual Artist and the artist himself, Jason Carter. The walls of his gallery are lined with his bright, geometric-inspired paintings featuring the mountains just outside the door of his shop—and plenty of bear and bison. There are always original works available—sculptures and paintings—and carry-on friendly notecards.
Visiting Banff delighted me to no end and changed me just a bit. And, ultimately, isn't that why we travel? I'm grateful that my experiences in the Banff area included the diverse histories and cultures of the Indigenous peoples of this province. I also want to acknowledge the traditional territories in Alberta, home to many First Nations, Métis, and Inuit who have called these territories home for time immemorial.
For more information on Banff, visit banfflakelouise.com