INTO THE WOODS
Stephen Sondheim's Into the Woods weaves together many famous fairy tales in an allegorical story of family, love, growing up and the hazy areas between right and wrong. This critically acclaimed production was captured live at London's Regent's Park Open Air Theatre and was directed by Timothy Sheader. It won the Olivier Award for Best Musical Revival and features Hannah Waddingham (Ted Lasso) as the Witch and Jenna Russell as the Baker's Wife, among many other stand-out performances.
---

GYPSY
Bette Midler, in her network television acting debut, stars as the ultimate pushy stage mother, Rose, who seeks stardom for her two young daughters at any cost. Gypsy is a 1959 musical with music by Jule Styne, lyrics by Stephen Sondheim, and a book by Arthur Laurents. This beloved musical is loosely based on the 1957 memoirs of Gypsy Rose Lee, the famous striptease artist, and follows the dreams and efforts of her mother to raise two daughters to perform onstage, casting an affectionate eye on the hardships of show business life.
---

MISS SAIGON
The spectacular, sell-out 25th Anniversary Gala performance of this acclaimed production of the global stage sensation was described as "the most thrilling, soaring and emotionally stirring musical with magnificent performances" by the Daily Telegraph and "the greatest musical of all time" by the Daily Mail. The epic love story tells the tragic tale of young bar girl Kim (Eva Noblezada), orphaned by war, who falls in love with an American GI, becomes a mother, and sees her life change forever.
---

MR. SATURDAY NIGHT:
A NEW MUSICAL COMEDY
Called "The funniest show on Broadway in years!" by Variety, the Tony-Award® nominated Mr. Saturday Night: A New Musical Comedy stars Billy Crystal as Buddy Young, Jr., an outrageous and outspoken comedian who has one last shot at reclaiming the spotlight—and fixing his fractured family—one hilarious step at a time.
---

FALSETTOS
Falsettos is a hilarious and poignant look at a modern family revolving around the life of a gay man Marvin, his wife, his lover, his soon-to-be-bar-mitzvahed son, their psychiatrist, and the lesbians next door. Originally created under the specter of the AIDS crisis, this timely musical about middle-class family dynamics manages to remain buoyant and satirically perceptive even as it moves towards its heartbreaking conclusion.
---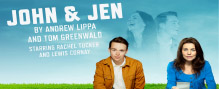 JOHN & JEN
From the award-winning composer of The Addams Family and The Wild Party, starring Olivier Award nominee Rachel Tucker and Lewis Cornay, John & Jen is an emotional rollercoaster that explores the dynamics of family relationships. This production is the world premiere of a brand-new updated version of the show by Andrew Lippa and Tom Greenwald, with orchestrations by Jason Robert Brown (Parade, The Last Five Years) and Andrew Lippa.