For Harry Benson, one thing is certain. He has for the past 60+ years carried a camera into concert halls, movie sets, the White House, and Buckingham Place. This body of work—Harry Benson Picturing History—is now on display through June at Norton House located at the Ann Norton Sculpture Gardens in West Palm Beach.
More than 42 stirring images celebrate Benson's latest honor as the Sculpture Gardens' 2023 Artist in Residence throughout the restored 1925 house. There's Winston Churchill with his many admirers, Willie Nelson relaxing in a bubble bath, Richard Nixon proclaiming his resignation, Marlon Brandon on the set of The Godfather, and country music legend Dolly Parton applying makeup. Also on display is the heart wrenching photograph of Ethel Kennedy pleading for help moments after an assassin gunned down her husband,
Robert F. Kennedy.
There are also light-hearted photos of The Fab Four—John Paul, George and Ringo—playfully having a pillow fight in a hotel. He once told New York Lifestyles Magazine he had received an assignment in Uganda from the editor of The Daily Express. Then a sudden change of plans with a reassignment to France to cover an up-and-coming band, The Beatles, embarking on their first U.S. tour. Benson was not at all happy. However, little did he know that this would change his life. It resulted in capturing memorable photos of The Beatles and their historic arrival in New York city.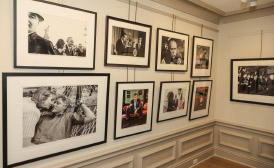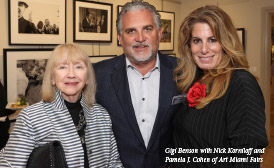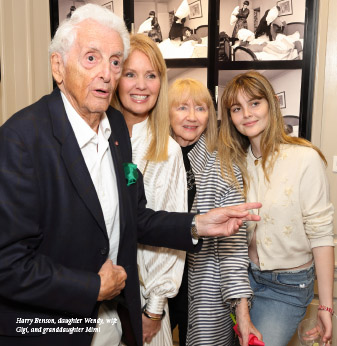 It also ignited Benson's career, which led to the honor of Commander of the Order of The British Empire (CBE) bestowed by Queen Elizabeth II.
At 93, Benson has documented history, spanning 13 U.S. presidents from Eisenhower to Biden. Also displayed are magazine covers of the legendary photographer's work and letters from First Ladies Jacqueline Kennedy Onassis, Rosalynn Carter, and Hillary Clinton.
Benson hopes that this exhibit inspires future photojournalists. Harry Benson once said, "A good photograph can't be repeated. It's a one-shot deal to get a good one."
Harry Benson and his wife, Gigi, live in Wellington, Florida and New York City, where they spend time working on future exhibitions, his archives, and upcoming books.
The exhibit, in collaboration with the Holden Luntz Gallery in Palm Beach, was curated from the Harry Benson collection.
For more information on Harry Benson,
visit harrybenson.com;
for The Ann Norton Sculpture Gardens, see ansg.org