Wonderkind and art prodigy Mikail Akar is making waves in the art world at just 10. The talented creator is already a bona fide painter with works found worldwide and displayed in numerous exhibitions around the globe. His colorful work appeals to contemporary art lovers as the prodigy draws inspiration from famed contemporary artists, including Jackson Pollock, Jean-Michel Basquiat, and Gerhard Richter.
His second New York exhibition, "Unbelievable," is on public display now at the Modus10-Rolf Benz Flagship Store in SoHo through July 2023 and comprises 23 works on canvas and paper of assorted sizes ranging in price from $8,000 to $16,000.
Mikail's art was included as part of the ArtExpo New York Fine Art Fair 2023 at Pier 36, and in recent days Mikail held a live painting session held at dawn at the iconic Empire State Building with graffiti artist Luca. In addition, Mikail currently has an exhibition at the Grand Hotel Schloss Bensberg, Germany, running until May 2023. In another project, Mikail recently custom-painted the hood of a $450,000 Rolls-Royce motorcar. Mikail has already held several exhibitions in cities across Germany, where international art collectors soon became aware of the young artist.
A reception to celebrate "Unbelievable" was held at the Modus10-Rolf Benz Flagship Store in SoHo, which attracted luminaries from the arts and New York social scene. Amongst the notable attendees were Mikail Akar, Kerem Akar, Elvan Akar, Mina Akar, Francis Tan, Vincent Tam, Carmen D'Alessio, Tina Radziwell, George Wayne, Montgomery Frazier, Minnie Osmena, 0H10 M1KE, Cagri Kanver, Marsin Mogielski, Jose Castelo Branco, Sharif Sinclair, Neil Saltzman, Brigitte Segura, Nadja Sayej, Tijana Ibrahimovic.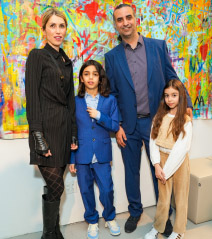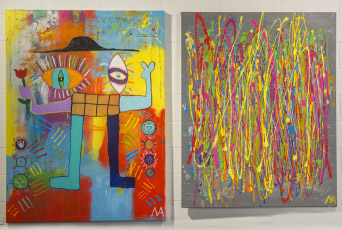 Born in 2012 in Cologne, his career began by chance. For his fourth birthday, his parents gave him a small canvas and finger paints simply because they wanted to give him an alternative gift to the usual toys he already had. As a result, Mikail began his prolific artistic journey at this exact moment, and to this day, he paints at his Studio in Cologne, Germany. His talents were seen in his first painting, and his parents fully encouraged him to continue his work. Watching Online video tutorials together, Mikail learned specific painting techniques, and soon after, adult artists wanted to preview his work more.
As a visual artist, Mikail wants to expand himself beyond canvases. He recently painted a wreckage part of the Airbus 310, exhibited at Cologne/Bonn Airport, and will be displayed at other international airports. The young artist also has a philanthropic side and has gained considerable attention, with his work being auctioned for worthy causes, such as the "Art Helps to Give" campaign. One of his most recent collaborations has been with the mineral water brand Gerolsteiner with the Mikail Akar Artist Edition, where Mikail's art was printed on more than 17 million water bottles. The painter has also launched charity events in Turkey to help local people during the earthquake in 2020 with the Civil Protection Authority AFAD.
Other projects which Mikail is currently working on include painting a series of three classic cars, which will be going on a roadshow shortly. In addition, he is working to create a 165-foot-long canvas painting for a secret project.
Despite his adventures as a creative artist, Mikail has remained an average child, attending Cologne school, and is fully supported by his parents and two siblings.
For more information on Mikail Akar, visit mikailakar.de