Are you one of the rising tides of Americans drinking brandy these days? Led by twentysomething Generation Z, brandy—and cognac, the French version of the same thing- a distilled spirit made of wine grapes—is rapidly gaining popularity again in the USA.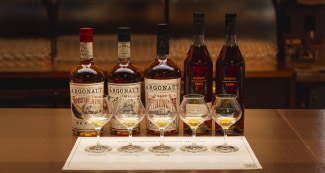 Today, California is one of the primary producers of traditional, grape-based brandy in the United States, so much so that there is even a California Brandy House tasting room in the center of Napa on 1st Street.
That convivial place is happy to teach you about the storied history of brandy in the Golden State. It began long before it became part of the U.S. when Spanish missionaries brought Mexican grapes to Southern California and started making the spirit in the 1600s. By the Gold Rush days in the 1850s, Californians loved brandy above whiskey or other brown spirits (the color caused by the time the liquid spends in wooden casks). Even Leland Stanford, California senator and founder of Stanford University, was one of the largest brandy producers by the late 1900s. 
The Prohibition from 1920 to 1933 halted legal production of brandy in all of America, but some kept wooden casks full of the stuff hidden away for those 13 dry years. The Gallo family already lived in Modesto, California, where young Ernest (24) and Julio (23) Gallo decided to start their winery in 1933. Their success story with wine is legendary but less known is that the brothers began distilling brandy in the 30s, primarily for personal family and friends' consumption. But in 1975, E&J Brandy was released nationally after spending two years in oak barrels, and the California brandy story got rolling.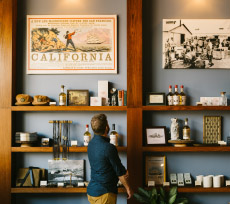 CALIFORNIA BRANDY TODAY
Today, nearly 50 years later, Gallo produces two top-shelf lines of brandy. Argonaut is a direct descendant of the old days, with its old-fashioned labels evoking saloons and the Gold Rush to its modern master distiller Ruth Hansen's use of over 100 old brandy stocks to blend its unique tastes offers three different distillations. 
Each of these high-proof quaffs—Fat Thumb, Speculator, and Saloon Strength—is a blend of different grape varietals from Gallo vineyards. Think Chardonnay, Pinot Noir, French Colombard, Muscat, Merlot, Cabernet, Zinfandel, and others, all grown, picked, crushed, fermented, and distilled under Hansen's watchful eye, then some are blended, some are left as a single varietal, and all are aged in oak barrels.
And we mean aged, as each one is kept for a minimum of two years and others up to 20 years (or more) and eventually blended into brandies imbued with flavors of toasted almond, caramel, or ripe pear and stone fruit, all depending on the final bottling. Designed for sipping neat or creating cocktails like the Brandy Alexander, the Metropolitan, Vieux Carre, Brandy Smash, or your concoction, these 86- to 91-proof premium brandies are designed to please.
If your taste runs more toward French cognac, which is a brandy made explicitly with white wine grown in that region of France, distilled twice in copper-pot stills, and aged in French oak barrels for at least two years, Gallo has a high-end line created in the French tradition—but with a twist. Germain-Robin began in 1983 with an idea: to use California varietals to create a new iteration of those French cognacs. So today, you can sip single-barrel brandies made of 100 percent Pinot Noir aged 19 years with flavors of cherry and coffee or single-barrel Riesling aged 16 years with notes of orange blossom and honey. These world-class brandies and all the others described can be purchased online or at the California Brandy House in Napa.
For a different Napa brandy expression, give Copper Cane's Avrae VSOP Brandy a try. Made from the Pinot Noir grapes that give Belle Glos such a luscious mouthfeel, this 86-proof liquor made by Joe Wagner and Kyle Stroud sneaks into your palate with red fruit and somehow ends up with bacon, butter, and figs in the final expression.
For more information about Gallo California Brandy, visit californiabrandyhouse.com;
for more information on Copper Cane, visit coppercanespirits.com