The Regency Bar & Grill at Loews Regency Hotel in New York has been known for its "Power Breakfast," where the high-powered elite starts their early mornings before shuttling off to their offices. You'll spot them from across the dining room as they make deals and order favorites, including freshly-made bagels with smoked salmon or the always favored eggs Benedict.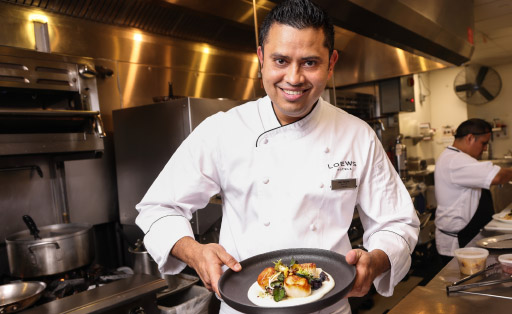 Once the breakfast crowd exits, the well-heeled crowd can be found at the swanky bar lounge sipping wine and cocktails in the afternoon and evening. A few steps away, the glitz turns subdued as you enter a modern dining room with touches of Art Deco, raised banquettes, and black-and-white photos of Upper East Side scenes. It most certainly has a uniquely New York vibe. 
At the helm, is the restaurant's new Executive Chef Manjit Manohar whose culinary talents are instrumental in creating a modern American menu enhanced with European dishes. His magic can be evidenced in every dish, from Stone-fired Pizza Margarita to the excellently prepared New York Strip Steak and a flavorful Free-Range Chicken.

A native of Bokaro, India, Manohar studied at the Institute of Hotel Management in Jaipur. Upon graduation, the young chef joined Taj Hotels and worked across India and the Maldives before transferring to The Pierre in New York City. Here he perfected his craft for more than a decade. Most recently, he was executive chef at the Ambassador Grill before joining Loews and The Regency Bar & Grill this year.
Manohar is committed to reflecting the hotel's cosmopolitanism in his cuisine and honoring the legacy of The Regency Bar & Grill, known for its upscale dining. He told us, "Offering a flavorful and, most importantly, memorable menu is important. That's how we keep it on top." 
We met with Chef Manohar recently to learn more about his journey in heading up a top hotel kitchen and what he sees for the future of restaurants in New York City.

Tell us about yourself and growing up in India. Did a family member inspire you to learn cooking?
I grew up in a small town in India. Every morning, my parents would go to the local farmer's market to pick up local produce and milk for our meals that day. We got what we needed and tried to keep waste to a minimum.
My mom has been and continues to be my inspiration and encouraged me to pursue my culinary career. Growing up, I remember her hosting lunches and dinners for her closest friends and family daily. She spent much of her time in the kitchen, and I always helped her whenever needed.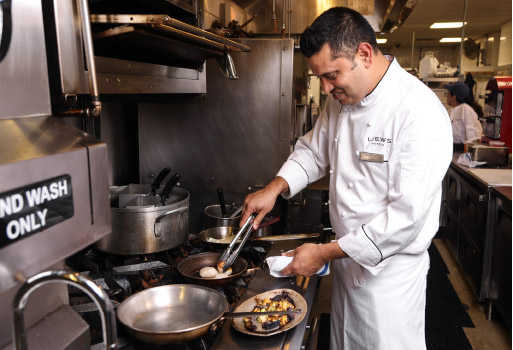 Who has influenced you through the years? 
I am fortunate to have met and collaborated with Chef Floyd Cardoz and Chef Jeff Michner. Their passion for food and the culinary world was nothing like I had ever experienced. In addition, Thom Caska helped me learn all the aspects of the food and beverage world, and he significantly changed my perspective of the on gastronomy as a whole.
How does it feel to be the Executive Chef at The Regency Bar & Grill and part of the Loews family? Will we see any changes to the menu? I came to Loews Regency New York Hotel and The Regency Bar & Grill with a vision of keeping this restaurant on the culinary map for many years to come. To do this, we need to stick to our core of a classic Upper East Side establishment and add some edge to ensure we remain current. I want to continue to expand the menu and offer more health-conscious cuisine. It's important to give our guests the freedom they deserve and choose what they want to eat based on how they feel that day.
Explain how you prepare the food and ingredients. Any differences when compared to a traditional restaurant?
It is essential to understand seasonality. Our guests want to eat what's fresh and what I can get from the local farms and farmer's market. Our Spring menu reflects this ideology.
What responsibilities come with your role as an executive chef?
Being the executive chef at a restaurant with a formidable reputation as the iconic "Power Breakfast" spot comes with a huge responsibility and pressure. The hotel and restaurant have been around for six decades, and our guests expect a specific experience when they eat here. Therefore, we must ensure we deliver the highest quality product every time a plate leaves the kitchen, especially because many of our clientele are repeat diners.
How have you managed to become so successful in such a competitive field?
 I have continued to be successful in my career by staying humble and kind to my colleagues and those around me. I am fortunate enough to work with like-minded, talented chefs and mentors, and I owe my success to my wife and kids, who have always stood by me, even during challenging times. 
What's your biggest challenge in the last few years?
Sourcing and getting deliveries of specific products and materials continues to be a challenge the industry faces. Even delivery of fresh produce can be difficult for us.
Where do you see the food industry heading in the next five years?
In the next five years, I want to see more concept kitchens with indoor farms allowing consumers to pick fresh produce and offer sustainable food to their guests directly.
What culinary destinations are on your bucket list?
I hope to visit Mallorca, Tokyo, and Vienna soon and immerse myself in each destination's rich food, culture, and history.
What advice would you give to other young, aspiring chefs?
I would tell young chefs to be disciplined and stay focused. There is truly no shortcut to success.
For more information on The Regency Bar & Grill,
visit loewshotels.com/regency-hotel/dining