When you enter La Pulperia on the corner of 44th and Ninth Avenue, you'll know you've stepped into a real gem in the crown of Manhattan's most densely populated dining district. A few walls and ceilings are made of repurposed Brazilian wood, and large amounts of exposed brick are everywhere.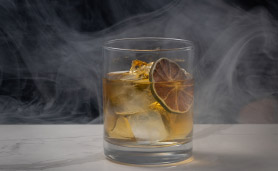 La Pulperia is publicized as having "rustic Latin cuisine." It is rare to find Argentinian, Cuban, Mexican, Brazilian, and a few European dishes under one roof—all done remarkably well. The owners are Latin with a melting pot of tastes, so it is not odd that the Southern Italian classic Short Ribs Pappardelle is a star of the dinner menu. You will adore tender cubes of rib meat, Grana Padano cheese, and the homemade puttanesca sauce. La Pulperia's portions are generous, and prices are in the mid-range—there is even a hugely popular drag queen brunch that really packs the customers in on Sundays and offers fantastic food and drink specials.
MEZCAL & MORE
Speaking of drinks, the bar team not only creates some of the unique Mojitos and Margaritas in the city (the latter rimmed with Black Lava Salt) but also "kicks it out of the ballpark" with signature cocktails, including a Negroni Mezcal created with Papalot Mezcal, Campari, Antica Vermouth and orange bitters and the most popular drink, the Pulperia HK which is made of Bianco Tequila, Orange Liquor, fresh pineapple, jalapeno, Cilantro, and Black Lava Salt. Incredibly, there are dozens of tequilas and Mezcals to choose from.
EXPLORING THE MENU
We visited La Pulperia recently with the desire to put both traditional Latin food and "off-theme" dishes to the test. We tried the Brazilian favorite on the dinner menu, Skirt Steak, and team it with a classic side like Fried Plantains. The juicy marinated steak was served on a giant wooden cutting board sided with a large bowl of homemade chimichurri and a green salad made with locally sourced organic produce, fresh lemon juice, and EVOO. We were impressed!
If you have carnivores as your co-diners and want to try the king of all Latin meat dishes, go for the Argentinian Parrilada, which is stated to be for two people on the menu but could easily feed four. It consists of a New York Strip, skirt steak, short ribs, chicken, chorizo, morcilla, salsa criolla, papas a la Provençal, green salad, and chimichurri.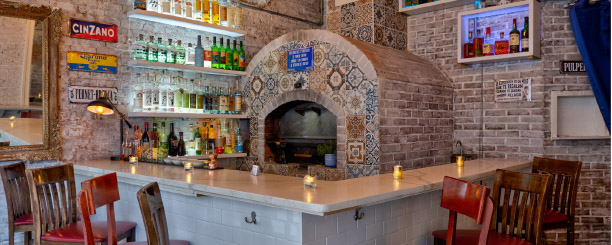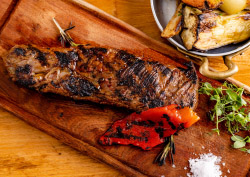 If your table prefers a grand fish dish that is "one for the record books," go for the Octopus Paella, which features bomba rice, sofrito, zafron, fish fumet, white fish, shrimp, squid, piquillo pepper aioli, and your choice of rice (including special black paella rice). Plenty of whole grilled fish are marinated in olive oil and fresh thyme before grilling; they come with your choice of sides, including Fried Plantains, Poblano Mashed Potatoes, Shishito Peppers, and Broccoli Rabe.
La Pulperia looks like a "neighborhood spot," but a hugely diversified clientele exists. Executive Chef Miguel Molina—a native of Guererro, Mexico, who came to NYC in 1996 to cook at various Italian and French restaurants, remarks, "Since we are conveniently located in the theater district, we have a heavy local and international /outside visitors' crowd. We are minutes from Times Square, a 'must visit' for any traveler. We also have various Broadway actors to come and join us, sports personalities, and even our former president Bill Clinton--but here at La Pulperia, anyone is welcome! We consider La Pulperia a meeting ground where you can run into anyone."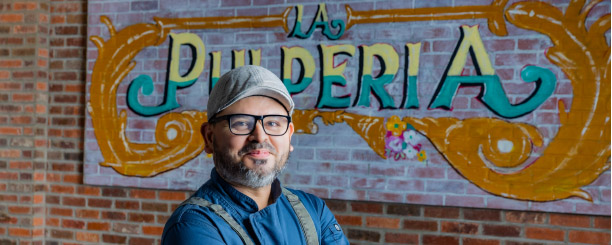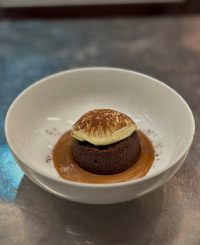 MIXING THINGS UP
Chef Molina is proud of being able to mix several types of cuisine successfully: "Our menu has been time-tested to bring a rich and versatile experience to our guests…we are merging the delicacies from Latin American cuisine and highlighting the various spirits offered from Latin regions. La Pulperia is a global meeting ground where anyone can find something to love on the menu and have a great drink. The founders are from Mexico and Argentina, but La Pulperia's food and beverage program extends far beyond these cultures."
We always like to ask chefs their favorite items on the menu, and Molina answers, "Everything on our menu is intentional and delicious! If I had to choose, it would have to be our Hamachi Tostada, Tuna Con Tomate, or Octopus Paella. Our Hamachi is a sushi-grade yellowtail with a corn tortilla on a bed of sun-dried tomato tapenade with just the right amount of spice. What is there not to love? Also, adding paella to our dinner menu was bold, and we loved every second of it!"
What phenomenal dishes will be unleashed for summer? Says Molina with a smile, "We are excited for this upcoming summer season, where we will begin introducing a new seasonal menu. With the changing seasons, it's time to take advantage of ingredients that dominate in the summer. One thing is certain: more seafood dishes and distinct flavor profiles are something to look out for. It's worth coming in to experience it personally!"
For more info on La Pulperia, visit lapulperianyc.com