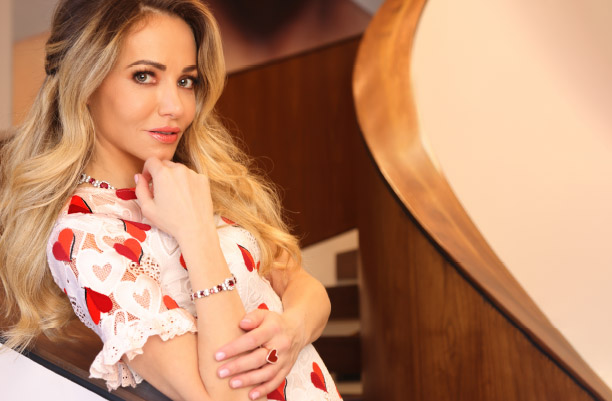 ALL THAT GLITTERS
An Interview With Jewelry Designer Anna Zuckerman
By By Patricia Canole
Photography by Neil J Tandy
Styling by Jessica Richards
Hair & Makeup by Manolo

Today, jewelry is essential to any look and plays a vital role in a woman's life. Since time immemorial, it has been used as decoration, a representation of affiliation to a group, a social status symbol, an item of appreciation—even a device to protect us from evil spirits. Yet, it is also an instrument that helps us meet our higher human needs of love and self-actualization.
Anna Zuckerman, Founder of her eponymous jewelry company, knows very well jewelry can boost your self-esteem within minutes. The designer also believes you don't need to be royalty or walk the red carpet to feel luxurious wearing high-priced brands. For Anna, it is all about the ardent desire to make women feel empowered from all levels of society, which is not only luxurious but affordable, too.
Anna recognized a market need for luxury jewelry for everyday lifestyles and budgets. That is when she created Diamond Coated Crystalline™, a revolutionary process using nanotechnology.
The permanent coating adds a natural diamond sparkle to all her designs, resulting in lab-grown gemstones and precious metals at an affordable price. Crafted in rhodium-plated sterling silver to prevent tarnishing and assembled in the USA.
Women deserve to feel confident, sexy, and beautiful now. Every piece is made of precious silver in an ethical, violence-free, and ecologically responsible process. The Collections also offer various colorful styles, each designed with Anna's unique attention to detail and her love for the extraordinary masterpieces from royal elite private collections.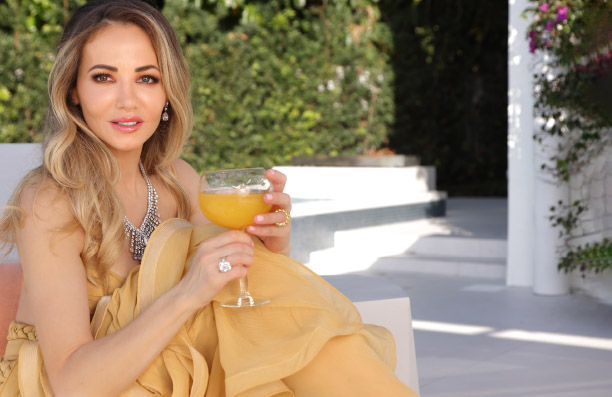 Anna is no stranger to the jewelry industry. Born to a family of goldsmiths and fine jewelers, Anna has been in the fine jewelry industry for over twenty years. She became an extraordinarily successful designer, opening her store in 1996. Based in Boca Raton, FL, her flagship store offers women extraordinary collections of necklaces, rings, and earrings for everyday and memorable nights.
Anna was kind enough to sit down and speak with us about her work, trends in jewelry and design, and much more.
Could you tell us about yourself and how you got where you are today?
I've been in love with gemstones and fine jewelry ever since I was a child. After emigrating to America from Russia at an early age, I spent much time in my father's shadow, a goldsmith who created bespoke jewelry for a select clientele using the finest diamonds and gemstones. Working alongside him and studiously observing him at his craft, I was mesmerized by the sheer beauty of the colors, the cuts, and the brilliance of the gems.

This blossomed into a true passion that inspired me to study gemology at the Gemological Institute of America. Eventually, I followed the passion and leveraged my expertise to open my first jewelry business, a diamond boutique. Then, after becoming a widow at age 33 with two toddlers, I was determined to create a business that would provide for my family and make for a secure future.
What makes your collections unique in the industry?
My designs are modern and contemporary, inspired by the collections of elite European families, embracing femininity, elegance, and a sense of glamour.
What type of woman did you have in mind when designing the line?
This is not a collection for just one type of woman; instead, it is meant to style all women in every part of their life, giving sparkle and luxury in the everyday. It is for an independent woman who can treat herself to the glamour she deserves. We like to say that this jewelry is empowering, instantly sparking joy and inspiring boldness for those who wear it.
As a designer, where do you draw your inspiration?
While I am constantly watching fashion and what is happening in the market, I am more inspired by classic glamour and the desire to bring that romantic sense of styling—think Grace Kelly—into my collections. These pieces are meant to be worn every season and are not created around trends but rather timelessness.
I'm also very into discovering the untapped potential in the market; I speak to my clients, and to the women around me to be inspired by what they're looking for, and how to adopt that into my designs.
What's it like to see someone wearing one of your creations on the street?
It's always fun to see my pieces pop up on the red carpet, in music videos, or even on a Real Housewife! But I never tire of seeing those I love, my family, friends, and our business partners, proudly wearing my designs.
What are some upcoming trends in the jewelry design industry?
With the rising price of gold, one of the most important trends is for designers to address the potential for price/value proposition in their collections. Our designs are created from sterling silver, which keeps its value over the years and makes for a strong demi-fine product accessible to a wider audience seeking the gratification of luxury jewelry.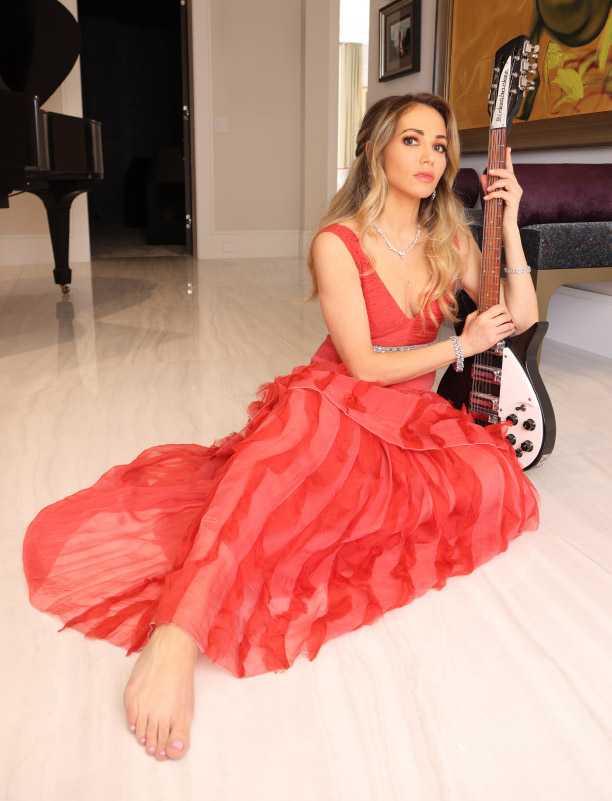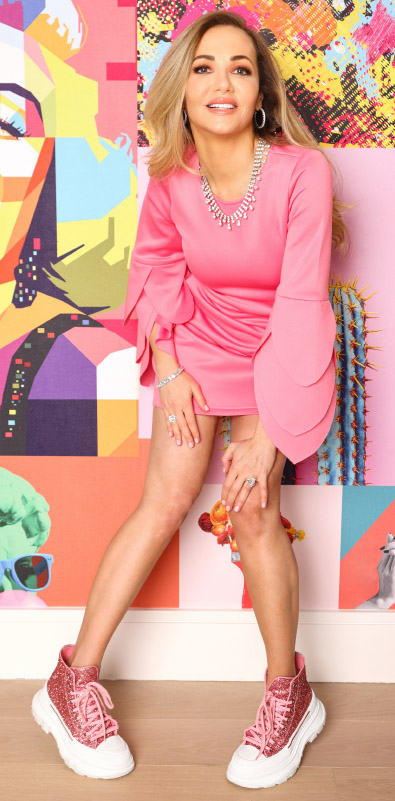 What advice would you give someone interested in the jewelry design business?
Stay curious! Understand the production process fully, from the chemistry of the metals to the engineering of the silhouettes, research, and consumer trends, and take note of client feedback and sales to continue to grow future collections. It is all-important as your business develops over time. And I can't stress this enough to never give up on your dreams.
Name two style icons you admire.
Obviously, for very different reasons: Anna Dello Russo and Anna Wintour! To me, this speaks to my love of the juxtaposition of a classic look that becomes your identity and the fun of creating a new persona every day.
Do you have a treasured item in your personal jewelry collection?
I save each piece that is from a retired collection. Not only does it preserve the history of the brand, but I am saving them all for my daughter to wear someday. I think of it as my museum.
What was your last splurge purchase?
Your previous marvelous find or steal? We purchased 17,000 carats of lab-grown rubies, which will be incorporated into upcoming holiday collections.
What are three jewelry essentials every woman should own?
A core pair of everyday earrings, a bracelet, and a ring that instantly upgrades any look. The right curation of these items looks beautiful for every day, any occasion, and adds confidence when meeting new people.
What is on your shopping wish list this Spring/Summer?
Any trends you are eager to try? I love the beauty and color of gemstones, and this Spring/Summer, I'm going to be wearing a lot of pinks from my collection. While these pieces are seasonless, they especially feel right now as the Barbie trend is so hot! Incorporating color into all my jewelry curations is a timeless trend for me. Living in Florida's sunny and tropical setting brings so much joy and inspiration that can only be expressed in bold palettes.
What's your vision for the future of your brand?
As the diamond industry shifts into lab-grown, we are living the future in our present. What perfect timing for women to invest in themselves with the brilliance of Anna Zuckerman jewelry
For more information on Anna Zuckerman jewelry, visit annazuckerman.com