Ron Dyce is an anomaly in fashion. The Brooklyn-based designer grew up in Brownsville and started working in construction; then, he founded his own renovation and remodeling company. However, it wasn't until 2019 that he launched his fashion brand, starting with women's shoes, then expanding into men- and womenswear.
His designs have graced the pages of Harper's Bazaar and LADYGUNN magazines, as well as dressing many celebrities, including Sex and the City writer Candace Bushnell; Gloria Estefan's daughter, Emily; MC Lyte, who wore one of his designs on Good Morning America; and rapper Bambi of the hit VH1 reality series, Love and Hip-Hop Atlanta.
DREAMS COME TRUE
His passion for fashion intensified in the '90s when urban fashion brands became household names. Dyce refers to brands like Sean John by Sean (Puff Daddy) Combs and Phat Farm by Russell Simmons. His passion also is a result of his father's dapper style. Growing up and seeing how his parents dressed encouraged him to follow his dreams. "They had a real look about them in custom clothes—suits, shoes, and fedora hats," he said. "That inspired me to go into fashion, but I didn't know in exactly what way."
When Dyce first launched his brand, it was with a line of women's footwear. Each pair of heels featured 24-karat gold painted outsoles. It's a reference to the Biblical Scripture Revelation 21:21, which references the streets of Heaven as pure gold. These golden-heeled outsoles have become his trademark for women everywhere. 
His engineering mind as a construction executive also comes through in his fashion line. He sets the bar even higher for women who want to look good and be practical. "Women's blazers lack pockets," said Dyce. "I designed my power suits the same way men's blazers are built, so women don't have to hold things in their hands," he said. "Everything is functional." His women's blazers are stylish too (Bushnell loves the Light Blue Silk Brocade Suit) and are available in floral prints and softer pastel colors, some even made of silk.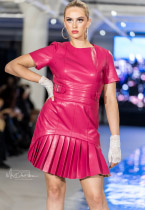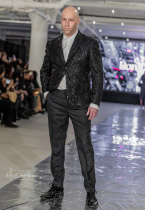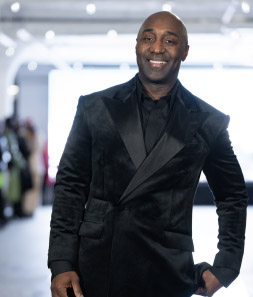 AN UPBEAT STYLE
His fashions are a favorite among women in the industry. Bella Dose, a Latin girl group; actress Shahadi Wright Joseph, who is the star of the Prime Video series Them; Ebony Obsidian from Tyler Perry's hit series Sistas; Female Artist Steph G; Queens of Comedy comedian Sommore, and Edgar Cutino are just a few of his loyal followers. "We create more than just trendy clothes," said Dyce. "We craft clothes with purpose, designed for the capsule of time with quality that will last for years
His latest show at New York Fashion Week, the Ultimate Collection, was a celebration of the 50th anniversary of hip hop. The aim was to present four seasons on one runway. He featured 90 looks, from men's sequined blazers to women's formalwear. "I wanted to develop a new concept showing formal and luxury wear simultaneously," he said. "I wanted to bring it all together."
Next up, Dyce is looking forward to expanding into department stores like Bergdorf Goodman. He also plans to have a flagship store in New York City. "Ron Dyce has much more to offer to the fashion world," he said. "I want to make go-to pieces. I want to create timeless pieces that last. Ten years from now, I want you to put it on like you bought it yesterday."
For more information on Ron Dyce, visit ron-dyce.com