The Samuel Waxman Cancer Research Foundation (SWCRF), a leading international organization dedicated to eradicating cancer, was the beneficiary of an exclusive presentation of the Lafayette 148 New York Spring 2023 collection held at the luxury brand's Madison Avenue boutique. Attendees were treated to light hors d'oeuvres and prosecco. At the same time, they shopped to support the Foundation's cancer research programs, such as the International Network on Aging and Cancer and the Women's Cancer Research Program.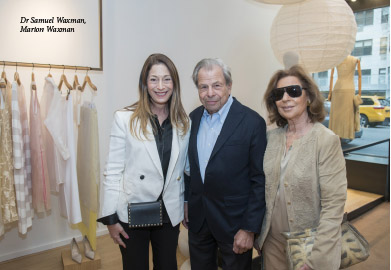 The Samuel Waxman Cancer Research Foundation is an international organization dedicated to curing and preventing cancer. The Foundation is a pioneer in cancer research. Its mission is to eradicate cancer by funding cutting-edge research that identifies and corrects abnormal gene functions that cause cancer and develops minimally toxic treatments for patients. In addition, through the Foundation's collaborative group of world-class scientists, the Institute Without Walls, investigators share information and tools to speed the pace of cancer research. Since its inception in 1976, the Samuel Waxman Cancer Research Foundation has awarded more than $100 million to support the work of more than 200 researchers across the globe. 
Notable attendees at the event included Dr. Samuel Waxman, Marion Waxman, Elena Gibbs, William T. Sullivan, Randi Schatz, Lori Levine, Karen Amster-Young, Sabrina Levine, Becky Malinsky, Jose Castelo Branco.
For more information on the Samuel Waxman Cancer Research Foundation, visit waxmancancer.org