PLUNGE BEACH RESORT
South Florida's Hidden Gem
By Patricia Canole | Photography By Neil J Tandy
Tired of the overcrowded beaches and perennially packed restaurants? If you're traveling to Florida, we found an off-the-beaten-track escape that channels retro-chic Lauderdale. Welcome to Plunge Beach Resort, which has become a favorite with travelers since its opening six years ago. Located in Lauderdale-By-The-Sea (LBTS). the property is a result of a merger and modernization of three 1950s hotels, so it swings with bright décor, open spaces, and accommodating young staff.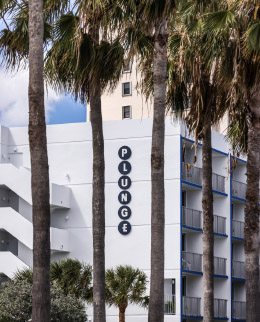 STAY
Plunge's design combines modern trends: The lobby has industrial-inspired exposed ceiling pipes and concrete columns. The furniture is accented with vibrant orange and yellow,, and surfboards and pop-art posters brighten the walls. Totally Instagrammable. "It's truly cool," said general manager Joe Imbrogno. "Plunge has brought new energy to Lauderdale-By-The-Sea with a beach-party feel and a happening pool bar." It's perfect for family get-togethers and bachelor/bachelorette parties. On a tamer note, you can simply sit on the splendid beach, soak up the rays, and watch the Atlantic Ocean float by—count the graceful pelicans, or even view an occasional kite surfer flying high.
Unlike many of the town's current vacation accommodations, Plunge offers direct beach access. It consists of three buildings for accommodations: Island, Beach, and Bungalow—each with distinctive flair and identity. The Island includes the reception, valet parking, coffee shop, and evening supper lounge. The Beach is adjacent to the main pool and the beach bar. Finally, the seaside Bungalow has a pool with rooms offering kitchenettes and sitting/dining areas.
All 163 guest rooms and suites provide varied views—the town, the beach, and the pools. The rooms are spacious, fresh, and equipped with 50-inch TVs, surf-inspired art, and raw wood furniture. Guests find a stay at Plunge engaging, surrounded by hand-painted murals and chalkboards in the hotel rooms and colorful furnishings to brighten any day. All accommodations feature pillow-top mattresses, and baths boasting pristine white tiles.
A Plunge Beach getaway will always include fun activities to occupy every hour of your stay. The oceanside enclave of sun and surf hosts an endless array of entertaining fun. From pet-friendly happy hours, beach barbecues, karaoke nights, and early morning yoga instruction on the beach, the hotel meets all needs, whether young or young-at-heart.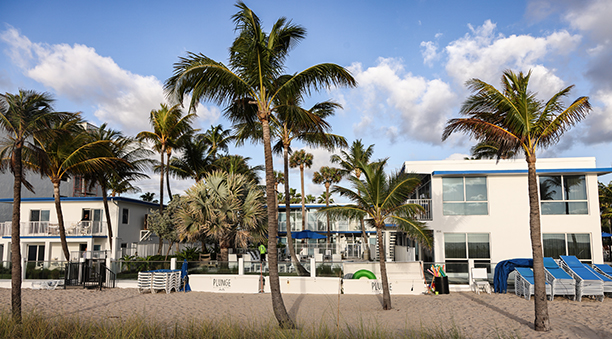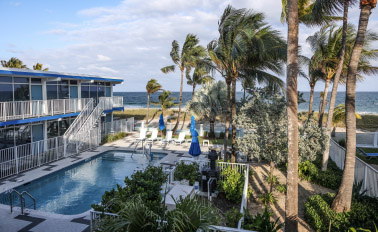 EAT
Plunge offers an excellent dining experience. Start your day with freshly brewed coffee at the Bean and Barnacle. The menu is complete with eggs done your way and muffins and bagels, too. The restaurant is also open for lunch. At the Octopus hit the spot with delicious plates of favorite sandwiches, beverages, and cocktails. The Backflip Beach Bar is action central for sun worshippers where it's breezy, sunny fun on the beach. Dig into street tacos, delectable sandwiches, and fresh salads from our beach kitchen with a Latin flair. Tasty treats include yucca fries and garlic-shrimp tacos, topped with fiery accents of chipotle, salsa, and jalapeño. Refresh with a favorite cocktail. A guest favorite is the El Diablo with tequila, lime, and ginger beer.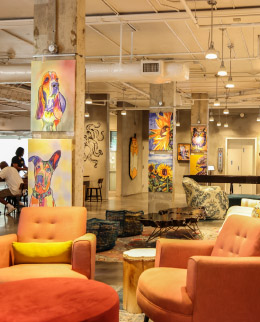 PLAY
Take a day from the fun in the sun at Plunge to explore LBTS and be amazed at this small beachfront town on Florida's east coast just north of Fort Lauderdale. Steps away from Plunge, you'll find Anglin's Fishing Pier, the restaurants serving delicious cuisines, and shops lining Commercial Boulevard. You'll soon notice LBTS does not allow tall buildings along its beach and in town; that's why the community has maintained its charm, reminiscent of Florida in the 1950s. 
Another key attraction is the coral reef, just 100 yards offshore, making it the top spot in the U.S. for scuba divers. Aspiring divers can obtain a diving certification with PADI courses offered nearby dive shops. For first timers, try an intro course to get your legs wet!
For those who enjoy exploring the shoreline, there's the fascinating turtle. Did you know that 90 percent of turtle nesting in the U.S. happens in Florida? You will see turtle nesting areas blocked off in the sand, so they are not disturbed (nesting season occurs March – October). Look carefully, you'll spot them.

GETTING AROUND LBTS
Ditch the car and hop on the Pelican Hopper, the free, air-conditioned shuttle provided by the town of LBTS. Visitors love this service, which operates every 45 minutes with stops at all points of interest and popular places.
For more information on Plunge Beach Resort, visit plungebeachresort.com