SURPRISING ST. AUGUSTINE
A Step Back In Time
By Ruth J. Katz | Photos courtesy of St Johns Cultural Council
Part of Florida's Historic Coast, this city of 15,000 is a treasure. Yes, of course, there are 42 miles of pristine beach and the usual sun and fun activities to bask in. Still, if you are considering going to St. Augustine for a long weekend just for that tropical getaway, I encourage you to rethink and book a more extended stay.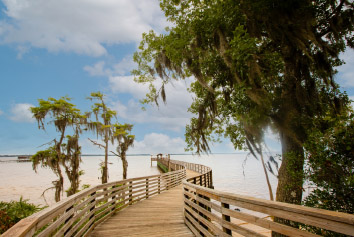 Founded in 1565 by Pedro Menendez de Aviles from Spain, it is the oldest, continually inhabited, European-founded city in the country (referred to as America's oldest city) and, as such, its 450-year existence offers an embarrassment of rich and unexpected history, art, and culture.
It was, not surprisingly, the vacation destination for the wealthy of the Gilded Age, and as a result, there is a plethora of 19th-century art and architecture, including the most extensive collection of Tiffany-stained glass (79 windows) in the world that has remained in its original location. This is thanks to the legendary industrialist Henry Flagler, who built two stunning hotels here: the Hotel Ponce de León (1888, housing said Tiffany glass), now a residence hall and the central pulse of Flagler College, and the Hotel Alcazar, an 1888 Gilded Age resort hotel, now home to the must-see Lightner Museum (steward to 15,000 decorative objects), where you can dine in the former swimming pool!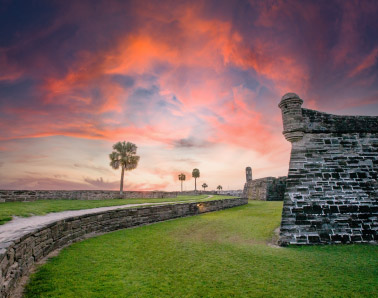 EXPLORE
All 163 guest rooms and suites provide varied views—the town, the beach, and the pools. The rooms are spacious, fresh, and equipped with 50-inch TVs, surf-inspired art, and raw wood furniture. Guests find a stay at Plunge engaging, surrounded by hand-painted murals and chalkboards in the hotel rooms and colorful furnishings to brighten any day. All accommodations feature pillow-top mattresses, and baths boasting pristine white tiles.
Some of the historic homes and institutions you'll want to drink in include the Mission Nombre de Dios and the Shrine of Our Lady of La Leche, arguably America's first mission and site of the first Mass; the Father Miguel O'Reilly House Museum (1691), home to the Roman Catholic Diocese archives and the oldest collection of Colonial-period documents; Gonzalez Alvarez House, the oldest surviving Spanish colonial dwelling in St. Augustine, and a National Historic Landmark; the Ximemez-Fatio House (1798, featuring the ever-present, local coquina stone), and which is listed in the National Register of Historic Places and the Historic American Buildings Survey.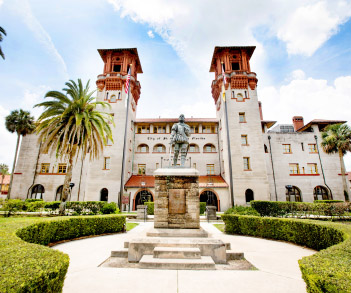 Not unexpectedly, military history figures significantly in St. Augustine's past, and evidence of that can be seen in the Castillo de San Marcos, the oldest masonry fort in the continental United States; Fort Matanzas, built-in 1742 by the Spanish, and a National Historic Monument; Fort Mose Historic State Park is the site of the first legally sanctioned, free African settlement, established in 1738.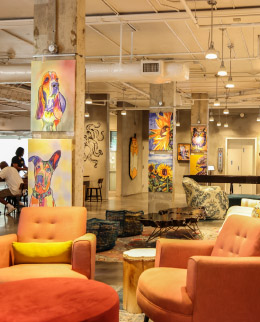 It is worth noting that a great deal of Black and civil rights history is interwoven in the region's past: Be sure to visit the Lincolnville Museum and Cultural Center and the ACCORD Civil Rights Museum. Not incidentally, I learned in the museum that Juan Garrido (a free African conquistador) was the first known African in America.
If you need more convincing to put St. Augustine on your bucket list, consider the regal St. Augustine Lighthouse & Maritime Museum, a working, candy-striped beacon built between 1871 and 1874. In addition, many festivals dot St. Augustine 2023 calendar, each ideal to use as an anchor for a visit: Sing Out Loud; Whiskey, Wine & Wildlife, a four-day celebration; and the St. Augustine Music Festival, to mention a few.
DINE
Exploring the dining scene is another reason to linger in St. Augustine. Rated number one in Southern Living Magazine's discerning rundown of the South's Best Food Towns in 2019, it offers a smorgasbord of tantalizing cuisine—from the fine (Michael's and Preserved, for example) to the fun and flavorful (Casa Reina), to the funky (Crave and The Hyppo Gourmet Ice Pops). The latter is a veritable mecca, serving up more than 250 flavors of ice pops—think of crazy combos like avocado-mint.
STAY
The Collector Luxury Inn & Gardens (adults only) is well-situated and features 30 appealing rooms—all different—in a delightful enclave off the main drag. Located on the former Dow Museum of Historic Houses site, the one-acre plot is home to nine guest houses dating from 1790 to 1910. General Manager Charles Robles could not have been more accommodating—he even brought out a 20"-long wire-cutter to disengage my jammed TSA-approved lock from my suitcase. Seriously. 
For more information on Historic St. Augustine, visit historiccoastculture.com