PARADISE FOUND
Many Indulgences To Be Enjoyed
By Patricia Canole | Photography by Neil J Tandy
West Palm Beach is hot in many ways: Culture, dining, designer boutiques, and lovely places to explore. You'll feel electric energy found everywhere through the vibrant neighborhoods with palm-lined streets. Initially founded as a haven for the elite, it has blossomed into a vibrant urban center offering visitors something for everyone. This year-round destination offers an entertainment paradise with picture-perfect weather and endless cultural attractions. Let's discover the wonders of West Palm Beach.
UPBEAT IN DOWNTOWN
Head to Clematis Street, the historical heart of Downtown West Palm Beach. Beginning at Flagler Drive on the Intracoastal Waterway, experience the flavor of the area with trendy boutiques, nightclubs, live music, restaurants, and historical landmarks. The mile-long main street is also where to find some of the city's favorite home-grown coffee shops. Thursday nights come alive with Clematis By Night, featuring an unmatched social scene.
MASTERPIECES TO ADMIRE
The Norton Museum of Art was founded in 1941 when Ralph Hubbard Norton and his wife, Elizabeth Calhoun Norton, began collecting art for their home. They became so interested in art, they formed a sizable collection of paintings and sculptures. With their oversized collections, they decided to create their museum in West Palm Beach. Today, it is internationally known for its distinguished collection, which includes masterpieces of 19th- and 20th-century paintings and sculptures by European and American artists and Chinese jade and bronze artifacts that are considered among the best in the world.
HIP TO BE SQUARE
West Palm Beach's premier shopping, dining, and entertainment center can be found here. Just a short walk from Clematis Street, you can shop where old-world architecture, beautiful fountains, and sidewalk cafes create a unique atmosphere reminiscent of a European town center. For something less polished, wander to the nearby Warehouse District, with retailers—and even a local brewery and distillery.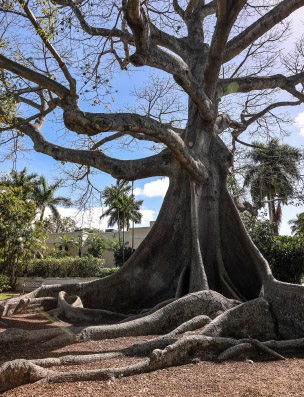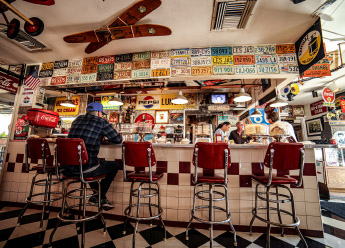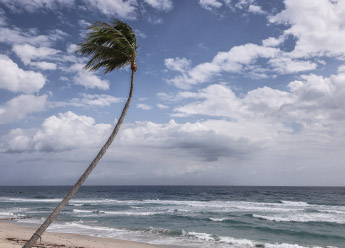 SERVING UP NOSTALGIA
For those who relish an old-fashioned diner with eye-catching memorabilia, head to City Diner. The restaurant's many bygone-era artifacts, like an old stamp machine, jukebox, and a toy train that spins over the dining area, directly compete with its ample menu. It's a fun place, that serves up "Soda Shoppe Specialties" including malts, milkshakes, hand-dipped ice cream, and root beer floats. On the menu, you can find fresh salads, burgers, sandwiches and homemade meatloaf. Early risers also can find plenty of options, with the fluffy buttermilk pancakes, French toast, Belgian waffles and three-egg omelets. There are large booths, a counter, and plenty of outdoor dining spots available.
TALK TO THE ANIMALS
As Palm Beach County's top-rated zoological experience, the Palm Beach Zoo & Conservation Society. The lush grounds include an interactive play fountain, a Conservation Station with a Wildlife Carousel and Safari Train for children to ride, and interactive wildlife presentations. Additionally, the Palm Beach Zoo & Conservation Society sponsors conservation projects in numerous parts of the world. Much of this work deals with species represented in the zoo's collection. Palm Beach Zoo is open year-round (except for Thanksgiving and Christmas days).
BEYOND WEST PALM BEACH
Situated just north of West Palm Beach, Northwood Village is a small enclave with abundant enjoyable dining, small galleries, and a monthly wine stroll. Explore Northwood's bohemian vibe as you explore the small town's underexplored artistic gems. This destination is perfect for the urban adventurer, from edgy art galleries to fine dining and eclectic shops. If you're still up for exploring new places, hop over to Palm Beach (just across the bridges) for a taste of the high life, or head down to Atlantic Avenue in Delray Beach or up to the surf shops and dog beaches of Jupiter. Or grab a ticket on the Brightline Rail and hit Boca Raton, Aventura, and Fort Lauderdale.
For more information on West Palm Beach and The Palm Beaches, visit thepalmbeaches.com