Do you have the constant food fantasy of living near one of Paris' premiere bistros? Do you dream of dipping Escargot with a buttery garlic sauce or having Crepes Suzette for brunch? If you are anywhere near Midtown, there's Brasserie Cognac—a super authentic, reasonably priced bistro owned by the team that brought you Serafina. Portions are genuine and sizeable; they don't mind you sharing dishes, and service is fast and friendly. An edible flower on each plate has become the eatery's trademark, making your food social media-ready!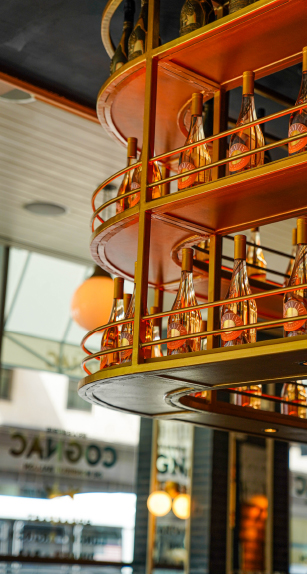 Brasserie Cognac, which has an older branch on the Upper East Side, is smack dab in the center of Midtown on 48th and Lexington (in Hotel 48LEX) and is successful not only because of the solid French fare but because of its location and near Grand Central. It's perched right on a NE corner which is highly trafficked, and has a glamorous, almost classic Hollywood-styled exterior that makes passersby curious.
Is that buttery scent of a French bakery constantly wafting out of its front door? Yes, and who can pass that up?
A DEFINITE FRENCH FLARE
Serafina has been a successful NYC area Italian restaurant chain for years. Still, owners Vittorio Assaf and Fabio Granato were urged to start a new project known as "Serafina's French little sister." They have succeeded beyond their wildest dreams. Brasserie Cognac opened its doors in March, and it's the only restaurant of its kind anywhere in the neighborhood. Sure, there are chain French café/bakery types of places, such as Pain Quotidien nearby, but Brasserie Cognac offers a full French breakfast, lunch, and dinner. Both owners believe opening restaurants is not just about striving for authentic cuisine but about creating "affordable luxury."
Granato tells NYL that while he is delighted with Brasserie Cognac's great initial reception, "We want corporate events and a group of regular business professionals to make Brasserie their go-to spot."
GO-TO DISHES
During the NYL's recent visit to Brasserie Cognac, we decided to assess a few French classics and pick a "wild card" item. There is a little secret that will be getting around soon—a "pasta special" is usually not on the menu, and it has no real name!
It's homemade pasta that is halfway between spaghetti and linguine and has a garlicky wine-based truffle sauce. There are dozens of thick truffle shavings on top and, of course, the classic edible purple flower enhancing each dish. The portion is about three cups, so it is great to share, and it's as good as anything in even the most high-end Southern Italian eatery. Be warned that it will fill you up, though. It's also priced like a typical pasta dish—which is almost unbelievable!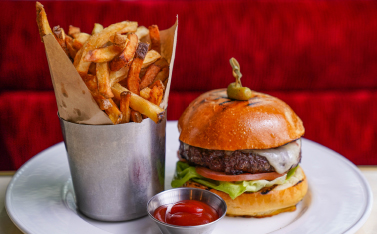 BRING ON THE BEEF
The Beef Bourguignon is also exceptional because rather than just chunks of short rib in a wine sauce with pearl onions and mixed veggies, there is a massive slab of the juiciest boneless short rib in the middle of the plate. There is less sauce than in the classic version of this French favorite, but the chef at Brasserie Cognac likes to let their tender meat do the talking!
We ended the evening with a classic French dessert. The Profiteroles are amazing: think of three large cream puffs filled with homemade vanilla ice cream with a little pitcher of homemade sauce made with—you guessed it—French chocolate. We hear that the Crème Brulee and the Tarte Tatin are in a league of their own, but we will save those for another visit.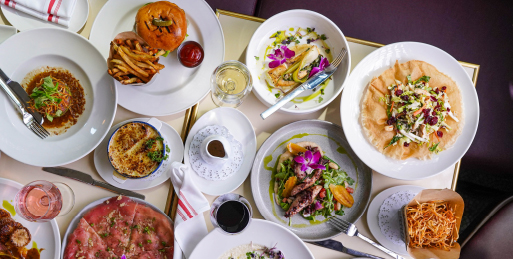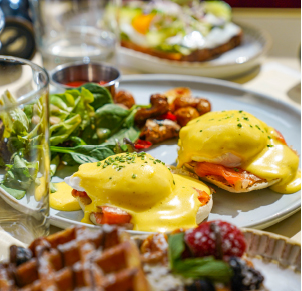 NEW FOR SUMMER
Restauranteurs Assaf and Granato are preparing for the onslaught of warm weather diners with a couple of new twists to the menu. "We have an Oyster And Rose pairing that we think will be a highlight of the summer menu." They did early testing of this combo in early May with excellent results.
Who is the typical clientele of Brasserie Cognac? Granato tells us, "It is mainly business professionals coming in for lunch or happy hour and hotel guests." But he's in for a pleasant surprise when, this summer, people from all walks of life who love French fare start to line up outside. (In the New York food world, gossip about great food at reasonable prices travels fast!) Certainly, they have done a fantastic job growing Serafina into a huge local chain. And we predict that Brasserie Cognac will become an even bigger sensation. The no-rush atmosphere, classy décor, and comfortable ambiance will make you want to stay all day and at least nurse a glass of one of their great French wines or their amazing Champagne Cocktail made with Stoli Vodka, St. Germain, Raspberries, and Champagne. BC will become your go-to spot for Summer 2023, no matter what neighborhood you're staying in!
For more information on Brasserie Cognac, visit brasseriecognac.com