El Turco Hamptons returns with superstar Executive Chef Yılmaz Güney set to showcase exquisite tastes from Turkey. New this season, is an expanded Mediterranean menu featuring some of the most unique and delectable dishes available anywhere on the East End of Long Island. At the helm are entrepreneur and real estate investor, Cagri Kanver, and restaurant/nightlife owner, Frank Cilione, both welcoming diners to their popular East Hampton eatery.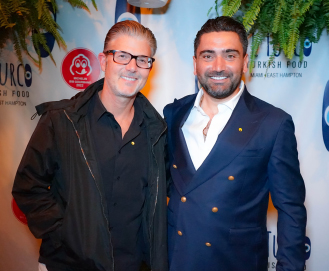 Presenting an array of inspirational gourmet selections which tantalize the senses and captivate diners, guests can expect to see an expanded presentation that brings back last season's notable Turkish favorites as well as many new scrumptious Mediterranean offerings with all featuring farm to table aspects. When dining at El Turco Hamptons, guests will enjoy many locally sourced ingredients including fresh fish and seasonal vegetables that are crafted in groundbreaking ways and take one's taste buds on an unforgettable culinary journey.
ON THE MENU
The restaurant highlights include shareables like Diyarbakir Usulu Kavurma (lamb served with rice pilaf, cacik, and mixed pickled vegetables), and Kuzu Incik (lamb shank served with rice pilaf, grilled vegetables) are divine. Of course, the Mezes menu always stands out as a crowd favorite. There is traditional Hummus (homemade daily and served with paprika oil and pepper); Cacik (shredded cucumber, fresh dill, and mint in garlic yogurt); Sarma (grape leaves stuffed with rice, currant, and spices), and Roasted Beet Hummus (with lemon, coriander, garlic, and cumin).
Traditional main entrees spark the senses with joy. Frequently ordered items include the El Turco Kebab (meatball wrapped in filo dough, charred eggplant with yogurt and garlic), Chicken Skewers Antep Style (chicken marinated with tomato and pepper paste and served with grilled tomato and pepper), and Fish Kebab (fresh market fish skewered with seasonal vegetables).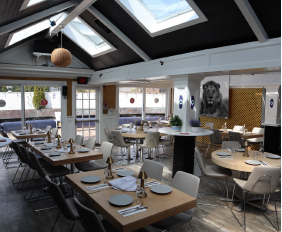 Chef Güney proudly curates these selections that embrace his background that blossomed as a child growing up in Istanbul. Ultimately becoming an award-winning culinary leader in the United States, he decided to bring his immense skills to assist El Turco in Miami where soon after his arrival he was awarded a coveted Michelin Bib Gourmand in 2022. These combined skills and accolades also apply to the newest sister company, Chef Meze Catering & Events. Together the institutions are quickly establishing themselves as premiere culinary companies out East.
El Turco Hamptons is as much a place for food as it is for stunning décor. The restaurant is designed by Highgate Millwork, which is well-known for impeccable service throughout the Hamptons. It is also notably artistic with a showcase of installations for diners to enjoy. Guests can expect art on display creating a rich Mediterranean cultural ambiance. A new metal sculpture will immediately greet visitors upon their arrival outside while several distinctly beautiful pieces will be on display throughout the interior of the restaurant.

Gokhan Avcioglu of GAD Architects will provide the breathtaking metal sculpture for the outside, while the inside of the restaurant will highlight paintings by Efe Korkut Kurt and Alea Pinar Du-Pre. There will additionally be some photography artwork pieces by Gurdal Bibo. More artistic musical movements will capture the crowd when live music and DJ sets take place Fridays and Saturday evenings for the post dinner crowd to enjoy.
For more information on El Turco Hamptons, visit Elturcohamptons.com